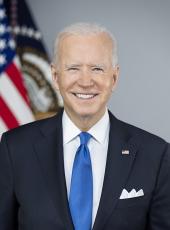 Remarks by President-elect Joe Biden on the Nomination for Secretary of Education
[As prepared for delivery]
Good morning.
I'm Joe Biden, Dr. Jill Biden's husband.
Just like educators everywhere, being an educator isn't what she does.
It's who she is.
During this pandemic we've seen once again who our educators are.
Selfless.
Dedicated.
Cut from a true cloth of character and commitment.
They represent one of the most critical professions in America.
From cradle to career, they give people of all ages the confidence to believe in themselves and equip them to succeed.
And as Jill says, any country that out-educates us will out-compete us.
And in this critical moment in our nation's history, it's essential that there is an educator serving as Secretary of Education.
Today, I'm pleased to announce such a nominee in Dr. Miguel Cardona.
Like the other Cabinet nominees and appointments, he is brilliant, qualified, and tested.
And he will join a Biden-Harris Cabinet that will be a historic Cabinet.
Already there are more people of color in this Cabinet than in the history of the United States.
There are more women than ever.
The first openly gay Cabinet member.
It's a Cabinet that looks like America.
That taps into the best of America.
That opens doors and includes the full range of talents we have in this nation.
And like the rest of the team, Dr. Cardona is ready on Day One.
Vice President-elect Harris and I knew we needed an Education Secretary who truly understands what it's been like for educators, administrators, families, caregivers, and students this past year.
The worry.
The stress.
The stretched local budgets that have left educators out of work.
The mixed signals from the White House that have left more confusion than calm, that have left so many parents and schools feeling like they're on their own.
But we also need someone who knows what it takes to get us through this crisis.
Reopening schools safely will be a national priority in a Biden-Harris Administration.
Early next year, I will put before the Congress our plans for what comes next.
That includes funding to keep educators on the job just like we did during the Recovery Act that saved 400,000 education jobs.
And it includes asking Congress to provide the funding needed so we can achieve an ambitious but doable goal — of safely opening a majority of schools by the end of our first 100 days.
We can do it if states and cities put strong public health measures in place that we all follow.
For example, in our first 100 days, I'll be asking all Americans to mask up for 100 days.
We'll require masks in federal buildings and interstate travel, like on trains.
And we've been talking with county executives, mayors, and governors of both parties to do the same in cities and states.
We can do it if we get schools, districts, communities, and states — the clear guidance and resources they need for so many things that aren't in their already tight budgets.
They need funding for testing to help reopen schools.
More funding for transportation so students can maintain social distancing on buses.
They need it for school buildings, for additional cleaning services, protective equipment, and ventilation systems.
But to lead the national effort requires an Education Secretary with the skills to partner with educators and state, local, and tribal officials, students, and families.
It also requires someone who understands the need to prevent the pandemic from further exacerbating the inequities in our education system that represent a compounding problem.
They hold back children.
They hold back educators.
They hold back our country from fulfilling its potential.
Take remote learning.
How can it be in America that a parent must drive to the parking lot of a coffee shop or library for WiFi they can't afford at home so their children can sit in the car to participate in class or do their homework?
This gap of broadband technology and opportunity could cost some kids a full year or more of learning.
That's unacceptable in the United States of America.
We need to act now. But it's only just the start.
We need someone with the experience to help us build back better with the Biden-Harris education plan.
We need to make sure every child in this nation has access to a good education — regardless of their zip code, 0r regardless of their disability.
That's why my plan triples funding for Title I schools, which serve the highest number of children from low-income families.
We need to make sure every child will have access to high-quality universal pre-K.
We need to finally pay teachers what they deserve.
The work they do is of extreme national importance — their salaries should reflect that.
But they can't do it alone.
So we're going to make an unprecedented investment: to double the number of school psychologists, counselors, nurses, and social workers in our schools.
When trained professionals are helping care for students' mental health and behavioral needs along with concerns around things like housing and food, it frees up educators to focus on teaching and the other critical work they do in the classroom.
We'll make sure students with disabilities have the support to succeed by fully funding the Individuals with Disabilities Education Act.
We'll upgrade school infrastructure to make sure classrooms are safe, and build schools that are hubs of innovation and cutting-edge learning.
We know that in the 21st Century 12 years of school isn't enough.
And that young people are getting crushed by the burden of student debt.
Under our legislative plan, we have a number of policies to provide affordable higher education and alleviate that financial burden.
This includes anyone able to get into community college will be able to go for free.
Public colleges and universities will be tuition-free for families earning less than $125,000 a year.
We'll cut student loan payments by half for those using income-based repayment. If you're making $25,000 or less per year, you won't owe a dime in payments or interest. If you make more than that, you'll only pay a small percentage of your income.
Our legislative plan also means that if you choose to go into public service, whether you're a teacher, a paramedic, counseling victims of domestic violence, or whatever else, it's only right that your country wipe out your student debt altogether.
And it includes forgiving debt from undergraduate public tuition if you're earning less than $125,000 a year.
And it means immediately forgiving $10,000 in student debt in the midst of this economic crisis.
We'll also invest more than $70 billion in Historically Black Colleges and Universities and Minority-Serving Institutions to help prepare their graduates like our Vice President-elect for good-paying jobs in industries of the future.
There is so much we can do.
We can build an economy that eases the financial burden of the caregiving crisis and make sure working families don't pay more than 7% of their income on child care for their young children.
And like we did during the Obama-Biden Administration, we can combat campus sexual assault under Title IX — something the Trump Administration and the current Secretary of Education have only undermined.
The bottom line is we can achieve all of these critical things but we need someone who gets that education isn't just what we do as a nation.
It's who we are.
And that's the person I am proud to announce today.
For Secretary of Education, I nominate Dr. Miguel Cardona.
A fourth-grade public school teacher.
The youngest principal in the state of Connecticut.
And its first Latino official to serve as Education Commissioner.
Dr. Cardona rose up the ranks to become assistant superintendent in the same school district he attended as an English learner student.
The same district where he was born in public housing, the son and grandson of parents and grandparents who moved from Puerto Rico in search of new opportunities.
He made a point of taking new teachers on tours of his district's neighborhoods.
The wealthy blocks where students grew up with every resource they needed to get ahead.
And the blocks where families were struggling to get by where a new calculator or a nutritious breakfast weren't a given.
He understands the deep roots of inequity as the sources of our persistent opportunity gaps.
And he understands the transformative power that comes from investing in public education.
In our conversations, Dr. Cardona talked about how public education was his great equalizer.
It gave him a chance to reach the dream his parents and grandparents had for him.
The place where a high school teacher inspired him to be an educator.
Public education that helped Miguel become the first in his family to go to college.
The first to earn a doctorate.
And with that preparation and grounding, Dr. Cardona has brought his heart, knowledge, and passion for education to bear on behalf of all students across Connecticut.
And when the pandemic struck, he was ready.
He helped secure more than 140,000 laptops and more than 40,000 internet connections for students who lacked them.
Because of him, Connecticut became the first state in the nation to ensure that every single public school student was equipped to engage in remote learning, regardless of family income.
As the months passed, he followed health guidance and got the funding and resources to provide masks, plexiglass, and testing so schools could reopen and operate safely.
That's the vision, resolve, and initiative that will also help us contain the pandemic, reopen schools safely, and build back better.
And it's the standard of care that comes from having taught in a classroom, and that comes from a hardworking family who found their way in America through public education.
It comes from someone who knows from his core that our nation's children are the kite strings that keep our national ambitions aloft.
He is the Secretary of Education for this moment.
I thank him and his family for accepting this call to serve.
We could not do this without them or him.
To the career staff of the Department of Education, you will have a fantastic and trusted leader who will help you carry out your Department's mission with the honor and integrity of an educator.
And to the American people — to educators, families, caregivers, and students — help is on the way.
I wish all of you a Merry Christmas and Happy Holiday.
May God bless you all.
And may God protect our troops.
I'll now turn it over to the next Secretary of Education, Dr. Miguel Cardona.
Joseph R. Biden, Remarks by President-elect Joe Biden on the Nomination for Secretary of Education Online by Gerhard Peters and John T. Woolley, The American Presidency Project https://www.presidency.ucsb.edu/node/347448