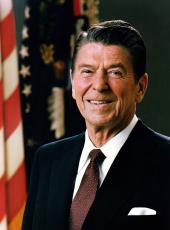 Remarks on Presenting the Small Business Person of the Year Award
Good morning, and welcome to the White House again. It's always an honor for this House to welcome those who so clearly represent America's values. I have said before that small business is the heart and soul of free enterprise, and today we are honoring the individuals who are the embodiment of that heart and soul—the small business person. We are paying tribute to the people who are out there creating new jobs, inventing products, and expanding the economy—and I think, in this recession that we're in, I could say, and who are hurting very much.
Teddy Roosevelt once pointed out that "it ought to be evident to everyone that business has to prosper before anybody can benefit from it." Well, unfortunately, it's not evident to enough people in this town. Over the years, they've taxed and shackled and burdened small business. For many small business firms, just surviving in the business climate of the last 5 years has been a daily struggle.
We've tried to take hold of the problems facing small businesses and begin to turn them around. Let me give you the details of what we're doing here because, if you will forgive me, I think it adds up to a pretty good record.
First, we enacted a tax program that provides real help for the small business community. The 25-percent reduction in personal tax rates could easily be called a small business tax cut, since at least 85 percent of all United States firms pay their taxes by personal rates, not corporate ones.
The tax program also includes such provisions as accelerated depreciation and higher allowances for Keogh plans and IRAs, and the estate tax exemption is of special help to farmers and family-owned businesses. We cut the growth in Federal regulations by a third; plus we cut, from 10 years to 5, the deadline for Federal agencies to review existing regulations and spot those harmful to small business. I don't think it should take 10 years to find out that a regulation doesn't make sense.
We don't want the Government to be a deadbeat, either, so I will soon sign the Prompt Payment Act to make sure the Government pays its debts on time. I'd sign the act today, but the Government didn't pay its pen bill, so I didn't have anything to write with. [Laughter]
I know that representatives of the Small Business Slow Pay Coalition, along with their leader Kenton Pattie, are with us today. You all deserve a tip-of-the-hat and congratulations in appreciation for your efforts. And I agree with you completely: Government contracts should be paid the same as any other business contracts—on time.
You know, this was a terrible problem. As interest rates soared last year to over 20 percent, thousands of businesses had to borrow, while waiting for their own government to pay up. In effect, the Government was borrowing interest-free from small ness. It wasn't fair, and with the coalition and its help, we're going to get things set straight.
We're also supporting policies that'll give small businesses a fairer chance to compete for Federal aid opportunities. Another priority is to get the Federal Government out of competition with private industry in providing goods and services to be used by the Federal Government. This is work that small business could be doing and could be doing profitably, and yet at lower costs to the taxpayers.
Meanwhile, over at the Small Business Administration Jim Sanders is shaking things up, the better to serve your interests.
Now, in terms of the economy itself, the inflation rate is drastically down from when we took office. Interest rates are also down, but obviously that's not good enough, because they're still killing you. I think we'll see real progress on interest rates once the financial markets finally wake up to the fact that not only is inflation coming down, but this time we're going to keep it down.
You here today understand that it takes time to make an enterprise or an economic program work. Well, we spent our first year putting this business together, and we just opened the doors, really, in October. We've got a good product, and we're confident that this will be a successful venture. I'd be elated if it were anywhere near as successful as the three award winners that we have here today.
To our honorees, Edward Shorma, Atilano Cordero-Badillo, and Richard Mystrom, just let me say, "You wouldn't like to lend a hand on the budget, would you?" [Laughter]
Seriously, these gentlemen represent not only the entrepreneurial spirit but the voluntary spirit as well, because you're each involved in your home communities. You not only have America's congratulations on what you've accomplished, you've got our thanks.
And now, I'd like to hand out the awards; shake these gentlemen's hands.
And I shall start with the second runner-up, Richard Mystrom, Anchorage, Alaska. In 1972 Richard Mystrom went to Alaska with his wife and 8-month-old baby with only $700 in his pocket, and today he is president of Mystrom Advertising, with revenues of $2 1/2 million a year, and awards for creativity and innovation. And he also is very active in community and civic affairs.

Mr. Mystrom, congratulations.
And the first runner-up, Atilano Cordero-Badillo—I hope I have that name pronounced right. He opened a small grocery store 12 years ago in Puerto Rico with $3,000 in cash and a $2,000 loan. And today his sales exceed $50 million a year with over 400 employees. He also sponsors annual scholarships in Puerto Rico and works in a variety of ways for his community.

Congratulations.
And now the winner, Edward F. Shorma, Wahpeton, North Dakota. Edward Shorma, a Korean war veteran, mortgaged the family car and borrowed $1,500 in 1953 to buy a shoe repair shop in North Dakota. During his first year of operation, he grossed $5,400. Today, he has expanded it into a $7 million-a-year business, employing 180 persons, as well as utilizing the work of 40 handicapped workers in their homes and in sheltered workshops.

Congratulations.
Well, that concludes the ceremony, and they told me that I'm supposed to get back inside. I think maybe I've told you before about the young lady, 11 years old, who wrote me a letter the first week I was here. And she gave me sound advice on international affairs, she told me what I could do about economic affairs and so forth, and then added a p.s. and said, "Now get back to the Oval Office and get to work." [Laughter]
So, thank you all very much, and congratulations to all of you.
Note: The President spoke at 11:30 a.m. in the Rose Garden at the White House. The awards ceremony was part of the Small Business Week activities.
Ronald Reagan, Remarks on Presenting the Small Business Person of the Year Award Online by Gerhard Peters and John T. Woolley, The American Presidency Project https://www.presidency.ucsb.edu/node/245752