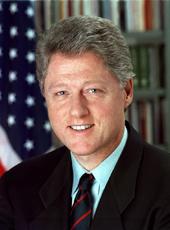 Remarks on Presenting the President's Service Awards
Thank you very much, Eli Segal, for your words of introduction and for your outstanding leadership of our national service efforts. And thank you, Marlee Matlin, for your leadership in a volunteer capacity of the most important volunteer efforts in our country.
Just over a week ago we were reminded that there are those who want to see our Nation torn apart. But amid the grief and the destruction we have also seen how quickly the overwhelming majority of Americans come together to help each other to rebuild and to make this country stronger.
When Hillary and I were in Oklahoma City last Sunday, we saw a community working around the clock to rebuild itself. Compassion and assistance flowed in from all over the United States. Americans were united in a spirit of service. It is that spirit which we honor today.
It gives me tremendous pleasure to be here with all of you to celebrate National Volunteer Week and to honor the recipients of the President's Service Awards for 1995. Today we'll hear stories of ordinary Americans doing extraordinary things, teachers and homemakers, carpenters and business leaders, people from small neighborhood organizations and large corporations. Our honorees comfort the sick and fight illiteracy. They repair our parks and keep our young people out of gangs. They come from all corners of the Nation. They are diverse in age and background. Yet they are united by something larger than all of us, the simple desire to fulfill the promise of American life.
A couple of days ago I was in Iowa for our rural conference. Those of us who come from small towns know that we don't have a person to waste in our communities or in our country. Large or small, our communities have never been built with bricks and mortar alone. They are sustained by the faith that there will always be people there to lend a hand.
That's why more than 90 million Americans lend a hand every year, 90 million. At a time when the American people are working harder and longer than they have been in the last 10 years at their own jobs, they still find time to volunteer to help others. Americans know we can never be fulfilled as a country unless we are prepared to take responsibility for each other.
I'm proud that we're joined to honor this year's award recipients by two young members of AmeriCorps, Brent Bloom and Izabel De Araugo. They and their fellow corps members are showing that we gain when we give. In return for help with college, they're helping others. AmeriCorps efforts go hand in hand with the voluntarism we celebrate today. It is a great partnership.
I want to say a special word of appreciation for Brent Bloom. He lives in Oklahoma City, where he works in a homeless shelter while studying for a pre-med degree at Oklahoma University. A little more than a week ago, Brent heard the explosion that was felt all around America. He went straight to the Federal building, told the first police officer he saw that he knew emergency first aid, and then spent the rest of the day and well into the night sorting through the wreckage and saving lives. [Applause]
In the weeks since, he has been working with Feed the Children, helping children, families, and the extraordinary rescue teams. He deserves our gratitude and the applause you just gave him. He and countless others who are working to heal the wounds from last week's bombing are living proof that we are truly a nation of volunteers. They show us once again that altruism will always triumph over the forces of divisiveness.
Let me say, too, if I might, a word of appreciation to another volunteer who is not here today. When the explosion occurred in Oklahoma City, a nurse named Rebecca Anderson rushed to the bombed Federal building as well to help. She was hit by some falling debris in the building, suffered a hemorrhage, and later died. She left behind four children. But even in death, she continued to serve, for she donated her heart for a heart transplant which occurred yesterday and saved the life of one more person. That is the real America, and no matter what else happens, we should never forget it.
You know, "voluntary" derives from a Latin word which means both "wish" and "will." I cannot imagine a more accurate combination for what we celebrate today: uniting the wish for a better world with the will to make it happen, neighbor to neighbor, community to community. Each act of service pulls us together and pushes us forward. Let's keep it up.
Thank you very much.
NOTE: The President spoke at 12:54 p.m. in the Rose Garden at the White House.
William J. Clinton, Remarks on Presenting the President's Service Awards Online by Gerhard Peters and John T. Woolley, The American Presidency Project https://www.presidency.ucsb.edu/node/220963