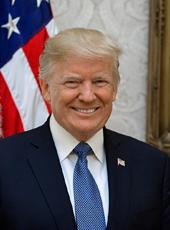 Remarks on Presenting the Presidential Medal of Freedom to Roger S. Penske and an Exchange With Reporters
The President. Well, thank you very much. A very special day. Today I am delighted to present our Nation's highest civilian honor to a giant of American industry, entrepreneurship, and auto racing: the legendary Roger Penske. Roger, I want to congratulate you in receiving the Presidential Medal of Freedom. Incredible. Incredible. [Applause] I'm proud of you. Thank you, Kathryn.
With us today is Vice President Mike Pence and many terrific members of my Cabinet. Thank you all for being here. I appreciate it. They're all fans of Roger's. And most importantly with us is Kathryn. And you've been married for a couple of years. Do you want to give the number? I know what the number is, but I'm—I refuse to give it. Go ahead.
Mr. Penske. Forty-six years.
The President. Forty-six years. That's pretty amazing. And you look at the conditioning and—you're doing something right, both of you. Right?
Kathryn Penske. Yes.
The President. And it's been a beautiful marriage, I know that, for a long time.
Roger was born in Shaker Heights, Ohio, in 1937. The son of a successful businessman, Roger learned the value of hard work at a very young age. And at the age of 14, he attended his first Indianapolis 500. At 15, he bought his first car with money saved from his newspaper route. As a teenager, Roger spent his free time taking apart engines and repairing the old wrecks. He obviously learned right from the start. He knew what he was doing.
In 1955, he attended Lehigh University, where he studied business administration and started racing in the Sports Car Club of America. Roger quickly demonstrated exceptional talent for racing cars. Over the next few years, he was named Sports Car Driver of the Year by Sports Illustrated and North American Driver of the Year by the New York Times and the L.A. Times. He also became the only person to win the SCCA's President's Cup three times, an astonishing feat, rarely equaled.
After 55 victories in the top racing series of his time, Roger ended his career as a driver in 1965. You know, I didn't know you were that great a driver. [Laughter] I knew you were really great at other things, like winning the Indy 500, but I had no idea he was that good a driver. See? What do I know? Right? [Laughter] That's pretty amazing, actually.
But he ended his career as a driver in 1965 to run a Chevrolet dealership in Philadelphia. He rapidly succeeded in the auto business and returned to the racing world in 1966 with the creation of Team Penske. Who would have thought what that would have meant? Who would have known what was going to happen?
The new team exemplified professionalism, dedication, and discipline in everything it did. Penske quickly became known for immaculately clean cars—of great colors, I might add; the colors are incredible—scrubbed wheels, waxed garage floors, and excellence on the asphalt. The team earned the reputation of "Penske Perfect" and soon built an unrivaled brand in the world of racing. Team Penske's drivers form a roster of racing legends, from Mark Donohue, who delivered Team Penske its first Indianapolis 500 win, to Al Unser and Rick Mears, who are tied for the most Indy 500 victories in history. There was Danny Sullivan and his unbelievable 1985 "spin and win," Rusty Wallace who made Team Penske's presence known in NASCAR, and the iconic three-time Indy 500 winner, Hélio Castroneves.
I recently hosted Team Penske's newest champions, Joey Logano and Simon Pagenaud, who is a terrific guy. They were here just recently; I guess that was for—it was for a big moment, because we're going to tell you that story—at the White House after their victories in the 2018 NASCAR Cup Series and the 2019 Indianapolis 500.
But Roger was here just before his 18th Indy win. And he was here, being honored, for what he's done with NASCAR in the Cup Series. And I just looked at him, I said, "How many times have you won the Indianapolis 500?" Because I know how hard it is. It's very hard. Japan, Germany, all of these countries—Italy, they all spend hundreds of millions of dollars a year trying to win. I said, "How many times have you won?" He said, "17." I said, "You've got to be kidding. Seventeen?" I knew it was a lot, but 17. And I said, "That's great." I shook his hand. That was the end of it. He has been a friend of mine for a long time, by the way. We go a long way back. I refuse to say how far. Right, Roger? But we go a long way back.
But I said, "So you won 17 times? That's great." And that was the end. And then, about 2 months later, I had the television on, it's the Indianapolis 500, and Simon is doing good, but then he's in second and first and back and forth. And it ends up he wins by about 2 inches. And it was an incredible race and with an incredible driver and a beautiful car. And it's, "Roger Penske won." So I said: "Wait a minute. He told me 17 times. And now this is the 18th time."
And I called him at the track. And I was watching him on television. He takes the phone out. He's talking to me. I said, "You think you can get"—these operators in the White House, they're unbelievable, John [John Roberts, Fox News]. They're, like, unbelievable. I said, "Do you think you can get Roger Penske? He won the Indianapolis 500 about 2 seconds ago." And—Edwin, he said, "No problem, sir." He had him on the phone, like, 30 seconds later. And I'm watching him, the car is pulling in, and I congratulated Roger.
And I thought to myself, it's an incredible achievement because I know how hard other countries—not just people, but countries—they can't win it. They spend hundreds of millions of dollars. New technology, new engines. One engine is fast, but it breaks down. One engine is slow, but it's reliable. This guy keeps winning.
So to do that was incredible. So I said, "I think we have to give him the Presidential Medal." It's the greatest medal there is, except for, as you know, the congressional Medal of Honor. And they're on a par. One is for military; one is for civilian.
But I just thought it was an incredible thing. I just leave him—he's up to 17. And now I turn on again, and he's winning again. And I know what it takes to win and to win in that league, because it is very, very tough. And that's in addition to all of the NASCAR victories he's had.
So all of these exceptional racers were part of a team of professionals that never stopped working to achieve perfection. And it's really that. Every member of Team Penske would admit they could not have done it without the man that they call, very affectionately, "the Captain." He's the captain. No detail is too small or effort too great for Roger in his relentless pursuit—and he is relentless, I can tell you that—of the competitive edge.
In 1993, he started building an engine he would later describe as "a rocket." He worked with a small team of engineers for months in total secrecy. Didn't want to talk to anybody. Wouldn't let anybody out. Lucky he didn't work at the White House; he'd have leaks. [Laughter] He would have had leak. That engine would have been built long before you said, "What happened?" [Laughter] Not only the White House, all of Washington. He decided not to do it in Washington. That was a good move.
The incredible pushrod engine—still existing or not? The push—no good?
Mr. Penske. No longer.
The President. They have better than that now. That was old stuff, right?
Mr. Penske. Right.
The President. The pushrod engine he developed became known as "the Beast" and delivered over 150 horsepower more than the competition. Team Penske roared to victory at the 1994 Indianapolis 500, leading 193 out of 200 laps. Incredible.
In total, Team Penske has won nearly 550 major races, 35 national championships, two Daytona 500s, 18 Indianapolis 500s. I think that's just an incredible achievement. Eighteen Indianapolis 500s. And secured over 600 pole positions. In other words, he knows what he's doing.
Incredibly, Team Penske won more than one out every three Indy 500 championships in which he competed. So every third year, he'd win, essentially. It's not even conceivable when you see all of the tremendous talent, money, rich people, rich men, rich countries with a lot of talent. They can't beat him.
For nearly five decades, it has dominated the greatest spectacle in racing, and in recent years, has become a growing force in NASCAR, where I really got to realize how many times he's won not only NASCAR, but Indy.
Roger has been inducted into the Motorsports Hall of Fame, NASCAR Hall of Fame, and Automotive Hall of Fame. He's built a team and a legacy that will endure forever. I mean, frankly, they'll be—nobody will ever be able to challenge this. I don't care what they do, how good they are, there are some things you can't do. And it will endure forever in the history of racing and in the history of sports, I think.
Roger is also one of the most successful businessmen in America. He started with a single dealership and today runs an automobile and automotive empire that employs 64,000 people at over 3,600 locations, with annual revenues of over $30 billion. That's fantastic. I still think 18 Indianapolis 500s is more incredible, but that's okay. [Laughter] That's okay. But that's really incredible what you've done in business.
He's rescued countless struggling business ventures—I remember when he did it—like Detroit Diesel Division of General Motors. You bought that one for a song, I remember, huh? Which was something with a lot potential, but they didn't know what they were doing. He didn't say that; I did. Where he increased the company's heavy-duty engine market share from 3 percent to 30 percent very quickly.
Roger is a dedicated philanthropist who has worked tirelessly to get the Motor City back on its feet. He's chaired the Downtown Detroit Partnership and the host committee for the 2006 Super Bowl. When the city needed emergency vehicles, Roger organized business and business leaders, and they really did a fantastic job. They purchased 100 police cruisers and 23 ambulances. He helped save the Detroit Institute of Arts with a $10 million donation and created the Roger Penske Detroit Fund to support the city's homeless population.
Roger, from racing to business to philanthropy, you have moved from one great victory to another. You're a very unique person. I know you for a long time. You're a very unique person and truly a great champion and truly a winner. No matter what you do, it turns to gold. You are a legend in the speedway, and you're a legend in business, and your name is revered everywhere the checkered flag flies and beyond that.
So I will now ask the Military Aide, as soon as Roger is going to say a couple of words, and I'll ask the Military Aide to forward—step forward and present the Presidential Medal of Freedom to a legend in so many ways and a great friend of mine, Mister Roger Penske. Thank you. Thank you.
Mr. Penske. Thank you, Mr. President. It's a wonderful honor to receive this award. It's amazing to be here today. And thank you, Vice President Pence, you know, for you being here in your busy schedule.
You know, it's amazing—you know, many years ago, my mother and father invested in me and told me the love and passion of our great country. And to think that I'm standing here today in the Oval Office with the President and the Vice President and all of you here today and especially my family, to receive this wonderful award, it's just hard to believe that that would happen.
As we all know, people make a team and people make power. And I think the great thing—and I've had the opportunities to do is to surround me with talented individuals in my business. And we built Penske Corporation over many years, and to see the success is really due to our people.
Motorsports has been the common thread through our business for many years. In fact, it helped us build our brand. Think about 18 Indianapolis 500s and also the many championships. But guess what? That was the power of the team.
The 64,000 people that worked for us on a worldwide basis in five continents—or five continents and nine countries, these are the people that I need to thank today, because if they hadn't done their work, I wouldn't be here today. As we think about things that we've been able to do in supporting the communities where we work and where we live, in 2006, I was the Super Bowl chairman in Detroit, Super Bowl XL. This was an opportunity for me, as an individual, to get the public and private sector together to start developing a plan for the renaissance of the city of Detroit.
If you think of that today, it's called almost a "model city," 13 years later, when you think about Detroit. It is the automotive capital of the world. As we go forward together as a Nation, the innovation and technology that will come out of Detroit will be amazing.
Thinking about my family and thinking about support, my wife Kathy, here today, of 46 years, has been my support—really, my support staff for so many years. She's walked this long river for me and along this walk for many years. And I want to thank her personally for the love and support of my family that's here today—our 13 grandchildren. Her love and passion has been so special.
And to think that I'm here today with my five children, their spouses, my brother and his wife, is amazing. And, to me, this is a very, very special time.
I really want to thank the President for this prestigious honor. Receiving the Presidential Medal of Freedom really is something special. And, to me, it means more than any business success or motorsports trophy.
I also want to thank the men and women in our Armed Forces. They're the real heroes and the backbone of our country. I want to thank them.
Vice President Pence, Mr. President, thank you for this honor.
The President. Thank you very much. [At this point, Cmdr. Jeffrey C. Fassbender, USN, Navy Aide to the President, read the citation, and the President presented the medal, assisted by Lt. Col. Rogelio Maese, USMC, Marine Corps Aide to the President.]
The President. Thank you very much, everyone. Very much appreciate it. Thank you.
Acting White House Chief of Staff John M. "Mick" Mulvaney
Q. Mr. President, do you still have confidence in your Chief of Staff, sir?
The President. Thank you very much, everybody.
World Series
Q. Are you going to the World Series, Mr. President?
The President. Yes.
Q. Yes? You are going to the World Series?
The President. On Sunday.
Q. Are you going to throw out the first pitch?
The President. I don't know. They're going to have to dress me up in a lot of heavy armor. I'll look too heavy. [Laughter] I don't like that.
NOTE: The President spoke at 4:47 p.m. in the Oval Office at the White House. The transcript released by the Office of the Press Secretary also included the reading of the citation. Mr. Penske referred to his son Roger and his wife Jennifer; son Gregory and his wife Patty; son Mark; son Jay and his wife Elaine; daughter Blair Penske Hall and her husband Brandon Hall; and his brother David and his wife Patricia.
Donald J. Trump, Remarks on Presenting the Presidential Medal of Freedom to Roger S. Penske and an Exchange With Reporters Online by Gerhard Peters and John T. Woolley, The American Presidency Project https://www.presidency.ucsb.edu/node/333988