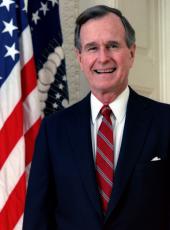 Remarks on Presenting the Presidential Medal of Freedom Awards
Welcome. Welcome, and please be seated. Let me first single out President Ford and say how pleased we are to have him here. And of course, members of our Cabinet over here. And especially today, the families and friends of the recipients.
It's a special honor to have the privilege of presenting the Nation's highest civilian award: the Presidential Medal of Freedom. Since the first Presidential Medal, since those first recipients were chosen by President John Kennedy in 1963, some of the world's most notable individuals have been honored. In this administration alone, the medal is awarded to war heroes like General Doolittle, Jimmy Doolittle; General Schwarzkopf; diplomats and public servants like Jim Baker and Margaret Chase Smith and Douglas Dillon; world-famous entertainers such as Lucille Ball; and just last year, a world leader of enormous consequence, former Prime Minister Margaret Thatcher.
And each of these extraordinary individuals were pioneers in their own right, each a monument to individual achievement. I'll never forget that November night 2 years ago when Lech Walesa accepted his medal right here in this room, saying that now one of the greatest dreams of his life had been fulfilled because this medal stood for the freedom of a nation and the freedom of mankind.
Today we recognize 10 men and women who have enriched our Nation, whether as leaders of popular movements, as friends of the common man, or as intellectual giants. Their achievement and dedication are unparalleled in America. And their standards of excellence are just as towering as their commitment to the ideal of freedom.
Author Bill Buckley is the celebrated founder of one of the largest journals of opinion in America, a preeminent intellectual in the American conservative movement and a distinguished author. Bill Buckley raised the level of political debate in this country, and our Nation is better for it. A true Renaissance man, we honor him today for a lifetime of achievement in American political and social thought.
Clergyman and civil rights leader Reverend Leon Sullivan. Leon has been a voice of reason throughout the latter half of this century. A vigorous proponent of equal rights for all, Reverend Sullivan founded OIC, Opportunities Industrialization Centers, one of the world's largest self-help and job training facilities. More recently, he has worked hard to develop closer ties between this country and Africa. Reverend, we salute your leadership in one of the great movements of our time, here and throughout the world: equal rights under law.
Conservationist Russell Train has devoted his life to the protection and conservation of our land and wildlife, serving both in private environmental groups and in the Federal Government. I've often referred to President Theodore Roosevelt's idea that we don't inherit the environment from our parents so much as borrow it from our children. For the legacy you are helping us leave to the children of America, sir, we thank you.
Baseball great Ted Williams whom I don't see sitting here -- oops, there he is over on the -- don't say anything -- [laughter] -- is an American legend, a remarkable figure in American sports and a twice-tested war hero. At the height of his athletic career, he answered the call of patriotism, serving his country in both World War II and the Korean war -- a true champion in the eyes of many Americans. An author wrote of his retirement from baseball, "And now Boston knows how England felt when it lost India." [Laughter] Ted, congratulations.
Former First Lady Betty Ford, she first inspired our Nation when, fighting her own battle against breast cancer, she drew national attention to the importance of early detection. Later, as president of the Betty Ford Center, she restored hope and dignity to those lost in the desperation of drug and alcohol dependency. Mrs. Ford, your compassion and caring have shown millions the way to new lives of freedom.
Former Speaker of the House Tip O'Neill is a legendary figure in American politics, blessed with the common touch like few others. Over 50 years ago, Tip entered the rough-and-tumble of Massachusetts politics and soon became the Bay State's first Democratic speaker. Throughout 40 years as a Member of Congress and a decade as Speaker of the House, Tip O'Neill built one of the most remarkable political careers of this century. He is a tough partisan. Jerry, would you agree to that? [Laughter] But above all, far more important, a true patriot. Congratulations.
And to former Puerto Rico Governor Don Luis Ferre, an old friend. He's known as the grand old man of Puerto Rico. Beloved by his people as a patron of the arts, a savvy businessman, and a public servant of the first order, Don Luis is a lifelong advocate of statehood for Puerto Rico. And sir, we honor you today as an extraordinary leader in the life of Puerto Rico.
Historian and humanist Hanna Gray is a world-class educator, the first woman to serve as president of a major university, the University of Chicago. Throughout her career, Mrs. Gray has been widely regarded as an outstanding Renaissance scholar. An example for others in her profession, she continues to teach at least one class a semester. Mrs. Gray, for your pursuit of the highest ideals in your profession and your commitment to excellence in American education, we salute you.
Vernon Walters enlisted in the Army as a private in 1941 before the outbreak of World War II. Nearly half a century later, he was our Ambassador to Germany during the fall of the Berlin Wall. In the years between, he served six Presidents as a statesman, an ambassador, and a trusted aide. His brilliant mastery of the art of diplomacy is renowned, and his extraordinary linguistic skills have frequently advanced our diplomatic efforts, often in the face of grave danger. It's been said that courage is the price that life exacts for granting peace. For your courageous service, sir, to the cause of peace and the American ideal, we thank you.
And finally, we honor Professor Friedrich von Hayek for a lifetime of looking beyond the horizon. At a time when many saw socialism as ordained by history, he foresaw freedom's triumph. Over 40 years ago, Professor von Hayek wrote that "the road to serfdom" was not the road to the future or to the political and economic freedom of man. A Nobel laureate, he is widely credited as one of the most influential economic writers of our century. Professor von Hayek is revered by the free people of Central and Eastern Europe as a true visionary, and recognized worldwide as a revolutionary in intellectual and political thought. How magnificent it must be for him to witness his ideas validated before the eyes of the world. We salute him.
The people of the United States are indeed indebted to each of our honorees. You have touched us. You have enriched us. You have shaped our Nation's destiny. And you've also shown us the strength and joy of a simple but powerful idea: the idea of freedom.
God bless each of you, and may God bless our country. And now Barbara and I have the honor to present these awards, and the aide will read the citations for us.
[At this point the President and Mrs. Bush presented the Medals of Freedom.]
That concludes the ceremony. And Barbara and I look forward to greeting all of you out here. And we'll see you in a minute.
Note: The President spoke at 11:30 a.m. on the State Floor at the White House.
George Bush, Remarks on Presenting the Presidential Medal of Freedom Awards Online by Gerhard Peters and John T. Woolley, The American Presidency Project https://www.presidency.ucsb.edu/node/266445