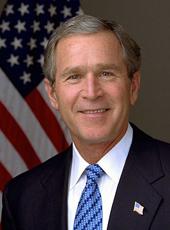 Remarks on Presenting the Presidential Medal of Freedom
The President. Please be seated. Thank you all for coming. Welcome. Mr. Vice President, members of my Cabinet, Laura and I are pleased you could join us on this special occasion. We're delighted to welcome our distinguished honorees as well as their families and friends to the White House. Thanks for coming.
The Presidential Medal of Freedom is our Nation's highest civil honor. The Medal recognizes high achievement in public service, science, the arts, education, athletics, and other fields. Today we honor 10 exceptional individuals who have gained great admiration and respect throughout our country.
Norman Y. Mineta personifies the terms "public servant" and "patriot." He served as an Army intelligence officer, the mayor of San Jose, California, 10-term U.S. Congressman, and a Cabinet member under Presidents of both parties. He was my Secretary of Transportation. No Secretary of Transportation ever served longer or confronted greater challenges than Norm Mineta.
On September the 11th, 2001, he led the effort to bring thousands of commercial and private aircraft swiftly and safely to the ground. Norm was calm, and he was decisive in a moment of emergency. He showed those same qualities in the months and years afterward, ably transforming his Department to face the dangers of a new era.
Norm Mineta's whole life has been an extraordinary journey. At the age of 10, he was sent with his mom and dad to an internment camp for Japanese Americans. Such wrongful treatment could have left a person bitter, but not Norm Mineta. Instead, he has given his country a lifetime of service, and he's given his fellow citizens an example of leadership, devotion to duty, and personal character. Mr. Secretary, you're a good friend and a great man, and our country honors you.
With us today is Warren O'Neil, who will accept the Medal of Freedom on behalf of his brother, John Jordan "Buck" O'Neil. Buck O'Neil passed away in October, after a baseball career spanning more than seven decades. He joined the Negro League in 1938, as a first baseman for the Kansas City Monarchs. Buck O'Neil won two batting titles and played on nine championship teams, and as a manager, guided the Monarchs to four league titles. After finishing his playing career, Buck O'Neil joined the Chicago Cubs as a scout and later as the first African American coach in the major leagues. He never did slow down. For the rest of his life, he was active in baseball, not just from the stands or the dugout.
In July of this year, he took a turn at bat in a minor league all-star game in Kansas City. They wisely pitched around him— [laughter]—he drew a walk—at the age of 94 years old. [Laughter] Buck O'Neil is also remembered as one of the game's best historians and ambassadors. He was the driving force behind the Negro Leagues Baseball Museum; he was proud to be its chairman. But he once said: "It never should have been a Negro League. Shouldn't have been." Buck O'Neil lived long enough to see the game of baseball and America change for the better. He's one of the people we can thank for that. Buck O'Neil was a legend, and he was a beautiful human being. And we honor the memory of Buck O'Neil.
One day in 1961, Ruth Colvin of Syracuse, New York, read a disturbing statistic in the morning newspaper. She learned that more than 11,000 people in her hometown could not read. Ruth wondered, "Why isn't somebody doing something about it?" Ruth decided that she would do something. Working out of her basement, she formed a network of citizens willing to donate their time as reading tutors. Before long, that network reached beyond Syracuse and beyond New York, and it had a name: Literacy Volunteers of America. Over the years, the volunteers have helped hundreds of thousands of adults learn the reading and language skills they need to build a better life. Ruth rightly says, "The ability to read and write is critical to personal freedom and the maintenance of a democratic society."
Ruth's good influence has continued to grow. She travels the world promoting literacy with her husband and best friend, Bob. She started literacy campaigns on multiple continents. Ruth has also made many dear friends, including another great crusader for literacy, my mother. [Laughter] Ruth's children, Terry and Lindy, know what I know—that you better listen to your mother. [Laughter] Ruth has said, "I am and always have been a volunteer." More than that, Ruth Colvin is a person of intelligence and vision and heart, and she has earned the gratitude of many and the admiration of us all. Congratulations.
Like Ruth, Dr. Norman C. Francis has dedicated his life to education. He achieved early distinction as the first African American to graduate from the Loyola University College of Law. In 1968, he became president of his alma mater, Xavier University in New Orleans, and he is today the longest serving university president in the United States. Dr. Francis is known across Louisiana and throughout our country as a man of deep intellect and compassion and character. He's an Army veteran. He led the United Negro College Fund. He was chairman of the board of the Educational Testing Service, and he holds only 35 honorary degrees. [Laughter]
Last year, after Hurricane Katrina did great damage to the Xavier campus, Dr. Francis vowed the university would overcome and reopen its doors by January, and he kept that pledge. Dr. Francis continues to help the people of southeast Louisiana as the leader of the Louisiana Recovery Authority. As they continue to rebuild from the devastation of the hurricanes, the people of the Pelican State will benefit from the leadership of this good man. And all of us admire the good life and remarkable career of Dr. Norman C. Francis.
Joshua Lederberg has always seemed ahead of his time. He was researching genetics when the field was scarcely understood. He was studying the implications of space travel before there were astronauts. And even three decades ago, he was warning of the dangers of biological warfare. All of his life, people have seen something special in this rabbi's son from Montclair, New Jersey. Someone who knew him in college said, "You could tell that Joshua was in the lab because you could hear the breaking glass." [Laughter] "He was so young, bursting with potential."
He earned his Ph.D. in his early twenties. At the age of 33, he won the Nobel Prize. Dr. Lederberg has remained at the top of the scientific field as a professor, researcher, and writer. As a columnist and adviser to many administrations, he brought clear, independent thinking and wisdom to matters of public policy, especially in national security and nonproliferation. For his brilliant career, his high ethical standards, and his many contributions to our country, the United States thanks Joshua Lederberg.
Americans first came to know Natan Sharansky as a voice for freedom inside an empire of tyranny. As a Jew applying to immigrate to Israel, he was refused and harassed by the Soviet regime. Natan Sharansky became a leading dissident and advocate for human rights. And after a show trial, he was sentenced to a gulag for 10 years. The authorities may have hoped the world would forget the name Sharansky. Instead, leaders like President Reagan and Ambassador Kirkpatrick spoke often of his persecution, and the case of Natan Sharansky became a symbol of the moral emptiness of imperial communism.
Today, the Soviet Union is history, but the world still knows the name Sharansky. As a free man, he's become a political leader in Israel, winning four elections to the Knesset and serving more than 8 years in the Cabinet. He remains, above all, an eloquent champion for liberty and democracy. Natan reminds us that every soul carries the desire to live in freedom and that freedom has a unique power to lift up nations, transform regions, and secure a future for peace. Natan Sharansky is a witness to that power, and his testimony brings hope to those who still live under oppression. We honor Natan Sharansky for his life of courage and conviction.
The struggle between freedom and tyranny has defined the past 100 years, and few have written of that struggle with greater skill than Paul Johnson. His book, "Modern Times: The World from the Twenties to the Eighties," is a masterful account of the grievous harm visited on millions by ideologies of power and coercion. In all his writings, Paul Johnson shows great breadth of knowledge and moral clarity and a deep understanding of the challenges of our time. He's written hundreds of articles and dozens of books, including "The History of the Jews," "The History of Christianity," "The Quest for God," and "The Birth of the Modern." Obviously, the man is not afraid to take on big subjects. [Laughter]
Eight years ago, he published "A History of the American People," which Dr. Henry Kissinger said was "as majestic in scope as the country it celebrates." In the preface, Paul Johnson called Americans "the most remarkable people the world has ever seen." He said, "I love them, and I salute them." That's a high tribute from a man of such learning and wisdom, and America returns the feeling. Our country honors Paul Johnson and proudly calls him a friend.
One of America's unique gifts to the world is a music called the blues. And in that music, two names are paramount: B.B. King and his guitar, Lucille. [Laughter] It has been said that when John Lennon was asked to name his great ambition, he said, "to play the guitar like B.B. King." Many musicians have had that same goal, but nobody has ever been able to match the skill or copy the sound of the "King of the Blues."
He came up the hard way in the Deep South, living alone when he was 9 years old, walking miles to school and picking cotton for 35 cents a day. Barely out of his teens, he made his first trip to Memphis, Tennessee, with his guitar and $2.50 in his pocket. He made his name on Beale Street, and his studio recordings made him a national favorite. B.B. King has sold more than 40 million records. He won 14 Grammys. He has a place on the Hollywood Walk of Fame. He's influenced generations of musicians from blues to rock, and he's performed in venues from roadside nightclubs to Carnegie Hall. He's still touring, and he's still recording, and he's still singing, and he's still playing the blues better than anybody else. In other words, the thrill is not gone. [Laughter] America loves the music of B.B. King, and America loves the man himself. Congratulations.
William Safire joined the White House staff nearly 38 years ago as a speechwriter to the President. President Nixon once introduced Bill this way: "This is Safire, absolutely trustworthy, but watch what you say—he's a writer." [Laughter] Writing has been at the center of Bill Safire's eventful life, going back to his days in the U.S. Army and as a PR man in New York. As a young speechwriter drafting remarks for a New York City official, he used the word "indomitable." When they asked Bill to find a better speech-word, he suggested "indefatigable." [Laughter] They fired him. [Laughter] We're a little more lenient about speechwriting here. [Laughter]
From the White House, Bill moved to the New York Times, where he spent more than 30 years as a columnist who was often skeptical about our Government but never cynical about our country. He always was committed to the cause of human freedom. His wit and style and command of English earned him another spot, his own page in the Times magazine every Sunday. Bill has said that his "On Language" column attracts more mail than any of his other work. People write me about my language too. [Laughter] Bill Safire has also written novels and a respected political dictionary. He won the Pulitzer Prize for commentary. He's a voice of independence and principle, and American journalism is better for the contributions of William Safire. Congratulations.
David McCullough has won the Pulitzer Prize twice, for "Truman" and "John Adams," two of the most successful biographies ever published. In person and on the printed page, David McCullough shares the lessons of history with enthusiasm and insight. He has written definitive works on the Johnstown flood, the building of the Brooklyn Bridge, and the digging of the Panama Canal. His first book out came— came out nearly 40 years ago; all of his books are still in print. David McCullough is also, for millions of Americans, the voice of history, as the narrator of Ken Burns's "The Civil War" and other films.
For those who question the importance of history, David likes to quote Harry Truman, who said, "The only thing new in the world is the history you do not know." David McCullough reminds us that "the laws we live by, the freedoms we enjoy, the institutions that we take for granted are all the work of other people who went before us." He's a passionate man about our responsibility to know America's past and to share it with every new generation. He's fulfilled that duty in his own career with splendid results. This chronicler of other times is one of the eminent Americans of our own time. The Nation owes a debt of gratitude to a fine author and a fine man, David McCullough.
Now the military aide will read the citations for the Presidential Medal of Freedom.
[At this point, Lt. Cmdr. Robert A. Roncska, USN, Navy Aide to the President, read the citations, and the President presented the medals.]
The President. Thank you all for coming. Congratulations to our honorees. Laura and I would like to invite you to a reception here to pay tribute to some of the finest citizens the Almighty has ever produced.
God bless you all.
NOTE: The President spoke at 10:18 a.m. in the East Room at the White House.
George W. Bush, Remarks on Presenting the Presidential Medal of Freedom Online by Gerhard Peters and John T. Woolley, The American Presidency Project https://www.presidency.ucsb.edu/node/272413