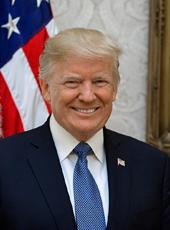 Remarks on Presenting the Presidential Citizens Medal to C. Richard Rescorla
The President. Thank you very much. Please. Thank you. Great to be with you. And thank you all for being here.
Today it's my honor to present an award reserved for those who perform exemplary deeds or acts of service for this great Nation and its citizens: the Presidential Citizens Medal. And it's a big deal.
This evening we come together to pay tribute to a fallen hero who devoted his life to defending freedom and who made the supreme sacrifice to save others on September 11, 2001: Colonel Richard Rescorla. Richard was a great gentleman. He's looking down proudly on this wonderful family. And congratulations, this is a big evening. And it's great to have you at the White House because there's no place like it. Thank you.
We are profoundly grateful to have with us Rick's beloved family. Please join me in welcoming his wife Susan—thank you, Susan—his son Trevor and his daughter Kim. Thank you. Thank you. Thank you. Thank you. And to each of you—we cannot fathom all that you have endured, but today we express the gratitude of 329 million Americans. It's a lot of people.
Rick was born in Cornwall, England, in 1939. As a boy, he met American soldiers preparing for the Normandy landing and dreamed of one day serving in uniform. It's a big thing for Rick.
Soon, he had his chance and joined the British Army. He spent 6 years fighting communism, then flew to America, found the recruiting center in Times Square, and joined the United States Army. He wanted to continue his fight against Communists.
In 1965, Rick deployed to Vietnam. As a platoon leader, he fought in the battle of the Ia Drang Valley. Facing overwhelming odds, Rick helped to beat back hundreds and hundreds of enemy soldiers. His commander, General Hal Moore—who was a great general, by the way—said Rick was, quote, "an extraordinary battlefield leader, quite simply the best platoon leader of infantry I have ever known in two wars." He saw plenty of action.
For his actions in Vietnam, Rick received two Bronze Stars, a Silver Star, the Purple Heart, and the Vietnamese Cross of Gallantry. We are thankful to be joined today by 60 soldiers who fought in Vietnam with Rick, including six veterans who just returned from Ia Drang on a trip to honor him. Would you all please stand? It's great to have you. Thank you. Thank you. Thank you. Whoa. That's pretty good. That's pretty good.
And you're all looking good. You're looking good. That's great. That's really fan—do I see a Medal of Honor winner in our midst? Oh, that's great. Stand up please. And I know them all. Congratulations. Thank you for being here. Very nice. You've earned our everlasting gratitude.
When Rick came home to America, he received a bachelor's of—a master's degree in literature, and earned a law degree in Oklahoma. He taught at the University of South Carolina, but soon realized he would not be happy until he was protecting others. That's what he liked to do: protect others. He was born to serve.
In 1984, Rick became director of security for Dean Witter Securities, which soon moved to the World Trade Center's South Tower. Rick was there in 1993, when terrorists detonated a 1,200-pound bomb in the World Trade Center's garage. In the midst of danger and confusion, Rick climbed on top of a desk, took command, and directed the evacuation. He helped a lot of people. That was a rough time.
After that bombing, Rick analyzed threats, outlined potential attacks, and told building officials that the next assault on the Towers could come from the air. He understood what was happening. He did everything he could to prepare for the worst.
In 1997, Dean Witter merged with Morgan Stanley, and Rick was promoted to executive vice president of security for the largest tenant in the entire World Trade Center. In 1998, he met Susan, and they married within a year. That was good. Right? [Laughter] That was good. They were both happy. They were both very happy. That was a good move for both.
On Tuesday, September 11, 2001, Rick got up early, put on his blue, pinstriped suit, and just before he left his home in Morristown, New Jersey, he kissed Susan, and told her: "I've never felt better in my life. I love you so." Very nice. That's very nice.
Rick arrived in his office before 7:30 a.m. A little more than an hour later, he heard an explosion, and looked out the window to see the North Tower consumed by flames. Bullhorn in hand, Rick told everyone to ignore the PA system that was instructing them to remain at their desks. He directed them to start marching down the stairs, two-by-two. "Get out and start marching. Just do it." And they had practiced before. Because of him, they had practiced before.
Rick ran up and down over 20 floors, telling employees to keep moving. "Keep moving. Get out. Keep moving." Many recall him saying, "Today is a day to be—proud to be an American. Tomorrow, the world will be looking at you!"
At 9:03 a.m., a plane crashed into now the South Tower. As terrified victims ran to escape the suffocating fumes, Rick remained calm and resolute in his mission. When others told Rick to run to safety, he responded, "As soon as I've got everybody in this building out." The South Tower collapsed while Rick was still inside. Through his extraordinary actions, he helped save 2,700 lives. That night, those 2,700 people went home to their loved ones.
In the 18 years since, they have raised families, sent their children to college, walked their sons and daughters down the aisle, held their grandchildren—thanks, in great measure, to one extraordinary American.
Here with us today are 12 brave first responders of 9/11, along with 5 veterans who fought in the war on terror and very, very successfully fought. Please stand. Please. Thank you. Thank you. Thank you, fellas. Thank you. Thank you very much. Great respect. I know the city well. [Laughter] Fantastic job.
Rick's entire life paints a beautiful picture of selfless service, and his legacy endures. Monuments and gardens have been built in his honor. A passenger train in England has been named after him. And they just gave me the most beautiful model of that train; it will be in the Oval Office. And poems and books and even an opera have been written to memorialize his story.
No one has done more to preserve Rick's memory than his wife Susan. After 9/11, Susan traveled the country and told of Rick's courage. Rick used to stay and say that Susan's spirit could "lift him up in just a minute." Susan, you have really helped to lift up an entire nation. And we want to really thank you. And you have been so incredible. And this evening is a very special one. This is a very special house, it's a very special home, and it's a very special country.
So, to Susan, Trevor, Kim, and every one of Rick's family members who are here: Our debt to you is beyond measure. We can never reverse the horrors of that day. We can never replace the precious lives we lost. But, on behalf of our entire Nation, I pledge that we will forever and always remember this incredible American hero, Colonel Rick Rescorla. We will never, ever forget. Now, it is my privilege to ask Susan to join me onstage to accept the Presidential Citizens Medal on behalf of her great husband.
Would the Military Aide please come forward and read the citation. Thank you. Thank you, Susan.
[At this point, Cmdr. Keith O. Thomas, USCG, Coast Guard Aide to the President, read the citation, and the President presented the medal, assisted by Maj. Brandon M. Westling, USAF, Air Force Aide to the President.]
Susan Rescorla. Good evening, President Trump and all of you, this day of November the 7th, in the year of our Lord, 2019. And thank you so much for meeting with Rick's family and I so privately before the ceremony.
Today is a day to honor a proud American. Eighteen years is a long time, and I thank our President for honoring Rick with the Presidential Citizens Medal.
I had asked myself, "And why now?" Because this was to be. It's all about the journey, which has revealed so much more. Of all of the accolades, all of the tributes, both here and in the United Kingdom—60 or more, over the years, and each one so unique—and all of the people along the journey who have touched my life, each is so memorable, because I was able to learn more about this incredible man in death than in the short time we had together on Earth. And thank God we were blessed by a deeply meaningful time together.
Mr. President, we have about 200 people here who are all great women and men. And I will be honoring them at the gala event at the Plaza Hotel this evening. I know Rick would have wanted them all to be here today, and we both salute you all.
And now, on this incredible day, we are gathered here at our White House with the President of the United States, Donald Trump, in the country we love, with the flag we salute with so much respect. And looking out on you all, each one of you is so special.
On that fatal day, September 11, 2001, Rick was seen fiercely herding the people out of the building. And then, he and his three men followed the firemen going further up into the South Tower. There's even a recorder of them talking to one another. "Leave no man behind" was the core of the 7th Cavalry, and I know Rick was thinking about his men in those final moments.
The days after 9/11, so many people called me and asked me, "Did Rick make it out?" Or to tell me what Rick was saying to them as he was bringing them out of the building to safety. He was singing Cornish songs and sometimes even whispering in their ears: "Get the hell out. Just leave. Get out." [Laughter]
But the—and—anyway, what was I going to say? Today is a day to be proud to be an American, because the world is still looking at us. And all of you here have contributed to keeping Rick's work and story alive so it will be in the forefront of the American memory.
But before I say my—the last statement, I would like to tell you something about what Rick said to me. On our first date, he said to me, "What are you about?" And I said, "What do you mean, Rick?" And he said: "Well, when I was a very young man, I declared what I wanted to be. And I knew that if I stayed on that path, that at the end of my life, that I would have done the very best that I could." And that's exactly what Rick did.
Thank you, Mr. President. And God bless America.
The President. Thank you very much, Susan.
NOTE: The President spoke at 6:38 p.m. in the East Room at the White House. In his remarks, he referred to Medal of Honor recipient Col. W. Joseph Marm, USA (Ret.).
Donald J. Trump, Remarks on Presenting the Presidential Citizens Medal to C. Richard Rescorla Online by Gerhard Peters and John T. Woolley, The American Presidency Project https://www.presidency.ucsb.edu/node/335018