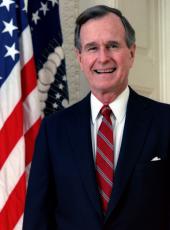 Remarks on Presenting the Malcolm Baldrige National Quality Awards
Thank you, Secretary Franklin. And let me first recognize our Baldrige Foundation trustees, our private sector examiners and judges, and all those who coordinated this year's Baldrige Awards. Distinguished Members of Congress present, welcome. And also it's my special privilege to salute members of the Baldrige family who are with us today.
I really do look forward, Barbara indicated, to these yearly award ceremonies. It is an opportunity to honor the Nation's best and a chance to revisit the legacy of an extraordinary man, Malcolm Baldrige.
I remember a story that President Reagan used to tell about Mac. He phoned him to ask him to join his Cabinet, and he was told by his wife, Midge, that he'd have to call back later. Mac was out on his horse roping and couldn't come to the phone. [Laughter]
Well, I think everybody at Commerce who worked with this extraordinary man knows exactly that that's the way he was, a man whose collection of belt buckles was the only thing that could outnumber his many achievements. And in a hand-tooled western belt and a pinstriped suit, he was the Connecticut cowboy, a man whose name is now enshrined in the Cowboy Hall of Fame in Oklahoma and the only guy I know who'd complain of saddle sores from sitting around a desk too long. [Laughter]
He used to say that the thing he liked about cowboys was that they didn't talk unless they had something to say, and when they said something, they meant it. And that was true of Mac Baldrige. And when he talked business, he meant business. When he talked of making America's products second to none, you listened. The standards of excellence that Mac embodied are still very much with us today. Fairness, honesty, tenacity: these were his yardsticks and the same yardsticks we use today in looking for the very best that American industry has to offer.
This year we've found them in five exceptional companies. Ninety companies this year decided that they were tough enough to take the Baldrige tests. And it's estimated 175,000 others used these criteria, the Baldrige criteria, as an internal test, as a way to be tough on themselves. And a few of our past winners -- and I come to mind Motorola and IBM -- have even gone so far as to urge their suppliers to follow the Baldrige criteria. What this tells us is simple: America is number one because it demands not only the best for itself but also from itself.
Now a comment on this year's winners. Some might think the Commerce Department offered a two-for-one deal with AT&T, but not so. Though both Transmission Systems and Universal Card Services are divisions of AT&T, they are two separate businesses who share one common goal, a commitment to quality. AT&T Chairman Robert Allen said of this commitment, "The real challenge is to define quality not from our own perspective but from the customers'." And this, both divisions have done.
Transmission Systems Business Unit dedicates itself not only to its customers' short-term needs but its long-term needs as well. With the input of more than 7,500 employees at 9 U.S. sites, Transmission Systems has initiated programs to predict what new technologies will be needed to meet their customers' long-term goals. In slightly more than 3 years, Transmission Systems has nearly doubled international sales and now sells systems to more than 50 countries. And that is a lot of satisfied customers.
Universal Card Services hasn't become a benchmark of other companies by accident but by effort, top performances by all of its 2,500 employees. And Universal Card led its charge to excellence by centralizing their business around one key principle: Delight the customer. And it seems they are, indeed, delighted. Ninety-eight percent of their customers rate overall services as better than the competition, 98 percent. That's pretty good for a poll, and I could have used it about a month ago. [Laughter]
It's not often that small business means big business. And it's true for the Granite Rock Company, another of our honorees. With the initiation of their total quality program, Granite Rock has exceeded its industry standards for high quality and unmatched service. And rather than follow a well-worn path, Granite Rock chose to chart its own way, a journey that's brought them here today, an award-winning company that defines success in three little words: Another satisfied customer.
Ritz-Carlton: They won 121 quality-related awards in 1991. But ask any employee how they gauge their success, and they'll say, "The Gold Standards," the Ritz-Carlton's bible for premium service. And with almost 12,000 employees, the Ritz-Carlton has implemented a rigorous quality program that seeks a memorable visit for every guest. This luxury hotel business knows that a mint on the pillow isn't enough to keep a customer coming back. It's the principle "Service must be excellent if it is anything" that has earned Ritz-Carlton one of the most loyal followings in the travel and tourism industry.
Now, for Texas Instruments Defense Systems and Electronics Group: Its best product is always surpassed by its next innovation. Mac used to call this kind of inventiveness Yankee ingenuity. I'm not sure this Texas-based company cottons to be called Yankee -- [laughter] -- but ingenious I think they'll accept. And they've earned it. Formed during World War II, this TI subsidiary has grown to become the Nation's eighth largest defense electronics contractor. And we know from the success of Desert Storm that in matters of advanced weaponry, quality is absolutely essential. It's the key. And we know, too, from the success of Desert Storm that TI's contributions to this effort were absolutely invaluable.
In today's competitive global marketplace, quality of service and quality of goods takes on top priority in American business. And premium standards are no longer lofty goals but vital components of every basic business strategy. This year's Baldrige winners know that quality standards do not impede success, they encourage it. And Mac Baldrige would certainly agree with that.
Each time we revisit our memories of Mac Baldrige at this ceremony, I'm reminded of the wisdom that he used to impart most often: Always, in anything and everything, rise to the highest standard. This year's Malcolm Baldrige Quality Award winners have all done just that.
So I came over here to say congratulations to all of you. And may God bless our great country. Thank you very much.
Note: The President spoke at 11:52 a.m. at the Department of Commerce.
George Bush, Remarks on Presenting the Malcolm Baldrige National Quality Awards Online by Gerhard Peters and John T. Woolley, The American Presidency Project https://www.presidency.ucsb.edu/node/267853