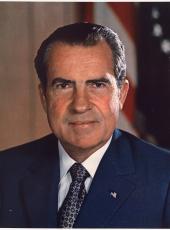 Remarks on Presenting the Heart-of-the-Year Award to Pearl Bailey
I AM very happy to present this award to Pearl Bailey. I have presented awards to her before. Pearl Bailey has been here as our guest at the White House. She has also taken on a capacity, unpaid, as a volunteer ambassador at large for the United States in countries throughout the world. For that we are very grateful.
I think in presenting this award, I should say two things. It is significant to note that two Presidents before I was here had heart disease, and yet in this, which is supposed to be the most burdensome and wearing job in the world, they were able to carry on the duties of this office. It does prove that heart disease is not a barrier.
But I also know from having seen Pearl Bailey in "Dolly" and the rest and seen her magnificent ability to raise an audience with her radiant personality, that if she has any restrictions because of heart disease, it doesn't show. You compensate in other ways.
I also would like to say that when we speak of the Heart-of-the-Year Award, I guess, first, we think of the heart physically. A big heart physically, I understand, is bad for you. But also we speak of the heart in the sense of the poet and in that respect, a big heart is something that we all admire.
I believe we could say with regard to Pearl Bailey, she, from the standpoint of emotion, from the standpoint of poetry, from the standpoint of love--all of these things that the heart symbolizes--she has a big heart which is demonstrated by her great audience and we appreciate that and we present this award to her in that spirit.
Note: The President spoke at 12:17 p.m. in the Oval Office at the White House. He spoke without referring to notes.
The President presented the Heart-of-the Year Award to Pearl Bailey on behalf of the American Heart Association. The award is given annually to a "distinguished American whose faith and courage in meeting the personal challenge of heart disease have inspired people throughout the Nation with confidence in the objectives and program of the American Heart Association."
On the same day, the President signed Proclamation 4104, designating the month of February as American Heart Month.
Richard Nixon, Remarks on Presenting the Heart-of-the-Year Award to Pearl Bailey Online by Gerhard Peters and John T. Woolley, The American Presidency Project https://www.presidency.ucsb.edu/node/255410