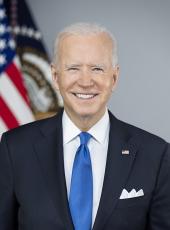 Remarks as Prepared for Delivery by White House Science Team Nominees and Appointees in Wilmington, Delaware
Remarks as Prepared for Delivery by Presidential Science Advisor and Nominee for Director of OSTP Dr. Eric Lander in Wilmington, Delaware
I want to start by thanking you, President-elect Biden and Vice President-elect Harris, for your trust and for the opportunity to help elevate science in the White House as we build back better.
I'd also like to thank the team we're announcing today. It's an extraordinary group of scientific leaders. I'm looking forward to working alongside you and learning from you.
Over the course of my life, I've seen America take on amazing challenges to make the world better. And, I came to believe that America, and Americans, could rise to meet any challenge. It's a belief I share with President-elect Biden.
As a kid growing up in Brooklyn, I saw America go to the moon — every step of the way. My mother would let me stay home from school to watch every space launch.
As a young scientist, I got to play a role in another remarkable mission — the Human Genome Project.
When we set out, the idea of mapping out the complete DNA code of the human being seemed completely absurd — with the rate of progress at the time, it would have taken about 200 years to map one person's genome.
But I was part of a generation of young scientists — across America and around the world — who believed in the ability to change what was possible.
It didn't end up taking 200 years — it took 13. Today, it takes just hours.
And the Human Genome Project has had a huge impact. It's made it possible to discover the biological basis of diseases — from cancer to diabetes to Alzheimer's — and to use that knowledge to revolutionize diagnostics and pioneer new therapies.
Well, today, the opportunities we have and the challenges we face are greater than ever before.
The president-elect knows that science and technology will be crucial in meeting this moment.
He has tasked us — not just his scientific advisors, but the whole scientific community and the American public — with answering important questions about how science and technology can best be used to advance our health, economic welfare, and national security.
He's asked us to rise to this moment. To draw lessons from the pandemic. To seek bold new climate solutions. To propel technologies that will create new industries and new jobs. To ensure that the benefits of progress are shared broadly among all Americans. And to nurture, replenish, and strengthen the scientific community.
No nation is better equipped than America to lead the search for solutions, to inspire the next generation, to attract the best scientific talent from within our own shores and from around the world.
America's greatest asset, I think, is our unrivaled diversity.
Scientific progress is about someone seeing something that no one's seen before — because they bring a different lens, different experiences, different questions, different passions.
No one can top America in that regard — but we have to ensure that everyone not only has a seat at the table, but a place at the lab bench.
I am so grateful to this team, and to the president-elect and vice president-elect.
And I am so excited about working together to extend the endless frontiers of science.
Remarks as Prepared for Delivery by OSTP Deputy Director for Science and Society Dr. Alondra Nelson in Wilmington, Delaware
Thank you, President-elect Biden and Vice President-elect Harris.
For your trust, for your faith, and for this extraordinary honor.
I am beyond humbled.
I come from a family that has long dedicated themselves to public service.
My parents are veterans. My mother, Delores, was a cryptographer for the U.S. Army, and served later in the federal government. My father, Robert, spent his career in the Navy.
Thanks to them, I grew up instilled with an abiding belief in the importance of serving your country.
I thank my family for their model of service, and for their love and support.
Now, I am deeply grateful that I will have the chance to lend my own experience and expertise in public service.
For an academic whose work stands at the intersection of science, technology, and our social fabric, there is no mistaking the power and meaning of the moment we are living through today.
Of course, science and technology have permeated nearly every aspect of our lives throughout the course of human history.
But perhaps never before in living memory have the connections between our scientific world and our social world been quite so stark as they are today.
The COVID-19 crisis has inflicted extraordinary suffering.
But it has also held up a mirror to our society, reflecting in its deadly wake the resource gaps and medical disparities — the inequality we've allowed to calcify.
And as new technologies take root in our lives, from artificial intelligence to human genome editing, they reveal and reflect even more about the complex, and sometimes dangerous, social architecture that lies beneath the scientific progress we pursue.
Science, at its core, is a social phenomenon.
It's a reflection of people, our relationships, and our institutions.
When we provide inputs to the algorithm, when we program the device, when we design, test, and research, we are making human choices — choices that bring our social world to bear in a powerful new way.
It matters who makes those choices — it matters who they're thinking about when they do.
That's why, in my career, I've always sought to understand the perspective of people and communities who are usually not in the room where the inputs are made — but who live with the outputs nonetheless.
As a Black woman researcher, I am keenly aware of who is often missing from these rooms.
I believe that we have a responsibility to work together, to make sure that when our technologies reflect us, they reflect all of us.
That they reflect us as we truly are.
That, too, is a breakthrough. That, too, is an innovation that advances our lives.
We have an incredible window of opportunity ahead of us to approach our science and technology policy in ways that are honest and inclusive.
To bring the full strength of our communities — our experiences, our concerns, and our aspirations — to every table as we think through emergent forms of science and technology.
There has never been a more important moment to get scientific development right, or to situate that development in our values: equality, accountability, justice, and trustworthiness.
It is my honor to pursue that effort with this distinguished team and with a president-elect and vice president-elect who stand up proudly and consistently for scientific integrity — and the dignity and worth of every community.
Thank you.
Remarks as Prepared for Delivery by Co-Chair of the President's Council of Advisors on Science and Technology Dr. Frances Arnold in Wilmington, Delaware
Mr. President-elect, Madam Vice President-elect,
I am humbled and honored by this chance to serve the American people at this moment of profound grief and unprecedented opportunity.
As an engineer by training, there is a certain temptation to see the work ahead of us as a series of difficult problems to be solved.
But the truth is, that is not what drew me to this role.
Like the rest of this extraordinary team, I am here today because of love.
A love of science, yes, but also a deeper love — of our planet, and of our people — without whom science has no purpose or meaning.
I embarked on my own labor of love in the 1970s, beginning my career in solar energy at a time when our nation was in the grip of an energy crisis.
In the years since, my belief has only grown that our highest responsibility, in each generation,
is to preserve our fragile planet; prepare our economy and our workforce for the future; and pass on a better world.
Science-based decision-making has always been our most powerful tool for meeting that responsibility — perhaps never more so than today.
As a pandemic rages, taking so much, and threatening all that we love, we look to science and technology for answers — technology to stay connected to one another; science to find vaccines — and light the path out of the darkness.
As climate change looms, we look to science and technology once more to save the precious jewel of our planet, so that we might pass it to future generations intact and in good health, as it was passed to us.
In a time of economic crisis, we look to science to develop the industries of the future; the ones that will breathe new life into our livelihoods, provide the good jobs that lift up families and communities, and bring dignity and security to all our people.
And in a moment of torrential divisions, science offers us a common shelter of facts and truth, within which we can begin to come together and, in time, begin to heal.
Science, once again, is not the cold solving of problems.
It is a warm and beautiful exploration of the unknown, an expression of human curiosity that propels us forward and allows us to fulfill our most important responsibilities.
The moment we fail to nurture it, we resign ourselves to living in the past and lose the chance to guide the future.
The agenda put forward by the president-elect and vice president-elect resonates with me — not only as a scientist, but as a grandmother.
When we put science back to work for the benefit of all people — revitalizing our economy, fueling our climate response, broadening our perspective as we rebuild around greater equity and opportunity — we are making a society worth passing on to our children and our grandchildren.
It is an act of love, and I am honored by the opportunity to help nurture this effort.
Thank you.
Remarks as Prepared for Delivery by Co-Chair of the President's Council of Advisors on Science and Technology Dr. Maria Zuber in Wilmington, Delaware
Mr. President-elect, Madam Vice President-elect, thank you for this incredible opportunity.
Like President-elect Biden, I was born in Eastern Pennsylvania, where I spent clear nights observing the sky.
I decided to become a scientist because I just couldn't deal with not knowing what was up there.
That impatience, coupled with our country's unparalleled system of higher education, allowed me to pursue robotic space exploration and live a life of discovery.
Imagine mapping the solar system for a living. That's me.
Somewhere along the way, I began to appreciate another dimension of science, to see it as a way to help people and advance our country.
That element of service called to me — just as powerfully as the night sky had in my youth.
I have been fortunate to serve our country across each of the last three administrations.
I am proud, today, to be joining a fourth, and look forward to continuing to advocate for science in a non-partisan manner in this new role.
I am thrilled with the challenge, and the opportunity, to work together with the scientific leadership of this administration to restore trust in science and pursue breakthroughs that benefit all people.
That work is especially critical today as the pandemic continues to rage.
Throughout this difficult chapter, my colleagues in the life sciences have proven — through extraordinary sacrifice and resolve — that science and scientists are part of the solution.
And that when the country needs us, we will be there.
We will be there beyond the pandemic, too, helping take on the full sweep of challenges ahead, including our transition to a zero-carbon energy system, our need to create the good-paying jobs of the future, and our existential fight against climate change.
My home in Pennsylvania was in anthracite country — both of my grandfathers mined coal and died of black lung.
Most of the jobs left that region half a century ago — and in communities like mine, they've never come back.
I could not be more excited for the efforts of this administration to deploy science to help breathe new life into those places and into so many communities, large and small, that are hurting today.
Bold scientific leadership will be a critical component of building back better — guarding our health and safety, helping to spark new clean industries, and keeping America competitive in the race for those well-paying jobs of the future.
I am honored to be a part of that effort, and I can't wait to get to work.
Joseph R. Biden, Remarks as Prepared for Delivery by White House Science Team Nominees and Appointees in Wilmington, Delaware Online by Gerhard Peters and John T. Woolley, The American Presidency Project https://www.presidency.ucsb.edu/node/347765