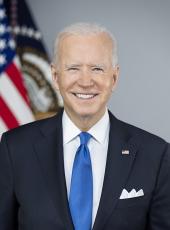 Remarks as Prepared for Delivery by Department of Justice Nominees in Wilmington, Delaware
Remarks as Prepared for Delivery by Nominee for Attorney General, Judge Merrick Garland in Wilmington, Delaware
Thank you, President-elect Biden and Vice President-elect Harris, for asking me to serve as Attorney General.
Thanks, always, to my wife, children, sisters, and late parents — without whose unstinting support I would not be standing here today. And thanks also to my grandparents, whose decision to undertake the difficult journey to America made all things possible for my family.
If confirmed, I look forward to working with these distinguished DOJ veterans: Lisa Monaco, Vanita Gupta, Kristen Clarke.
Entering the Department of Justice will be a kind of homecoming for me. My very first job after serving as a judicial law clerk was to work as a special assistant to then-Attorney General Ben Civiletti.
Ed Levi and Griffin Bell, the first Attorneys General appointed after Watergate, had enunciated the norms that would ensure the Department's adherence to the Rule of Law.
Attorney General Civiletti undertook to continue their work of crafting those norms into written policies.
Those policies included guaranteeing the independence of the Department from partisan influence in law enforcement investigations; regulating communications with the White House; establishing guidelines for FBI investigations; ensuring respect for the professionalism of DOJ's career lawyers and agents; and setting out principles to guide the exercise of prosecutorial discretion.
Those policies became part of the DNA of every career lawyer and agent. If confirmed, my mission as Attorney General will be to reaffirm those policies as the principles upon which the Department operates.
As Ed Levi said at his swearing-in: "Nothing can more weaken the quality of life, or more imperil the realization of the goals we all hold dear, than our failure to make clear by words and deed that our law is not an instrument of partisan purpose."
In the decades that followed my first tour of duty at the Department, I returned again and again to work in different roles: as a career line Assistant U.S. Attorney; as a criminal division supervisor; and, finally, as a senior official in the Office of the Deputy Attorney General.
In the latter role, I worked with every component of the Department, on issues ranging from civil rights and antitrust, to domestic terrorism and national security.
I also worked directly with line prosecutors and agents in offices from Oklahoma City to Billings, Montana; from Sacramento, California to New York City.
Attorney General, later Supreme Court Justice, Robert Jackson famously said:
"The citizen's safety lies in the prosecutor who tempers zeal with human kindness, who seeks truth and not victims, who serves the law and not factional purposes, and who approaches his task with humility."
That was the kind of prosecutor I tried to be during my years of service at DOJ.
In 1997, I left the Department to serve the cause of justice in another role: as a judge. I have loved being a judge.
But to serve as Attorney General at this critical time, to lead the more than 113,000 dedicated women and men who work at the Department to ensure the Rule of Law, is a calling I am honored and eager to answer.
As everyone who watched yesterday's events in Washington now understands — if they did not before — the Rule of Law is not just some lawyer's turn-of-phrase. It is the very foundation of our democracy.
The essence of the Rule of Law is that like cases are treated alike: That there not be one rule for Democrats and another for Republicans, one rule for friends and another for foes; one rule for the powerful and another for the powerless; one rule for the rich and another for the poor — or different rules depending on one's race or ethnicity.
And the essence of its great corollary, Equal Justice Under Law, is that all citizens are protected in the exercise of their civil rights.
Those ideals have animated the Department of Justice since the very moment of its inception.
Indeed, the Department was founded in the midst of Reconstruction following the Civil War, with its first principal task being to ensure compliance with the 13th, 14th, and 15th Amendments.
As historian Ron Chernow wrote, "the new Justice Department would forge its identity in the battle to slay [the first incarnation of the] Ku Klux Klan and [its] offshoots." In that battle, the Department successfully deployed its considerable resources to ensure civil rights, which had come under militant attack.
These principles — ensuring the Rule of Law and making real the promise of Equal Justice Under Law — are the great principles upon which the Department of Justice was founded and for which it must always stand.
They echo today in the priorities that lie before us — from ensuring racial equity in our justice system to meeting the evolving threat of violent extremism.
If confirmed, those are the principles to which I will be devoted as Attorney General.
President-Elect Biden understands this. As he has publicly said: "It's not my Justice Department, it's the people's Justice Department."
He promised that the person he chose to lead the Department would have the "independent capacity to decide who gets prosecuted and who doesn't."
Vice President-Elect Harris also publicly said: "Any decision coming out of the Justice Department should be based on facts; it should be based on the law; it should not be influenced by politics. Period."
I could not agree more. And I would not have agreed to be considered for Attorney General under any other conditions.
Thank you for giving me this opportunity to serve.
Remarks as Prepared for Delivery by Nominee for Deputy Attorney General, Lisa Monaco in Wilmington, Delaware
Mr. President-elect, Madam Vice President-elect — thank you for this opportunity to return to the Department of Justice and work alongside this impressive team on behalf of the American people.
I also want to thank my family for their love and support — especially my parents, for their lessons, large and small, in living one's values.
It's fair to say that I grew up in the Justice Department. It was my privilege over the course of fifteen years to serve the institution, and to learn so much from its extraordinary people — to learn what it means to be a lawyer in public service.
Over the years, I have worn many hats: I've been a career prosecutor, a senior official with the FBI, and the leader of the National Security Division.
As an Assistant US Attorney that I learned the Justice Department's values — I worked directly with communities and victims of crime, and felt the weight of a prosecutor's responsibility to ensure not that cases are won but that justice is done and each individual defendant's rights are protected.
These experiences forged in me reverence for the Department of Justice as an institution — for its people; for its mission; and for the enduring values it represents: the protection of civil rights and civil liberties, safeguarding the public from threats of all kinds, and upholding the rule of law.
Judge Garland's mention of the former Attorney General, Edward Levi, calls to mind one of my earliest DOJ memories.
My first job in the Department was as counsel to the first woman Attorney General, Janet Reno — a mentor and a trailblazer.
In the conference room outside her office, she hung a portrait of Edward Levi, a tribute to his role in reaffirming integrity and independence after Watergate, and a testament to the fact that we are all temporary custodians of the institution.
The story goes that when President Ford asked Levi what he thought the Department needed most in those days of flagging faith in institutions, Levi responded, "a soul."
Well, the soul of the Justice Department lives in the integrity of its career professionals, in the independence of its investigations and prosecutions, and in the principles it brings to bear as it stewards the ideal of justice in America.
Today, we are at another inflection point. Some of the challenges we face are familiar — racial inequality; the need for criminal justice reform; domestic terrorism and threats to public safety.
Some of the tasks are enduring — like the importance of working closely with law enforcement to ensure public safety and build trust in our communities.
Some of the challenges are evolving — like mounting cyber threats.
I'm confident that the Department of Justice is up to all these challenges, but what is most critical in the days ahead is not a challenge at all — but an opportunity.
A chance for this team and the career professionals who make up the Justice Department to reaffirm its norms and traditions, to do justice without fear or favor, to keep the American people safe and to do so always consistent with the rule of law.
If confirmed, it will be my honor to once again work alongside the women and men of the Justice Department as custodians of a remarkable, durable institution.
Mr. President-elect, Madam Vice President-elect — thank you for the opportunity to come back home to the Department of Justice.
Remarks as Prepared for Delivery by Nominee for Associate Attorney General, Vanita Gupta in Wilmington, Delaware
Mr. President-elect, Madam Vice President-elect — thank you for the opportunity to serve this nation.
I am humbled and honored to return to the Department of Justice — an institution that I love so dearly.
And to once again work alongside the exceptional women and men who every day defend the Constitution, enforce our federal laws, and seek to create a more perfect union with deep integrity and without political interference.
There are many agencies in our federal government — but only one which bears the name of a value.
By virtue of that name — that value of justice — we know the Department carries a unique charge and North Star.
At its best, it is the keeper of a sacred promise — the promise of equal justice for all.
That no one is above the law.
When this promise is pursued with vigor, it brings light to our nation and serves as a beacon to the world.
But when abandoned, we degrade our democracy and sow the division we've come to know all too well.
The first time I felt the absence of that promise was as a four-year-old child — one of my earliest memories.
My parents were proud immigrants from India — an opportunity made possible by the civil rights movement, and the 1965 Immigration and Nationality Act.
One day, I was sitting in a McDonald's restaurant with my sister, mother, and grandmother.
As we ate our meals, a group of skinheads at the next table began shouting ethnic slurs — and throwing food at us until we had to leave the restaurant.
It is an early memory — but one that is seared in my mind.
That feeling never left me — of what it means to be made to feel unsafe because of who you are.
I kept another feeling with me, though, too — one ingrained in me by my parents and shared by my husband, whose family fled violence and war in Vietnam and sought refuge on these shores.
They believed more than anything in the promise of America — and that loving this country brings with it the obligation to do the necessary work to make it better.
Those two feelings converge in the work ahead of us.
Yesterday's horrific events at the Capitol reminded us that our democracy cannot be taken for granted — that our nation has a long history of disinformation and racial terror.
It also reminded us that our values, our Constitution, our democracy — they do not protect themselves.
People with courage do.
I am honored to return to a Department that will push every day for justice, accountability, and equality under the law.
It will not be enough to restore what has been undermined or lost.
This moment demands bold leadership.
The Department of Justice, as it has done throughout history, will have to uncover and reckon with hard truths; hold people, companies, and institutions accountable to our Constitution and laws;
drive change where there is injustice; and heal a nation starving for decency and hope.
Now is the time to ensure our economic system works for everyone, to protect the health and safety of the American people, and to harness all DOJ levers for civil rights, justice reform, and climate justice.
As the late Congressman John Lewis said, "Democracy is not a state. It is an act."
I pledge to the American people I will act for justice every day.
I am honored for the chance to work together — with activists for justice, with law enforcement, with this team, with the incredible women and men of the Justice Department — to strengthen our democracy and make the promise of equal justice real for all.
Thank you for this opportunity.
Remarks as Prepared for Delivery by Nominee for Assistant Attorney General for Civil Rights, Kristen Clarke in Wilmington, Delaware
Mr. President-elect, Madam Vice President-elect — it's an honor and a privilege to be nominated to return to the Department of Justice and serve the American people at this critical moment in our democracy.
I am humbled and exceedingly proud to be joining the remarkable team you've put together to pursue the urgent, timeless cause of equal justice under law.
I stand here today deeply inspired by the example of the late Justice Thurgood Marshall, Constance Baker Motley, and other public servants who dedicated their lives to advancing the cause of justice.
If I am fortunate enough to be confirmed, we will turn the page on hate and close the door on discrimination by enforcing our federal civil rights laws.
Growing up in Brooklyn, New York, my parents instilled in me an unrelenting belief in the principles of hard work, and respect for the dignity and humanity of all people.
I am deeply thankful for the trail my parents blazed, and today, I am thinking about the pride I know my mother Pansy, my brother Troy, my sister Karen, and my partner Mustafa are feeling as I take on this challenging new opportunity.
As a mom myself now, I see the future of America through the eyes of my son.
And, honestly, I am at times worried.
Will he have full and equal access to the extraordinary opportunities of American life?
Will he be able to embrace those opportunities in safety and dignity?
Will all of America's children?
Every parent lays awake some nights asking these same questions.
I know that my own parents did.
I was fortunate to benefit from amazing educational opportunities, and plenty of lucky breaks that opened doors for me.
But I knew then as I know today — that not everyone is blessed with the opportunities I enjoyed.
That awareness has animated my life's work — it's what brought me to the Department of Justice where I started my career — and it's what brings me back for this homecoming today.
The Department, and especially the Civil Rights Division, has always occupied a special place in my heart.
The clarion call of equal justice under law is what binds us together as a nation.
Now, it's my honor to return to work alongside the dedicated career professionals who give of themselves every day to make that principle real in the lives of families like mine — in my son's life, and in the lives of all our sons and daughters.
I know the passion and fearlessness that both the President-elect and the Vice President-elect bring to the work before us to restore justice, to heal our nation, and to move us closer to that ideal of equal justice.
I am humbled, honored, and eager to work with them, and with this team.
Thank you for giving me this opportunity to serve my country as a member of your administration!
Joseph R. Biden, Remarks as Prepared for Delivery by Department of Justice Nominees in Wilmington, Delaware Online by Gerhard Peters and John T. Woolley, The American Presidency Project https://www.presidency.ucsb.edu/node/347506