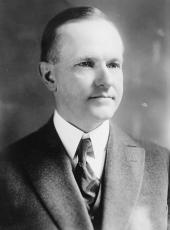 Remarks on Phonofilm to the Friars Club in New York City
The march of invention is faster in our days than ever before. He who would assume to keep fully abreast of It would have no time to do more than note its accomplishments and marvel at them. So let me admit that in helping to make the amazing record which is to be produced of this scene I have only the most general idea of what it is, mechanically and scientifically, that is being done. But I am assured that a phono-film of this scene is to be produced, combining a record for both eye and ear; a record that may be described as a "speaking-moving-picture" message to this gathering of newspaper editors and publishers.
For the purpose of demonstrating this latest wonder of invention, I have chosen to say something as old and familiar as this process is new and novel. It is something, however, that I feel cannot be repeated too often or emphasized too earnestly.
Our country is a peculiarly favored one. It is almost unique in its ability to discharge fully and promptly all its obligations at home and abroad, and provide for all its inhabitants an increase in material resources, in intellectual vigor and in moral power. The nation holds a position unsurpassed in all former human experience. I do not profess that we can secure an era of perfection in earthly existence, but we can provide an era of peace and prosperity, attended with freedom and justice and made more and more satisfying by the ministrations of the charities and humanities of life.
Our domestic problems are for the most part economic. We have our enormous debt to pay, and we are paying it. We have the high cost of government to diminish, and we are diminishing it. We have a heavy burden of taxation to reduce, and we are reducing it. But, while remarkable progress has been made in these directions, the work is yet far from accomplished.
In my opinion the Government can do more to remedy the economic ills of the people by rigid economy in public expenditure than through any other action. The annual coats of our national and local Governments combined now stand at a sum close to $100 for each inhabitant of the land. It is an ominous fact that only the National Government is reducing its debt. The establishment of a system of drastic economy in public expenditure, which has enabled us to pay off about one-fifth of the national debt since 1919, and almost cut in two the national tax burden since 1921, has been one of the main causes in reestablishing a prosperity which has come to include within its benefits almost every one of our inhabitants. Economy reaches everywhere. It carries a blessing to everybody.
It is axiomatic that our country cannot stand still. It would seem to be perfectly plain from recent events that it is determined to go forward. But it wants no pretenses. It wants no vagaries.
It is determined to advance in an orderly, sound and common-sense way. It does not propose to abandon the theory of the Declaration that the people have inalienable rights which no majority and no power of government can destroy. It does not propose to abandon the practice of the Constitution that provides for the protection of these rights. It believes that within these limitations, which are imposed not by the fiat of man but by the law of the Creator, self-government is just and wise. It is convinced that it will be impossible for the people to provide their own government unless they continue, to own their own property.
These are the very foundations of America. On them has been erected a government of freedom and equality, of justice and mercy, of education and charity. Living under it and supporting it the people have come into great possessions on the material and spiritual sides of life. I want to continue in this direction. I want our institutions to be more and more expressive of these principles. I want the people of all the earth to see in the American flag the symbol of a Government which intends no oppression at home and no aggression abroad, and which in the spirit of common brotherhood provides assistance in time of distress.
Note: The President recorded these remarks from the South Portico at the White House about one week prior to the day they were played to an audience of newspaper editors and publishers attending a dinner at the Friars Club, New York City. This was the first presidential use of "phonofilm" to remotely address an audience.  The President's remarks were simultaneously broadcast by radio in Washington.
Source: The New York Times, April 22, 1925.
Calvin Coolidge, Remarks on Phonofilm to the Friars Club in New York City Online by Gerhard Peters and John T. Woolley, The American Presidency Project https://www.presidency.ucsb.edu/node/355184