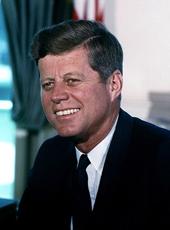 Remarks in Phoenix at the 50th Anniversary Dinner Honoring Senator Hayden.
Senator Hayden, Vice President Johnson, Governor, Mr. Chairman Tom Chauncey, Members of the Senate, friends of Senator Hayden :
I know that I speak for all of us in expressing our great pleasure at being with Senator Hayden tonight.
Last night some of us were in Seattle, attending the 25th anniversary dinner of Senator Magnuson of that State, and now we are honored to be here in Phoenix to attend this 50th anniversary. This actually is the first anniversary of the election of the Vice President and myself, and while I'm not sure it should be celebrated in Phoenix, nevertheless we are very happy to come here under your protection tonight, Senator, and say what a pleasure it is to be here.
The Vice President made some reference to the oratorical ability of Senator Hayden. In looking at one of his early speeches, before he assumed his present status, he once said in 1914, "I know that Congress does not conduct its business in an efficient manner. If any corporation had a board of directors as inefficient as Congress, it would become bankrupt in a year."
My first contact with the Senator was after I had been in the Senate about 2 months in 1953, and I got up to take part in the debate as a new Member. And after speaking for a few minutes, I sat down near Senator Hayden and said, "Senator, what's the difference between the Senate as you knew it and now?" And the Senator said, "New Members did not speak in those days." So I went back to my seat.
I am very proud to be here. I think it is a remarkable fact that two leading positions in the United States, positions of the greatest responsibility, were held by Speaker Rayburn as the presiding officer of the House and by the President Pro Tem of the Senate from the neighboring State of Arizona.
When a Congressional District or a State sends men back year after year, they may serve themselves, but they may not realize that the seniority system of House and Senate gives those Members a profound influence over the policies of our country at home and abroad. Congressmen or Senators who may serve a district with particular vigor, who may arrange to have its interests particularly well protected, and may be rewarded, and may some day become the great voice of a committee which decides great issues of national security, the size of our force levels, what our actions will be in Space, what our actions will be abroad. So that the District of Bonham, which year after year sent back Sam Rayburn, and this State which sent back year after year Senator Hayden, made one man the Speaker of the House in the most difficult and critical period in the life of our country, and made the other the President Pro Tem of the Senate, and also the Chairman of the Senate Appropriations Committee which provides the funds which makes it possible for all these programs to be carried on. So while I commend the Speaker of the House and Senator Hayden, I also commend the good judgment of the people of Texas and the people of Arizona in recognizing character and patriotism and courage when they found it-and rewarding it.
Pericles once said that if you wanted to see his monument, to look around you, and I think that is particularly true in Arizona. This State has benefited year after year by the constant care and attention which Senator Hayden has given to the development of Arizona and the Southwest. Very few sections of our country have required wider and wiser Federal programs for its development than the State of Arizona--this city--Tucson and the rest. This city and this State live on water and from the days when he was first there, in his fight for reclamation and irrigation and all the rest down to the present time, he has spoken for the country and he has spoken for Arizona. And I am confident that this State which has seen the extraordinary growth which the Governor described, from two hundred odd thousand who were here when he went to Congress to the 1,300,000 people who are here today, and the 2,300,000 people who will be here, I'm sure, by the turn of the century, they must know, the people of this State, how vitally important it is that the leadership of Senator Hayden be continued, so that Arizona and the country may continue to move forward.
Every Federal program which has contributed to the development of the West-irrigation, power, reclamation--bears his mark, and the great Federal highway program which binds this country ,together, which permits this State to be competitive east and west, north and south, this in large measure is his creation. But as I said at the beginning, his great contribution has been to our country. When he went to the Congress of the United States before World War I, our problems were simple. Now the United States occupies a key position in the arch of freedom all around the globe.
I know that many Americans are often unhappy and concerned about all the problems that the United States faces abroad, but I think you should take pride and satisfaction in realizing that only the United States, and our power and strength and commitment, permits dozens of countries scattered all over the world to maintain their freedom; and if we did not bear the heavy burdens we now bear, the United States would be isolated, with only a few of the countries of Western Europe to look to.
It is the United States that carries this great burden, and however dissatisfied you may be, as you look at the troubled world around you, and however you may wish for peace and contentment--as we all do--you should take pride in the fact that under the administrations of both parties, beginning with the days of the close of World War II, it has been the United States--first in Western Europe and now in Latin America, and now in Africa, and now in the Middle East, and now in Asia, and now in SEATO, and now in CENTO, and now in NATO, and now in the OAS--that really does the heavy work that makes it possible for these institutions to survive.
Other countries look to their own interests. Only. the United States has obligations which stretch ten thousand miles across the Pacific, and three or four thousand miles across the Atlantic, and thousands of miles to the south. Only the United States--and we are only 6 percent of the world's population-bears this kind of burden.
And as an American, it is a source of satisfaction to me, looking back over 50 years of service, that the people of this frontier State had the good judgment to put their stamp of approval on him, and year after year have given it to him again.
Senator, as one who loves our country, it is a source of pride to me that Arizona and you are so happily matched.

Thank you.
Note: The President spoke at the Westward Ho Hotel in Phoenix. In his opening words he referred to Carl Hayden, U.S. Senator from Arizona, Vice President Lyndon B. Johnson, Paul Fannin, Governor of Arizona, Tom Chauncey, chairman of the Hayden Testimonial Dinner Committee, and the following Members of the U.S. Senate: Levererr Saltonstall of Massachusetts, Clinton P. Anderson of New Mexico, Alan Bible of Nevada, Roman L. Hruska of Nebraska, Edmund S. Muskie of Maine, Jennings Randolph of West Virginia, Ralph Yarborough of Texas, Stephen M. Young of Ohio, Gale W. McGee of Wyoming, Robert S. Kerr of Oklahoma, E. L. Bartlett of Alaska, Mike Mansfield of Montana, and Gordon Allott of Colorado.
John F. Kennedy, Remarks in Phoenix at the 50th Anniversary Dinner Honoring Senator Hayden. Online by Gerhard Peters and John T. Woolley, The American Presidency Project https://www.presidency.ucsb.edu/node/235603