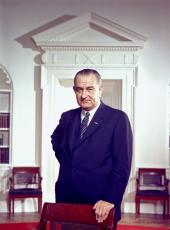 Remarks in Philadelphia at the Opportunities Industrialization Center.
Judge Higginbotham, Reverend Sullivan, Senator Scott, Congressman Barrett, Congressman Nix, Congressman Byrne, Congressman Eilberg, Congressman Green, our own Sargent Shriver, Mr. Jones, Mr. Rosen, Mr. Toohey, Mr. Potts, Cliff Alexander, our new Chairman of the Equal Employment Opportunity Commission, ladies and gentlemen:
I am sorry that Mayor Tate and Senator Clark, both of whom support our program, could not be with us today, but I knew only late last night that I could be here myself.
What I have seen this morning has moved me more than I can tell you.
Mr. Coleman, who honors us with his presence, was asked to come to Washington to head our civil rights conference last year. Later I asked him to come into one of the most important jobs in this Nation.
He said to me, "I will come and serve my country wherever I am needed, but I think I am needed more at home in Philadelphia right now."
I can see that a lot of people are needed at home. I see what a lot of people are doing at home. What Reverend Sullivan has shown me this morning opens my eyes and I hope will open the eyes of all of the Nation to the opportunity that lies here.
Sargent Shriver asked me earlier in the week to go and speak to 10,000 of the young business leaders of this country. We went to Baltimore to meet with the Junior Chamber of Commerce from all over the Nation--from the 50 States.
We talked to them about what was right. We pointed out some of the things that were wrong--our slums and our poverty, our health needs and our educational needs. We then pointed out some of the things that we are doing about them.
Now when you really talk about what is right, you don't appear to be nearly as interesting as you are when you talk about what is wrong. But I have seen so many things that are right here this morning that I wish everyone in America could not only see them, but emulate them--and follow them.
If somebody falls down the step--that will get a lot of attention. But the poor lady that lifts him up goes unnoticed.
So if I had to sum up my feelings in a single phrase this morning, I would say to all of you: "I believe we are going to make it."
What I have seen here with Reverend Sullivan is not just an institution--it is a unique training program. I have seen men and women whose self-respect is beginning to burn inside them like a flame--like a furnace that will fire them all their lives.
I have heard about this Center for many months. Some of my White House employees have come here to visit it incognito. I don't know whether they were afraid to admit they were from the White House or not. Friends and associates of mine have come back to tell me about it and to bring me the good news--of how a movement born of protest has taken the next logical step--to preparation.
They told me how men, stirred to righteous anger by the conditions of poverty that surrounded them on every side, had first fought to break down the doors of discrimination;
--then found that those they fought for were not 'prepared to even seize the opportunities that had been opened before them;
--and so they had begun to build--simply, just using whatever tools they owned or could borrow, or they could obtain by gift--a place where the men and women could find themselves.
That is what you have done. That is what this Center is all about. It is a place where people find the power that they have always had--power that was always within them, but that had been obscured because of lack of confidence, because of feelings of insecurity, because of self-doubt, and trapped by the conviction of failure.
Now I have seen this place this morning myself. I have seen the old jail where it started. I have opened that jailhouse door-- it had been opened before I came--the jail that Reverend Sullivan wanted because, as he said:
"It is the most dank, most dismal place in town, a symbol of tragedy. If I could transform that building, I could transform men."
That building had farther to go than most human beings have to go and it has arrived.
I have seen some of those who are just beginning the transformation of their lives, learning the basic skills of reading and writing. I have seen some of those who are about to become metalworkers, waitresses, beauticians, draftsmen, computer operators, welders, electronics specialists, refrigeration specialists, or textile workers.
And now I see those who are already on their way--providing better lives for their families, contributing to their country's economy, and holding their heads high in the deep pride of real accomplishment.
I don't know whether I saw a Supreme Court justice or not this morning. I don't know whether I saw a member of the President's Cabinet or not this morning. I don't know whether I saw a Federal judge or not this morning. But I know I looked into the eyes of men and women this morning and I saw people who are going to keep our flag flying and keep this Nation moving forward in the line of progress for the world.
I saw human beings who had 'pride in their eyes instead of fear. I saw human beings who carried their shoulders straight and high and their chins up and their chests out--instead of doubt and hate.
The Federal Government did not do this. The Federal Government did not build this Center. Mr. Shriver has testified for years and he has fought day and night to help. But the Government or the Members of Congress who are here who supported him did not do it.
Neither business nor labor, who honor us with their presence, nor philanthropy, nor even the city officials built it. All of us, it is true, are helping it now, and I am proud of the part, the small part, that some of us down in Washington are playing.
But what built this Center is the spirit that is in the breast of every human who is a part of it--the spirit that wants to say "yes" to life itself, that wants to affirm the dignity of man, whatever his origins, whatever his race, whatever his religion.
That same spirit has given power and direction to all that we have tried to do in our years of leadership with the Great Society in this Nation.
That spirit is what created Head Start. That spirit was there when Head Start was born. That spirit inspired the manpower training program. It is that spirit that lies behind the Job Corps.
I have a boy on my farm, where I am going to be tonight, who came from a broken family in California. After 7 months in the Job Corps, he went to work for the President of the United States as a skilled bulldozer operator, running a big Caterpillar tractor. Now he is going into the service in a few months to serve his country-much more competent, much more determined, and loving his country a great deal more, I think, than when he went into the Job Corps.
That spirit is what built the Neighborhood Youth Corps. That same spirit passed the broadest civil rights acts this Nation has ever known. That spirit passed the first medical care bill in the history of this Nation. That spirit passed the first elementary education bill.
That spirit is spending three times as much today on education in the Federal Government as we were spending 3 years ago. You can look into the twinkle of their eyes and the smile on their faces, and you can see that that education is getting results.
That spirit has spent three times as much in the last 3 years on medical health problems in this country as it did 3 years ago-$12 billion compared to $4 billion for health, $12 billion compared to $4 billion for education, $24 billion this year for health and education alone, compared to $8 billion 3 years ago.
And then they try to tell us about how we have cut out all these programs!
When I came to Washington under Mr. Hoover's administration, the whole budget was just $5 1/2 billion. Now we are spending five times that much just for health and education. Every dime we spend is getting value received because the best investment you can make in this country is in the mind of the human being and in the bodies of its citizens.
Some of the blood of that same spirit is on that bill this morning. It wrote the Teacher Corps program and that bill that I am going to sign into law right here in your presence. It will bring the best instruction that America can produce to the children who need it most.
We are going to have the best teachers come to where they are needed most under the Teacher Corps--come and work with the children of poverty. It is only a very small program now. It has been difficult enough to even get it passed. But with the help of that same spirit, I promise you--it is going to grow--and how!
Now, all that we have done so far will count for little--except for your spirit and except for your help. If you help, there is not anything that we cannot do--together.
The problems of poverty, the consequences of discrimination, the ignorance and the helplessness that are passed on from one generation to the other, are almost too great for us to comprehend or master. Almost, I said, almost too great--for they were all created by the failures of men. There is nothing preordained about them.
Being created by men, though, they can be overcome by men. They can be overcome by the restless spirit that speaks to all of us in the darkest hours. That spirit says: "Have faith in yourself. Believe in yourself. Have pride in yourself. Prepare yourself for the work you must do in the days ahead."
I think that you have heard that spirit. I think that you have faith in yourselves. I think you are preparing yourselves.
I know that you have inspired your President. I know you have made me feel, as I said in the beginning, that we--all 200 million of us in this country--are going to make it.
Note: The President spoke at 10:12 a.m. at the Opportunities Industrialization Center in Philadelphia. In his opening words he referred to A. Leon Higginbotham, Jr., U.S. District Judge for Eastern Pennsylvania, and to the Reverend Leon H. Sullivan, pastor of the Zion Baptist Church of Philadelphia, who established the Opportunities Industrialization Center and who served as the President's guide during his visit to the project. He also referred to Senator Hugh Scott and Representatives William A. Barrett, Robert N. C. Nix, James A. Byrne, Joshua Ellberg, and William 1. Green, all of Pennsylvania, R. Sargent Shriver, Director of the Office of Economic Opportunity, James Jones, President of the Negro Trade Union Leadership Council of Philadelphia, Abe S. Rosen, City Representative and Director of Commerce of Philadelphia, Edward F. Toohey, President of the Philadelphia Council of the AFLCIO, Frederic A. Potts, President of the Philadelphia Port Corporation, and Clifford L. Alexander, Jr., Chairman of the Equal Employment Opportunity Commission. Early in his remarks the President referred to James H. J. Tate, Mayor of Philadelphia, Joseph S. Clark, Senator from Pennsylvania, and William T. Coleman, Jr., member of the Council of the 1966 White House conference on civil rights.
Following his remarks the President signed the bill providing for an enlarged Teacher Corps and extending it for 3 years (see Item 292).
Lyndon B. Johnson, Remarks in Philadelphia at the Opportunities Industrialization Center. Online by Gerhard Peters and John T. Woolley, The American Presidency Project https://www.presidency.ucsb.edu/node/238203