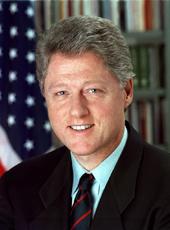 Remarks at "In Performance at the White House"
The President. Thank you. The first thing I want you to do is relax, because I'm not going to play, and you'll have to—[laughter]—but I'll be wishing.
At the millennium event on jazz we had here last year, the great Wynton Marsalis said that just as we wouldn't have democracy without the foundation of our Constitution, so we wouldn't have jazz without the foundation of the blues. Like our Constitution, the blues is a great American tradition, whose power to move never seems to diminish and whose influence never seems to stop growing.
This compelling and wonderful music, once heard only on rural Southern porches and in South Side Chicago bars, now enjoys an audience as broad as America itself. In fact, now the whole world knows about the blues, and there are fans from Berlin to Bangkok who can tell you the life stories of blues icons like Bessie Smith and Robert Johnson. Today, there are more blues artists, more blues listeners, more blues clubs, and more blues recordings than ever before. Even TV commercials now feature the blues, which dramatically reduces the number of people who hit the mute button. [Laughter]
Tonight we celebrate the music that has given birth to or influenced the whole large landscape of American music, from "Rhapsody in Blue" to rap. So it's fitting that our host is a master of the great range of American music and entertainment, Miss Della Reese. If talent and personality are truly gifts from above, then Della Reese really has been "Touched by an Angel." [Laughter] Please join me in welcoming Della Reese. [Applause]
[At this point, the program proceeded. Following the performances, the President made brief remarks, which are joined in progress.]
The President. ——whether I want to be young like Jonny, or like B.B. when I'm a little older. [Laughter] They were all magnificent.
You know, we saw tonight in all these wonderful performers why blues is truly one of America's great gifts to the world. Its appeal, we saw, literally spans the generations. Tonight we've been privileged to hear blues greats from every era.
I want to thank each and every one of them. Thank you, B.B. King. Thank you, John Cephas and Phil Wiggans. Thank you, Marcia Ball. Thank you, Jonny Lang. Thank you, bands. And thank you, Della Reese.
Thank you, and good night. Thank you.
[At this point, B.B. King presented the President with a guitar pick.]
The President. Now before you go, I've been saving my B.B. King picks for almost 20 years now. I've got another one tonight. [Laughter]
There is one more person that all of us have to thank this evening, Dick Notebaert with Ameritech. Let me tell you—Dick, I want you and Peggy to come up here, come on. He is about to leave his present position to start on a new adventure in life, and Hillary and I want to thank him for his long-standing support for these wonderful WETA's "In Performance at the White House." We have had so many incredible, incredible concerts here, thanks to the generosity of this gentleman and his fine company. And Dick and Peggy have accompanied us on so many nights, along with Sharon and Jay Rockefeller and many of you who've been here.
I want to thank all of you for coming tonight, especially the very large number of people from my native State and others who occupy that portion of the Mississippi Delta between Memphis and New Orleans, where all of this really got started. We are very glad to be here, but we offer a special thank you to you, my friend, and to you, Peggy. We've got a little expression of our thanks here. Bless you. Thank you.
NOTE: The President spoke at 9:10 p.m. on the South Lawn at the White House. In his remarks he referred to musician Wynton Marsalis; Richard C. Notebaert, chairman and chief executive officer, Ameritech Corp., and his wife, Peggy; and Senator John D. Rockefeller IV and his wife, Sharon. A portion of these remarks could not be verified because the tape was incomplete.
William J. Clinton, Remarks at "In Performance at the White House" Online by Gerhard Peters and John T. Woolley, The American Presidency Project https://www.presidency.ucsb.edu/node/227264