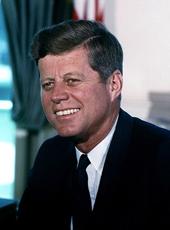 Remarks to Participants in the Signing of Equal Opportunity Agreements.
Gentlemen:
I just want to express appreciation to all of you for taking part in this effort. I think the words which the Vice President just stated reflect the national interest in its highest form.
We have dealt in these Plans for Progress in the past with those companies which have contracts with the National Government, and therefore they have been subjected to certain legal obligations. This is not true of all that are here today, and you are accepting this as a moral obligation and as an obligation of citizenship. I want to commend you and tell you that we appreciate it very much.
This is a national problem. We cannot permit, through the sixties, an important segment of our population to be denied an opportunity to find decent jobs, to be the first to be unemployed and the last to be rehired, and to be at the bottom of the ladder, and regard that as an acceptable situation. It is a fact today that they are the first to be thrown out and the last to be rehired.
Partly that goes back to the problem of education, which is another national problem which we are attempting to meet.
It will require some effort on your part. I don't think it is just a question of signing the certificates and indicating a willingness to accept people if they have the talent. I think we probably have to do more than that. You really have to go out and look for them because they won't be able in sufficient cases to find you. I think you have to find them.
I hope that the signing of these Plans for Progress is really only the beginning. I know that your companies have been interested in this matter in the past, but I hope that with the signing of this agreement you will make a deliberate effort, that you will assign people in your company to really see if in a period of 6 months or a year we can really statistically improve the situation in every company.
I think there has been nothing more impressive than what I have seen done in these companies over the past year. It really has been an extraordinary contribution to our country. If you can see if your companies can do the same thing, assign people who have the responsibility, and keep good records, let us see whether in a period of 6 months or a year we can really improve our national posture in this regard.
This does require a constant effort. We are concerned continually in the Government with people in the Foreign Service and Ambassadors and all of the way through our Government, and it does require someone to keep watching it and to see where we stand.
I do want to thank you. As I say, I am sure that if we meet in 6 months or 9 months or a year, with your help we can really make a contribution in the best voluntary sense between the Government and the people working for a very important national objective. I want to thank you and to tell you that it is most appropriate that these agreements should be signed here at the White House, because this represents a very important element of our national progress. Thank you.
Note: The President spoke at 4:45 p.m. in the State Dining Room at the White House. In his opening remarks he referred to Vice President Lyndon B. Johnson, Chairman of the President's Committee on Equal Employment Opportunity.
John F. Kennedy, Remarks to Participants in the Signing of Equal Opportunity Agreements. Online by Gerhard Peters and John T. Woolley, The American Presidency Project https://www.presidency.ucsb.edu/node/236323