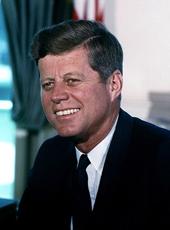 Remarks to Participants in the Senate Youth Program.
I WANT to express our great pleasure at having you here at the White House. I am hopeful that one of you will occupy it--not right away--but in the not too distant future, or that some other First Lady will move the furniture around and that it will be one of you.
I am glad to have you come here. I understand that you were selected as a result of competitive examinations in many cases and in other cases as a result of recommendations by distinguished citizens in your own States. We are glad to have you here. Our hopes are with you.
This country has passed through very difficult times in the last 15 years and is passing through difficult days today. There is no assurance, unfortunately, by the time that you reach positions of responsibility in our country that we will have moved into any safe harbors.
Each generation of public officials, each generation of citizens faces new problems. The solution of every problem brings with it a response which presents new difficulties to our country. But as long as we are--though 6 percent of the world's population, only 180 million people--as long as we are the great defenders of freedom around the world, which I prophesy we will continue to be, we will have the need for the services of devoted citizens.
I hope that you will decide to give some of your life to public service, that some of you will run for office, that others of you will work in the Peace Corps, that others of you will work in your own home towns and decide that every American, in addition to pursuing his own private interests, owes an obligation to maintain this free country of ours.
This is a free society. You can do it whether you want to or not, but I hope you decide to serve the United States in its great years. We are glad to have you here and hope that you will come back and see us sometime.
Note: The President spoke at 9:30 a.m. from the portico bordering the Flower Garden at the White House. The participants in the program, a group of 104 high school students, were in Washington for a week to study Government procedures under a William Randolph Hearst Foundation grant.
John F. Kennedy, Remarks to Participants in the Senate Youth Program. Online by Gerhard Peters and John T. Woolley, The American Presidency Project https://www.presidency.ucsb.edu/node/236854