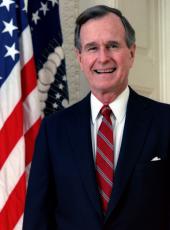 Remarks to Participants in the March for Life Rally
Good afternoon, ladies and gentlemen. This is George Bush in the Oval Office. And before you begin your march today, on this first Monday of my Presidency, I wanted to take just a few brief moments to restate my firm support of our cause and to share with you my deep personal concern about our American tragedy of abortion on demand.
We are concerned about abortion because it deals with the lives of two human beings, mother and child. I know there are people of good will who disagree, but after years of sober and serious reflection on the issue, this is what I think. I think the Supreme Court's decision in Roe versus Wade was wrong and should be overturned. I think America needs a human life amendment. And I think when it comes to abortion there's a better way: the way of adoption, the way of life.
I know that this morning several of your leaders had a meeting in the White House with Vice President Quayle. I know, too, that you and hundreds of thousands with you across the country have raised a voice of moral gravity about abortion, a voice of principle, a voice of faith, a full voice that properly asserts and affirms the basic dignity of human life. I'm confident that more and more Americans every year -- every day -- are hearing your message and taking it to heart.
And, ladies and gentlemen -- and, yes, young people as well -- I promise you that the President hears you now and stands with you in a cause that must be won. God bless you all, and God bless life.
Note: The President spoke at 12:05 p.m. from the Oval Office at the White House via a loudspeaker hookup with the rally site. Participants had gathered on the Ellipse for a march to the Supreme Court on the 16th anniversary of the Court's decision of "Roe v. Wade," which legalized abortion.
George Bush, Remarks to Participants in the March for Life Rally Online by Gerhard Peters and John T. Woolley, The American Presidency Project https://www.presidency.ucsb.edu/node/247484