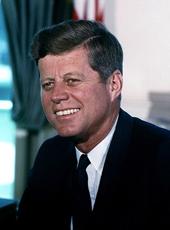 Remarks to Officers of State Governors' Committees on Employment of the Handicapped.
Chairman Macy and ladies and gentlemen:
I want to express a very warm welcome to all of you to Washington.
We appreciate what you are doing in the States and I think that it gives us a better idea, this kind of meeting, of what way we might be helpful. This is a matter of great interest to all of us. I hope that we will define handicapped so that we do make a major effort on all those who are handicapped.
We are now working particularly hard, in recent months in the Government, on the hiring of the mentally retarded, here, and all over the Government. The Civil Service Commission with the cooperation of the various departments of the Government is giving this particular attention.
We also have a program here for those whom we regard as mentally restored, those who pass through a difficult period but who are now fully capable of carrying their burden. In addition, as you may know, the Civil Service Commission itself gives some of its tests in braille so that those who are blind may occupy a useful place in society. But I hope we can do more in the National Government, I hope you will do more in your States. I hope private industry and labor will also realize that those who are handicapped frequently are more than compensated by their desire to be useful and to play a gainful role.
Of course, the key is to maintain full employment to the extent that we can in our society. If we have a pressure for jobs, then those who are, in a sense, on the edge, who are handicapped in some ways--it is easier for them. So the central responsibility, of course, is to try to develop a climate in this country where there is as close to full ployment as we can get it, and then to give particular attention to those who are handicapped, it seems to me, and also those areas of the United States which, because of technological change, have left a good many men adrift--thousands in some parts, particularly in the older coal mining sections. This is not directly in your area of responsibility, but it is still tied into those who have been handicapped in one way or the other.
I want to express a very warm welcome to all of you. I hope you have a few minutes to look through the White House and to see that this is where a good deal has happened in the past and, we hope, even a little in the future.

Thank you.
Note: The President spoke at 9:30 a.m. in the Flower Garden at the White House to a group of chairmen and secretaries of Governors' Committees on Employment of the Handicapped, in Washington for a a-day workshop. His opening words "Chairman Macy" referred to John W. Macy, Jr., Chairman of the Civil Service Commission, who accompanied the group to the White House.
At the close of the President's remarks Maj. Gen. Melvin I. Maas, Chairman of the President's Committee on Employment of the Handicapped, presented him with the Committee's new seal. The text of General Maas' remarks was also released.
John F. Kennedy, Remarks to Officers of State Governors' Committees on Employment of the Handicapped. Online by Gerhard Peters and John T. Woolley, The American Presidency Project https://www.presidency.ucsb.edu/node/236640