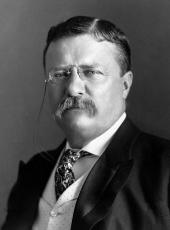 Remarks in Northfield, Massachusetts
My fellow citizens:
Here near the seat of the summer school for young men founded by Dwight L. Moody, I naturally speak on a subject suggested to me by the life of Mr. Moody and by the aims sought for through the establishment of the summer school.
In such a school—a school which is to equip young men to do good in the world—to show both the desire for the rule of righteousness and the practical power to give actual effect to that desire—it seems to me there are two texts specially worthy of emphasis: One is, "Be ye doers of the word and not hearers only; " and the other is, "Not slothful in business, fervent in spirit, serving the Lord." A republic of freemen is pre-eminently a community in which there is need for the actual exercise and practical application of both the milder and the stronger virtues. Every good quality—every virtue and every grace—has its place and is of use in the great scheme of creation; but it is of course a mere truism to say that at certain times and in certain places there is pre-eminent need for a given set of virtues. In our own country, with its many-sided, hurrying, practical life, the place for cloistered virtue is far smaller than is the place for that essential manliness which, without losing its fine and lofty side, can yet hold its own in the rough struggle with the forces of the world round about us. It would be a very bad thing for this country if it happened that the men of righteous living tended to lose the robust, virile qualities of heart, mind and body, and if, on the other hand, the men best fitted practically to achieve results lost the guidance of the moral law. No one-sided development can produce really good citizenship—as good citizenship is needed in the America of today. If a man has not in him the root of righteousness—if he does not believe in, and practice, honesty—if he is not truthful and upright, clean and high minded, fair in his dealings both at home and abroad—then the stronger he is, the abler and more energetic he is, the more dangerous he is to the body politic. Wisdom untempered by devotion to an ideal usually means only that dangerous cunning which is far more fatal in its ultimate effects to the community than open violence itself. It is in excusable in an honest people to deify mere success without regard to the qualities by which that success is achieved. Indeed there is a revolting injustice, intolerable to just minds, in punishing the weak scoundrel who fails, and bowing down to and making life easy for the far more dangerous scoundrel who succeeds. A wicked man who is wicked on a large scale, whether in business or in politics, of course does many times more evil to the community than the man who only ventures to be wicked furtively and in lesser ways. If possible, the success of such a man should be prevented by law, and in any event he ought to be made to feel that there is no condonation of his offenses by the public. There is no more unpleasant manifestation of public feeling than the deification of mere "smartness," as it is termed—of mere successful cunning unhampered by scruple or generosity or right feeling. If a man is not decent, is not square and honest, then the possession of ability only serves to render him more dangerous to the community; as a wild beast grows more dangerous the stronger and fiercer he is.
But virtue by itself is not enough, or anything like enough. Strength must be added to it, and the determination to use that strength. The good man who is ineffective is not able to make his goodness of much account to the people as a whole. No matter how much a man hears the word, small is the credit attached to him if he fails to be a doer also; and in serving the Lord he must remember that he needs to avoid sloth in his business as well as to cultivate fervency of spirit. All around us there are great evils to combat, and they are not to be combated with success by men who pride themselves on their superiority in taste and in virtue, and draw aside from the world's life. It matters not whether they thus draw aside because they fear their fellows or because they despise them. Each feeling—the fear no less than the contempt—is shameful and unworthy. A man to be a good American must be straight, and he must also be strong. He must have in him the conscience which will teach him to see the right, and he must also have the vigor, the courage, and the practical, hard-headed common-sense which will enable him to make his seeing right result in some benefit to his fellows.
Theodore Roosevelt, Remarks in Northfield, Massachusetts Online by Gerhard Peters and John T. Woolley, The American Presidency Project https://www.presidency.ucsb.edu/node/343499