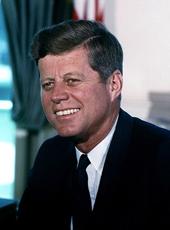 Remarks in Newport at the Australian Ambassador's Dinner for the America's Cup Crews
Ambassador, Lady Beale, Ambassador and Mrs. Berckemeyer, Ambassador and Lady Ormsby Gore, the Ambassador from Portugal, our distinguished Ministers from Australia, distinguished guests, ladies and gentlemen:
I know that all of us take the greatest pleasure in being here, first of all because whether we're Australian or American, we are all joined by a common interest, a common devotion and love for the sea. And I am particularly glad to be here because this Cup is being challenged by our friends from Australia, this extraordinary group of men and women numbering some 10 million, who have demonstrated on many occasions, on many fields, in many countries, that they are the most extraordinary athletic group in the world today, and that this extraordinary demonstration of physical vigor and skill has come not by the dictates of the State, because the Australians are among the freest citizens in the world, but because of their choice.
Therefore, Ambassador, you are most welcome here.
This Cup has been challenged in the past by our friends from Great Britain. We are glad to see Australia assuming the responsibilities of empire in coming here, and we're particularly glad to welcome you in the year 1962. This is a trophy which the United States has held for over a century, unlike the Davis Cup. And we do have a feeling, Ambassador, we do have an old American motto of "One cup at a time."
There is no question that this kind of national competition produces the greatest good will among nations. The most recent indication of that, of course, were the games held at Indonesia which produced a wonderful feeling of spirit in all of Asia, and I am confident that these games will produce the same kind of good will between Australia and the United States.
I really don't know why it is that all of us are so committed to the sea, except I think it's because in addition to the fact that the sea changes, and the light changes, and ships change, it's because we all came from the sea. And it is an interesting biological fact that all of us have, in our veins the exact same percentage of salt in our blood that exists in the ocean, and, therefore, we have salt in our blood, in our sweat, in our tears. We are tied to the ocean. And when we go back to the sea--whether it is to sail or to watch it--we are going back from whence we came.
Therefore, it's quite natural that the United States and Australia, separated by an ocean, but particularly those of us who regard the ocean as a friend, bound by an ocean, should be meeting today in Newport to begin this great sea competition. This is an old relationship between the United States and Australia, and particularly between Rhode Island and Australia.
In the 1790's, Ambassador, American ships, mostly from Rhode Island, began to call regularly at New South Wales. Their cargoes, I regret to say, consisted mainly of gin and rum, and the effect was to set back the athletic development, until the recent great temperance movement in Australia, for many years.
In 1801, Governor Philip Gidley King of Australia complained to London, "Such has been the certainty in America of any quantity of spirits being purchased here that a ship cleared out of Rhode Island for this port with a very large investment of spirits, which I positively forbade being landed, in consequence of which she left this port with upward of 13,000 gallons of spirit brought to Australia for sale." And he told the American Minister Rufus King to warn the Rhode Island merchants not to try to market their rum in Australia. I need hardly say that the Rhode Island merchants continued to do their compassionate best to quench this thirst which was felt so strongly in Australia.
However, Australia became committed to physical fitness and it's been disastrous for the rest of us.
We have the highest regard for Australia and we, as you said, Ambassador, regard them as very satisfactory friends in peace and the best of friends in war. And I know that there're a good many Americans of my generation who have the greatest possible reason to be grateful to the Australians who wrote a most distinguished record all the way from the desert of North Africa, and most particularly in the islands of the South Pacific, where their particular courage and gallantry I think met the strongest response in all of us in this country.
But I don't really look to the past. I look to the present. The United States and Australia are most intimately bound together today, and I think that--and I speak as one who has had some experience in friendship and some experience in those who are not our friends--that we value very much the fact that on the other side of the Pacific the Australians inhabit a very key and crucial area, and that the United States is most intimately associated with them. So beyond this race, beyond the result, rests this happy relationship between two great people.
I want to toast tonight the crew, the sailors, those who made it possible for the Gretel to come here, those who have, for a hundred years, defended this Cup from the New York Yacht Club, to all of them. As the Ambassador said so well, they race against each other, but they also race with each other against the wind and the sea.
Note: The President spoke at The Breakers, the former Cornelius Vanderbilt estate which was loaned for the occasion by the Newport Preservation Society. His opening words referred to Sir Howard Beale, Ambassador from Australia, and Lady Beale; Fernando Berckemeyer, Ambassador from Peru, and Mrs. Berckemeyer; Sir David Ormsby Gore, Ambassador from Great Britain, and Lady Ormsby Gore; Pedro Theotonio Peteira, Ambassador from Portugal; Sir Garfield Barwick, Australian Minister for External Affairs; and Harold E. Holt, Treasurer of Australia.
John F. Kennedy, Remarks in Newport at the Australian Ambassador's Dinner for the America's Cup Crews Online by Gerhard Peters and John T. Woolley, The American Presidency Project https://www.presidency.ucsb.edu/node/236857