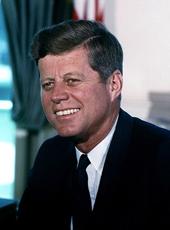 Remarks in New York City Upon Signing Bill Establishing the U.S. Arms Control and Disarmament Agency
With the signing of H.R. 9118, there is created the United States Arms Control and Disarmament Agency. This act symbolizes the importance the United States places on arms control and disarmament in its foreign policy.
The creation for the first time by act of Congress of a special organization to deal with arms control and disarmament matters emphasizes the high priority that attaches to our efforts in this direction.
Our ultimate goal, as the act points out, is a world free from war and free from the dangers and burdens of armaments in which the use of force is subordinated to the rule of law and in which international adjustments to a changing world are achieved peacefully. It is a complex and difficult task to reconcile through negotiation the many security interests of all nations to achieve disarmament, but the establishment of this agency will provide new and better tools for this effort.
I am pleased and heartened by the bipartisan support this bill enjoyed in the Congress. The leaders of both political parties gave encouragement and assistance. The new agency brings renewed hope for agreement and progress in the critical battle for the survival of mankind.
I want to express my thanks to the Members of the Congress, particularly who are here, who were specially interested. I am extremely sorry that Senator Humphrey, who was a particularly vigorous proponent of this legislation for many years in the' Senate, is obliged to remain in Washington. And I want to add a special word of thanks to Mr. McCloy, the disarmament adviser, who has given this entire matter his most constant attention.
I want to take this opportunity to announce that the Director of the United States Arms Control and Disarmament Agency, set up by this legislation, will be Mr. William Foster. He has been a consultant to Mr. McCloy in preparing the American plan which was submitted to the United Nations General Assembly yesterday, and he and a group have been working for many months, full time, on this most important assignment.
I think that Mr. Salinger can give, this afternoon, to any members of the press some of the biographical material. Mr. Foster has been a distinguished public servant for many years in the Congress as a most active and leading official in the Marshall Plan. He is a Republican, and I think his appointment indicates the bipartisan, national concern of both parties--and really, in a sense, all Americans--for this effort to disarm mankind with adequate safeguards.
So I want to express our appreciation to you, Mr. Foster, for taking on this assignment, and Mr. Salinger perhaps can fill in some of the details. Mr. Foster, as Director of this, has the rank of an Under Secretary of State, and his work will be most closely coordinated with the Secretary of State, with me and the White House, and with our representatives in the General Assembly.
Note: The President spoke at signing ceremonies at the Carlyle Hotel in New York City. During his remarks he referred to Hubert H. Humphrey, U.S. Senator from Minnesota; John J. McCloy, Adviser to the President on Disarmament; and Pierre E. G. Salinger, Press Secretary to the President.
As enacted, H.R. 9118 is Public Law 87-297 (85 Stat. 631).
John F. Kennedy, Remarks in New York City Upon Signing Bill Establishing the U.S. Arms Control and Disarmament Agency Online by Gerhard Peters and John T. Woolley, The American Presidency Project https://www.presidency.ucsb.edu/node/235681