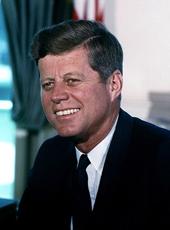 Remarks in New York City at the National Convention of the Catholic Youth Organization.
Monsignor, Fathers, Sisters, fellow members of the CYO:
I am glad to be here today. I said to the Monsignor coming up that I was pleased to see the Sisters, that in my experience Monsignors and Bishops are all Republicans while Sisters are all Democrats! In any case I am glad to see you and I want to congratulate you on the effort that you are making.
The theme of this meeting is Youth gives Service. And I can't imagine a greater cause in which to be engaged, to give the best that you have, than for the United States. Because upon the United States rests not only the burdens of caring for 190 million people but also for hundreds of millions of people around the globe who today without hope look to the United States. Whatever we are able to do in this country, whatever success we are able to make of ourselves, whatever leadership we are able to give, whatever demonstration we can make that a free society can function and move ahead and provide a better life for its people--all those things that we do here have their effect all around the globe.
The world is engaged in the most difficult and trying struggle in its long history. All of the great epics which have torn the world for the last 2,000 years pale in comparison to the great ideological gulf which separates us from those who oppose us. It is our responsibility not merely to denounce our enemies and those who make themselves our enemies but to make this system work, to demonstrate what freedom can do, what those who are committed to freedom and the future can do. So I realize that this meeting is not only a meeting of the youth today but those of whom we expect so much in the future.
Winston Churchill once said that democracy is the worst form of government except for all the other systems that have been tried. It is the most difficult. It requires more of you--discipline, character, self-restraint, a willingness to serve the public interest as well as our own private interests. All of these Priests and Sisters who have gathered you together from all over the United States don't do it merely because-even though they want you to do well--they don't do it merely because they want four or five thousand boys and girls to do well. It is because they regard you as the future leaders of the United States; as the future leaders of a great free country. That is why I come here today. Not just because you are doing well and because you are outstanding students, but because we expect something of you. And unless in this free country of ours we are able to demonstrate that we are able to make this society work and progress, unless we can hope that from you we are going to get back all of the talents which society has helped develop in you, then, quite obviously, all the hopes of all of us that freedom will not only endure but prevail, of course, will be disappointed.
So we ask the best of you. I hope you will spend your time now well, but I hope that in a long life that you will recognize your obligations to the Great Republic and to help those who need help, to help those millions of boys and girls who drop out of school, who can't find work, who live in underprivileged areas.

I have been impressed by the fact that we have been able to get 10,000 young men and women to go around the world as part of the Peace Corps. But look at all the sections of the United States, in our large cities, in eastern Kentucky, parts of southern Illinois, parts of Ohio, West Virginia, where people live lives of desperation without hope; they look to this country, they look to you, and they look to me to serve. So I hope that all of you will serve--serve not only your families, and your church, but also serve this country. It deserves the best. It has been very generous to us all. And we must be generous in return. So I congratulate you on what you have done, and most of all I congratulate you on what you are going to do.

Thank you.
Note: The President spoke at 11:40 a.m. in the grand ballroom of the New York Hilton Hotel to the delegates to the 7th National CYO Convention. His opening word "Monsignor" referred to the Right Reverend Frederick J. Stevenson, National Director of the CYO.
John F. Kennedy, Remarks in New York City at the National Convention of the Catholic Youth Organization. Online by Gerhard Peters and John T. Woolley, The American Presidency Project https://www.presidency.ucsb.edu/node/236708