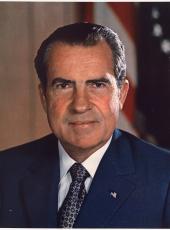 Remarks in New York City Accepting Election as the 37th President of the United States
Ladies and gentlemen, I didn't realize so many of you would stay up so late. I want to express first my grateful appreciation to all of those in this room, but more than that, through the medium of television and radio, to the thousands, and, I understand, millions across the country who worked for our cause.
I know that many that I will never have a chance to speak to personally, gave hours and days of time, and we will always be grateful for what you did.
And we hope we can be worthy of the support that we had of the thousands of volunteer workers in state after state who did far beyond the call of duty in helping us to the victory that was won.
I, as you probably have heard, have received a very gracious message from the Vice President congratulating me for winning the election. I have also had a telephone conversation with him, and I thought I might share with you, and also our television audience, some of the thoughts that I expressed to him in that telephone conversation.
I congratulated him for his gallant and courageous fight against great odds. I admire a fighter, and he proved himself to be one. He never gave up and he gave us a good fight
I also told him that as he finished this campaign that I know exactly how he felt. I know exactly how he felt. I know how it feels to lose a close one. Having lost a close one eight years ago and having won a close one this year, I can say this—winning's a lot more fun.
But, I would like to express to him and also to the thousands who worked for him—because he, like myself, had a great corps of volunteer workers, many young people as well as others—a bit of philosophy that has guided me through the years of defeat toward this victory.
It is this: A great philosophy is never won without defeat. It is always won without fear. What is important is that a man or a woman engage in battle, be in the arena, participate, and I hope that all of those who supported Mr. Humphrey will continue their interest in politics. They will perhaps be in the other party; we may be contesting again. Who knows? But the important thing is that our process in this country works better when we have devoted, dedicated people giving their all in battle for a cause that they believe in.
And I would urge particularly the young people who supported him and lost not to be discouraged, but to continue their interest and to go on to other areas of public service.
Also, I would like to report that I had a conversation today with Mrs. Eisenhower. She, of course, was pleased with the result and she said the general was elated. This afternoon I plan to move, to go to Key Biscayne, Florida, with my family for a few days off—three days, I think—but on the way we're going to stop In Washington and call on the general.
And I've also received a very gracious wire from President Johnson from Austin, Texas, in which he congratulated me and indicated his desire to be of assistance in the next administration.
I, in turn, pledge again to him my assistance and cooperation in the interim period between now and the inauguration in any activity that may be helpful in bringing the peace to the world that we all want.
And I look forward in the next Administration to have a relationship with former President Johnson such as President Eisenhower has had with him. Those who have served in this high office, only those who have served in this office, can know the tremendous burdens and they have so much to offer in their years of what will be called retirement.
And then one final thought that I would like to leave with regard to the character of the new Administration. I saw many signs in this campaign. Some of them were not friendly and some were very friendly. But the one that touched me the most was one that I saw in Deshler, Ohio, at the end of a long day of whistle-stopping, a little town. 1 suppose five times the population was there in the dusk, almost impossible to see—but a teenager held up a sign, "Bring Us Together."
And that will be the great objective of this Administration at the outset, to bring the American people together. This will be an open Administration, open to new ideas, open to men and women of both parties, open to the critics as well as those who support us.
We want to bridge the generation gap. We want to bridge the gap between the races. We want to bring America together. And I am confident that this task is one that we can undertake and one in which we will be successful.
And finally, if I could close on one personal note, I mentioned my many supporters around the country and the wonderful people in this room who stayed up all night—and so did I—but, surrounding me are four people who have meant much to this campaign and to my life.
My wife, who has endured more of my speeches than even the members of the press, and you know how tired you can get of it. Believe me, it takes a real trouper to hear a speech over and over again for 21 years and act as if it was new each time.
And, of course, my two daughters who were able to participate in this campaign and gave us a tremendous lift by their campaigning all over the country and 35 states, and David Eisenhower, who campaigned very effectively in his own right.
Now I think all of you probably wondered how I felt about winning the election, and naturally, in my press conferences I always gave the appearance of complete optimism that we were going to win. That is what you have to say.
But I want all of you to know that there were moments when we had doubts. And all of us had doubts, but there was one member of our family, I learned, that had no doubts at all because immediately after we saw the final return this morning at 9:30 or so on television that the Illinois votes were now considered to be in our column, my daughter Julie asked me to come into her room, that she had a present for me that she had made and worked on all the time during these trips that she was taking across the country.
And when you see this present, you will see she never had any doubt at all. Here it is.
Ladies and gentlemen, to show you how unsophisticated I am about this kind of art, when I saw it, I said, isn't that needlepoint? And she said, no it's crewel. But it's the kindest thing that I had happen, even though it's crewel.
Thank you.
Richard Nixon, Remarks in New York City Accepting Election as the 37th President of the United States Online by Gerhard Peters and John T. Woolley, The American Presidency Project https://www.presidency.ucsb.edu/node/345921