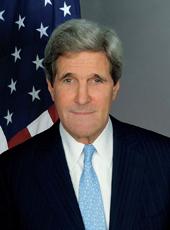 Remarks in Milwaukee, Wisconsin
I want to thank Caroline Kennedy for coming here this morning.
You know, when Caroline was in high school, and I was involved in my first political effort, she used to come up to Boston and campaign for me.
She's been my friend ever since. Caroline has become a powerful and articulate defender of the bill of rights and she's helped lead the effort to reform New York City's Schools. She understands that every single one of us can make a difference – and she's spending her life making a difference for others.
My friends, we face a fundamental choice in this election – the choice of a lifetime – a choice about the character of our country.
I believe that we need a President who defends America and fights for the middle class.
When I am President, we will make a fresh start in Iraq to bring our allies to our side and train the Iraqis so that we can succeed and bring our troops home. I will fight a tougher, smarter, more effective war on terror. We will hunt down, capture, and kill the terrorists wherever they are.
I will never give any other nation or organization a veto over our national security. But I will never forget what Roosevelt, Truman, Eisenhower, Kennedy, and Reagan all knew – that America is stronger, our troops are safer, and success is more certain when we build and lead strong alliances, not when we go it alone.
But a President has to be able to do more than one thing at a time. And today, I want to talk about one of the greatest challenges facing the American middle class and those struggling to join it: in today's economy, too many hard-working women are falling further and further behind.
Just last month, I was talking with a group of folks in Canonsburg, Pennsylvania about lost jobs and rising costs – when a woman in the crowd slowly stood up. She told me that her name was Lori Sheldon, and with tears in her eyes, she said, "You see those two young ladies over there? Those are my daughters. I'm tired of saying no to them. We say no all the time."
As I travel across this country, I meet women like Lori every single day. Women squeezed between rising costs and sinking wages who tell me, health care's so expensive, they just can't afford it...gas costs so much, they empty their wallets just to fill their tanks...and year after year, they pay just too much in taxes.
And no matter how hard they work – at their jobs and at home – no one in the White House understands the challenges they face. No matter how tough it gets, no one in the White House seems to be listening. The women I meet – they don't expect the government to do their jobs for them. But they do want leaders who are on their side as they try to do their jobs.
I'm here today because I hear what women are saying, and I see what's going on. And I pledge to you that if you join with me, I will fight every day so that women like Lori Sheldon can once again start saying yes – yes to themselves, yes to their children, and yes to their hopes for a better future.
Everywhere I go, I meet women working two jobs, three jobs, just to get by. And that's only counting the jobs they're paid for. After they punch out at work, many punch right back in at home for their next shift as care-giver, meal-cooker, financial-planner, house-cleaner – and all the other jobs they do to help support our families.
They work hard every day – and every night – but still, each new day brings a new set of worries.
You worry when you hear your son cough in the middle of the night, or when he goes out to play in the morning – because you just can't afford an illness or an accident. And you worry when your parents can't afford their medicine, and you can't afford to help.
You and your husband worry at the kitchen table after the kids have gone to bed, when this month's paychecks don't cover last month's bills. And you worry that even if you've had your job for months or for years – you can't be sure you'll have it tomorrow or next month.
And as you tuck your daughter in at night, you worry because you want her to go to college and have all the opportunities in the world -- but you don't know how you'll ever manage to afford it.
Today, for far too many women, the American Dream seems a million miles away, because when you've barely got time to sleep – who's got time to dream?
George Bush likes to talk about how being President is "hard work." Mr. President, I'm very happy to relieve you of that hard work. And before the President complains about his job, he ought to come here and spend a day with you. He might learn something about how, day after day, the women of this country juggle so much with such grace and strength. What you do every day – now that's hard work.
Unfortunately, facing reality isn't exactly this President's strong suit. When confronted with a problem, he's got a simple strategy: Pretend it's all just fine, and hope that no one notices.
George Bush is the first president in 72 years to lose jobs on his watch. In fact, Wisconsin alone lost 7,000 jobs last month. And, when you add up the numbers, this state hasn't gained a single job in the last four years. Not exactly what I'd call an economic "recovery." And his Administration says it's time to celebrate. Two weeks ago, the President's Treasury Secretary went to Ohio -- where they've lost more than 230,000 jobs -- and told them that those lost jobs were nothing but a "myth." How dare they. Mr. President, the millions of Americans who have lost jobs on your watch are not myths – they're America's middle class families.
Millions of women struggle to get by on the minimum wage. They have to pay rent, buy groceries, and clothes for their children. But in terms of purchasing power, the minimum wage is the lowest it's been in nearly fifty years. And nearly two and a half million women have fallen into poverty in just the past four years. How dare this administration say this is the best economy of our lifetime?
Today, whether you're a health care aide, or a sales clerk at a store, a computer technician, or even a top executive, the pay gap between men and women is with you every day. American women continue to make an average of just 76 cents for every dollar earned by men. And George Bush's Chief Economist at the Department of Labor has claimed that the pay gap is "phony" and a "fiction." That's outrageous – that in this country, there isn't real equality for women. And when I'm president, we're not going to stand for it.
Women across America are living with skyrocketing health costs, and they worry every day about the millions of children who are still uninsured. How dare George W. Bush dismiss this as a "litany of complaints"?
The simple fact is, this President is just out of touch and out of ideas. He can spin until he's dizzy, but at the end of the day, who does he think American women are going to believe – him or their own eyes?
The reason this President doesn't get it is because for his powerful and well-connected friends, it really is the best economy of their lifetime. When he gives tax breaks to companies that ship jobs overseas, they really do have reason to celebrate. And when he hands Halliburton a $7 billion no-bid contract, well, there isn't any pay gap there.
President Bush talks a lot about an ownership society, and now we know what he means – when it comes to health care, education, and a good standard of living for hard-working women, his answer is: Sorry, you're on your own.
And I think that's one of the biggest differences between George Bush and us. We believe that the middle class is the backbone of this country – and that hard-working women are the bedrock of our families. We believe that women deserve more than false assurances and empty promises from their President. They deserve a fresh start with a President who's going to take responsibility, face reality, and make sure that they don't just get by – they get ahead. If you give me that chance – I will be that President.
First, as President, I'm going to make sure that working women get the wages they've earned – and not a penny less. This President has done just the opposite. George W. Bush turned back the clock on equal pay. And today, the gap between what women and men are earning is actually growing.
He keeps standing in the way of a real increase in the minimum wage. And he imposed new rules that take away overtime pay from 6 million workers – including millions of women.
That's the wrong choice for women and their families, and we're going to change it.
We're going to raise the minimum wage to $7 an hour, so that no woman working full time will have to raise a family while living below the poverty line. That will help more than 9 million women and, for those working full time, it will mean an increase in their incomes of over $3,800 a year. We're also going to create good paying jobs that let families get ahead. We're going to provide real tax cuts for middle class families to put money back in the pockets of hard-working women. We're going to roll back George Bush's overtime pay restrictions. And we'll close the pay gap once and for all – because, in America, equal work should mean equal pay, no, ands, ifs, or buts about it. We're going to shatter the glass ceiling, because in our America, all people are created equal.
Second, we'll provide immediate relief to women and families who've been hard hit by soaring health care costs. For the past four years, President Bush has turned a blind eye as premiums went up $3,500, 2 million more women lost their health coverage, and millions of children have just one option for health care: the emergency room in the middle of the night.
That's the wrong choice for women and their families, and we're going to change it.
We'll cover every child in America by signing them up for health insurance the first time they go to a hospital or on their first day of school. We're going to give all Americans access to the same health plan that members of Congress give themselves: A choice of private health plans that will let you pick your own doctor. And we will guarantee that medical decisions are made by patients and doctors, not by the government, and not by some HMO bureaucrats sitting behind a computer screen thousands of miles away.
Third, we're going to do everything it takes to provide a quality education for every American child and open the doors of college for every American family. George Bush talks a lot about No Child Left Behind, but what he doesn't tell you is that he's left the funding behind. He doesn't tell you that he's tried to cut afterschool programs for half a million children. He doesn't tell you that he broke his promise and actually cut college aid for millions of students.
That's the wrong choice for women and their families, and we're going to change it.
We're going to fight to ensure that every child in America goes to a safe, quality school with smaller class sizes, good teachers and high-standards. We'll fully fund No Child Left Behind, and offer three and a half million children the afterschool programs they need to keep them off the streets and out of trouble. In the richest country on earth, it makes no sense to spend $50,000 a year to send a kid to prison for life, when we can spend $10,000 a year on early childhood education, Head Start, Smart Start, the best possible start in life.
Educational opportunity begins in the early years, but it doesn't end until every child achieves their full potential. We'll offer a tax credit on up to $4,000 of college tuition so that young Americans can turn their aspirations into achievement.
Finally, we're going to make sure that women get the decent retirement they deserve. More than anyone else, women depend on Social Security. Too often, they have less in savings and less to fall back on – yet they live longer. For them, Social Security is not just a promise, it's a lifeline.
George Bush's promise was to protect Social Security. But for four years, he's raided the Social Security trust fund to pay for tax breaks for the wealthiest Americans. And recently, he said that if he was re-elected, he'd "come out strong" to privatize Social Security. According to the non-partisan Congressional Budget Office, that means benefit cuts of 25 to 45 percent. But what does it mean for a woman whose only income is a $1100 a month Social Security check? It means cutting more pills in half ... it means not being able to buy a birthday gift for a grandchild ... it means sitting awake at night, often all alone, worrying about what tomorrow will bring. That's the wrong choice for women and seniors – and we're not going to let it happen. The Scripture says honor thy father and mother. So let me state it plainly: I will not privatize Social Security. I will not cut benefits. And I will not raise the retirement age. Instead, I will restore fiscal responsibility so we can reduce the deficit and save Social Security.
In eleven days, we face a fundamental choice. Do we want four more years of a President who's out of touch with women's lives and measures his success by how much he's done for those with the most? Or do we want a fresh start with a President who measures progress by what he's done to help women who work hard at a job – and who work at the most important job of all, raising our children.
The choice is in your hands. The women of America can write the future of America if they go to the polls and make their voices heard.
Imagine if the roughly 38 million women who didn't vote in 2000 came together and said: we need a president who's on our side. Imagine 38 million votes for good jobs...38 million votes for quality health care ... 38 million votes for real retirement security ... 38 million votes for a better life for our children.
That can be our future – if we choose it. You don't have to settle for more of the same. November 2nd is your chance to move this country in a new direction.
It's time for a fresh start for America.
So I ask you to give John Edwards and me the chance to fight for you. Give me the chance to make you proud. Give me the chance to lift our country up. Give me the chance to make our country strong. Over the months and miles of this effort, I have met so many of you, listened to you and learned from you. I am honored and humbled to carry your hopes with me in this campaign. And I pledge to you that every day as president, I will take your words, your stories, and your faith in America with me to the Oval Office.
Let's go out and make it happen!
Thank you, God Bless you, and God bless America.
John F. Kerry, Remarks in Milwaukee, Wisconsin Online by Gerhard Peters and John T. Woolley, The American Presidency Project https://www.presidency.ucsb.edu/node/217043