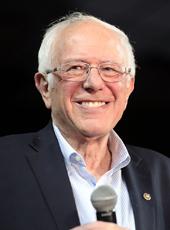 Remarks in Miami, Florida Following the Michigan and Mississippi Democratic Primaries
[in progress...]
points down a few days ago, who repudiated the pundits who said that Bernie Sanders was not going anywhere.
And, I want to thank the many thousands of volunteers that we had in the state of Michigan for knocking on doors and for making the phone calls that made this kind of enormously successful night for us.
In the last week we have won three caucuses, and two of them with -- were record breaking turnouts. And, whether we win or lose tonight in Michigan, basically the delegates here are going to be split up because of proportional representation.
And, what tonight means is that the Bernie Sanders campaign, the people's revolution that we are talking about, the political revolution that we are talking about, is strong in every part of the country and frankly we believe that our strongest areas are yet to happen. We're going to do very, very well in the West coast and other parts of this country.
What the American people are saying is they are tired of a corrupt campaign finance system, and super PACs funded by Wall Street and the billionaire class. They are tired of a rigged economy in which people in Michigan, people in Illinois, people in Ohio, are working longer hours for lower wages, worried to death about the future of their kids, and yet almost all new income and wealth is going to the top one percent.
And, the people of America are tired of a broken criminal justice system in which we have more people in jail, largely African American, Latino, Native American. More people in jail than any other major country on Earth.
So, we started this campaign, as many will remember, 10 months ago. We were 60 or 70 points down in the polls, and yet we have -- what we have seen is in poll after poll, state after state, what we have done is created the kind of momentum that we need to win.
So, once again, this has been a fantastic night in Michigan, we're very grateful for all of the support that we have gotten from this state, and we look forward to going to Illinois, Ohio, Missouri, and the other states that we will be competing in next week. Thank you all very much.
Bernie Sanders, Remarks in Miami, Florida Following the Michigan and Mississippi Democratic Primaries Online by Gerhard Peters and John T. Woolley, The American Presidency Project https://www.presidency.ucsb.edu/node/323456