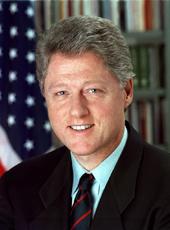 Remarks at a Memorial Service Honoring Victims of the Iraq Helicopter Tragedy at Fort Myer, Virginia
Today in this chapel built for heroes, we come families who are here present and the families to mourn the lives and to celebrate the lives who are not here, I think it should be clear of those who died on April 14th. To all the that in addition to the distinguished leaders of our military, the clergy, and the friends, the spirit of all Americans is in this chapel today. The hearts of all Americans have gone out to these families.
When we joined 3 years ago with Britain and France and Turkey to protect the Kurds of northern Iraq, to shelter them from air attacks, to sustain them with shoes and coats and food and fuel and medicine, the world took note of something continually special about our great Nation and what drives us.
The lives of the Americans and their 11 compatriots who were lost reflected that spirit, those values, that heart, that hope that brought us to protect the Kurds in the first place. They were literally part of a mission to provide comfort. They have honored us all with their compassion and courage and, ultimately, with their sacrifice.
We know, as has already been said, that those who enter the military understand clearly that they assume great risks, that even though the world has changed, that the specter of the cold war is fading, the way of life we cherish as Americans and our hopes for the rest of the world still depends upon their skills, their sacrifice, their courage, and their clear willingness to undertake those risks.
And yet, I have to say that as President and as an American, when it becomes the job of those of us in positions of responsibility to explain loss to these wonderful families that came about through a terrible accident, the burden of reminding all of us that all who served undertook those risks is still very great.
We must remember not only those who died for their service to their country but for how they were loved. We must, all the rest of us in America, pray for these families: for the husband and the father whose young child will now have to learn about him through photographs and stories, for the family of an ambitious young man who wished to go to college and become an artist, for a distinguished American veteran of more than two decades whose soldiers loved him for his steel and his heart, for the wonderful daughter and sister who lifted those around her with her vigor and promise, or the young pilot who grew up with his heart set on the skies, and for all the others.
Their lives were suddenly taken from their beloved families and from our Nation and our service and their important mission. No one's words can wipe away the grief, the pain, the questions. It is our duty, first, to continue the mission for which they gave their lives; second, to find the answers which they rightfully seek; and third, to pray that together they will find the strength as the days go forward to ease their grief and lean on their faiths.
The Americans we honor today represented the best in our country. In a tragic irony, all who were involved in this accident, including the pilots of the two jets, were there on a common mission, to save the lives of innocent people. We know that just as we are all proud of their ability and their bravery, their readiness for any challenge, their devotion to their families, we all understand that they, like we—none of us are immune from error, from tragic circumstance.
One of the fathers, himself an Air Force colonel, said that he thought his daughter was a hero. Well, they're all heroes. And we owe it to them to honor their lives and their service, to answer the questions of their families but more than anything else, to remember when words fail that we are taught over and over again in the Scriptures, things will always happen that we can never fully understand. And as President Lincoln said, "The Almighty has his own purposes," that the faith which sustains us, according to the Scripture, is the assurance of things hoped for, the convictions of things unseen.
As I look out into the faces of mothers and fathers and wives and sons and daughters and brothers and sisters, I say on behalf of a grateful nation, we honor your sacrifice. And we will do our best to live every day with the memory of your sacrifice. And we pray for you that time will give you the strength and the faith to remember the very best and finest of the lives of your loved ones, to be always grateful for what they did and never cynical, even in the face of this tragedy, for there are things which happen to us all which can never be fully understood. What is clear and beyond any doubt is that they loved their country and they swore an oath including a willingness to give their lives for their country. They did it in a very noble cause.
We share your grief. We honor their lives. We pray for you and for their souls.
NOTE: The President spoke at 10:56 a.m. in the Memorial Chapel.
William J. Clinton, Remarks at a Memorial Service Honoring Victims of the Iraq Helicopter Tragedy at Fort Myer, Virginia Online by Gerhard Peters and John T. Woolley, The American Presidency Project https://www.presidency.ucsb.edu/node/219139