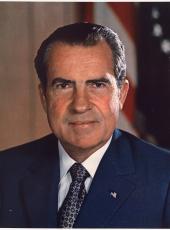 Remarks to Members of the Washington Redskins Professional Football Team During a Practice Session at Redskins Park.
I KNOW you fellows probably wonder why I came out here today. I told George, who used to coach at Whittier, my alma mater, years after I left there, and was one of the great small college coaches in the country--that's how the Bears finally discovered him--I said, "You know, I won't be coming to a game till you need me."
When I have talked to George, and sometimes after games I have called him, he said, "When are you coming out?" I said, "Well, I will be out there one day." Well, I just wanted all of you to know that after you lost that game, which I did see on television Sunday, I thought I would just come out to the practice. It is my own idea. George didn't invite me.
But I came out to tell you a couple of things that, to a lot of old pros, probably don't need to be said. But I am sort of an old pro, too, in my business. In the first place, I just want you to know this whole city is very proud of you.
I, speaking as one who heard a few of those boos--and I have heard a few myself in my lifetime--but I heard a few, the great majority of the people of this town are back of this team. You have been good for this city. The city needed to have a team that was winning.
I want you to know that as far as I am concerned--and I think this is true of most of us; you find this hard to believe sometimes because you always think, "Well, they are only with us when we are up, and they are not with us when we are down"--but as far as I am concerned, as I told George after you lost that Kansas City game, and I say the same thing after this game with Dallas, I am just as proud of what you did and what you are when you have lost as when you have won.
Now, I would not say that except for something that has really impressed me about the team, something I really watch for, and all you guys will understand this. I guess I can introduce this best by telling you a rather amusing incident that occurred when I went out to Bart Start night. They gave him an evening, George, out at Green Bay a couple of years ago.1
1 Bart Start, who was quarterback for the Green Bay Packers professional football team, was honored at a testimonial reception in Green Bay, Wis., on October 17, 1970. See 1970 volume, Item 359.
COACH GEORGE. ALLEN. We played the Packers that day.
THE PRESIDENT. Right. That is right, you played them. You were in the audience.
On that occasion, I was talking to big Henry Jordan,2 who is, you know, quite good, or at least was a great defensive fellow, and also good with the words. And I said, "Henry, what makes the pros play?" He said, "Money."
2 Former defensive tackle for the Green Bay Packers
"But," I said, "you fellows wouldn't go out there and give everything like that just because of money." He said, "Well, that counts a lot."
But then the thing that impressed me was this---of course, doing well, getting into the playoffs, making some money, I know that all means a lot. This is your profession, you want to do your best, and naturally you want to be paid well, and you should be. But I know, too, that you would not go out there and take this punishment and keep giving and giving and giving unless it was for something else, too, and Henry Jordan, of course, would be the first to admit it.
It used to be said that there was spirit only in the college ranks, and there is a lot in the college ranks and the high school ranks, I know. We used to feel awfully bad when we lost the games and awfully good when we won them. But there is also a great spirit in the pro ranks, and that brings me to my point here:
This team, when it lost to Kansas City, and when it lost to Dallas, physically you took a lot of beating and you gave a lot of beating, but from the standpoint of spirit, you still had it. You went into the game with spirit and I noticed right to the last you still had it at the end. So right at this time, when you are a half a game behind Dallas--and let me say the sincerity of my remarks is proved by the fact that there are no votes in Washington, there are a lot in Texas-but you are a half game behind Dallas, but I will go out on a limb and predict, and I have been pretty good in the field of sports, this team is going to get to the playoffs.
I am not suggesting whether you are going to do it by winning the division or whether it is going to be in that wild card or whatever the case might be. You are going to get in, and I believe you are going to get in because I think out of these next four games you are going to win three out of all four, and that will do it.
The reason you are going to do it is because, first, you are experienced and you are real pros, you are real great. Second, you have got the physical ability. There is no question about that. I have watched enough football to know. But third, and more important, you have got that ingredient of spirit. You really care. You want to win, and you are willing to give everything you can to see that you come back from a few, two or three, bad weeks.
I will just put it this way: What really-and you have heard this; this must sound like Allen talking to you; but you have heard this from your college coaches and your high school coaches, and you hear it from the rest, but I have always said that in life, whether it is in the game of politics where you win some and you lose some, whether it is in the game of sports or business, there are a lot more that lose than win, whatever the case might be-what really proves that a person or a team or a country has it is not when it is winning and everybody is with it and everybody is cheering it on, but when it has lost one and then it does not lose its spirit, it comes back, it comes back and goes on to win. I think this team has got it. I think you have the spirit. I think that you are going to go on and be a winner this year.
As far as I am concerned, however, win or lose in these games, you have already won for this city because of what you have done for it, the spirit that you have displayed, this great effort that you have been responsible for through this year.
I will just close it by one other little reference to history. I follow Allen because of my old association at Whittier, and then, of course, when I was in Los Angeles I was a Ram fan. I am, still, whenever I am in Los Angeles, I can assure you---except when you come there.
But anyway, I have noted that some of the sports writers say, "Well, you know, Allen is a rah-rah guy and he thinks it is all the spirit," but uh-uh, Allen is a perfectionist, as you fellows know. He insists on talent. He believes that the fellows should be paid for it--and they should be, properly--but he also knows, and Henry Jordan would be the first to admit, that it just isn't talent, it isn't physical ability, but that spirit makes a great difference in whether you win or lose.
My little story involves General Pershing. He was not--as many of you who studied history know--was not one of the great intellectuals among our military leaders, but he did write an autobiography, and I read it, oh, a couple of years ago, 3 or 4 years ago. In his autobiography, he was telling about the hardest decision he had during World War I.
Here came the new American army over there, you know, and all these divisions that came out of the National Guard and the rest, and they were pretty pitiful and pretty pitifully led, and Pershing said the hardest thing he had to do was to go in and change the commanders of divisions, commanders who were his classmates, but who really couldn't hack it when it came to leading a division on the Western Front in that period of World War I.
He said he went to see a man who had been one of his best friends. The division had taken a terrible beating over the past 3 or 4 weeks, and Pershing had ordered an attack the next week. He met the commander of that division, his old friend, in a tent there at the division headquarters. When he was talking to the commander, the commander looked very, very depressed, and he said, "General, I'm sorry, my division can't carry out that order." He said, "My men are tired. My men are discouraged. Their morale is shot. They simply can't go on the attack next week."
Pershing said to him, "General, your men aren't tired. Their morale isn't shot. They aren't discouraged. You're tired. Your morale is shot. You're discouraged. You go back to Paris and take a rest."
He replaced him with another general. That division, within 3 weeks, was one of the best on the whole Western Front.
I just want to say this: that there is no question as far as this group is concerned. I could tell at the end of the game against Dallas, and the one against Kansas City. Oh, you might have been a bit tired, but there was nothing wrong with your morale, nothing wrong with your spirit.
And I am sure that George Alien, who is somewhat like the general in this instance, would be the first to say that there is nothing wrong with his morale or his spirit either.
I will just conclude it by telling you, I was mighty proud of you when you were winning, and I am just as proud of you when you have lost. I would like to have a reservation for the playoffs.
UNIDENTIFIED SPEAKER. Gee, if this gets in the wind, think what it would do to the Senators? 3

3 Washington Senators professional baseball team.
THE PRESIDENT. The Senators? It would not help. You know, it is an interesting thing. In baseball--there is a very great difference between the two; in football, spirit, morale, is half the game--in baseball it doesn't make all that much difference. It may make that difference with an individual player, you know, like the pitcher is either up or down. But in baseball, spirit and morale is important, but not decisive. It is on an individual basis. You don't get the baseball team all together and say, "Look, fellows, let's get out there and let's go." You know you don't do that. Any manager will tell you.
If, for example, a guy isn't hitting, he isn't going to hit. And you can't say, "Look, Harmon, you are in a slump here; get out there and hit today." They are always trying to hit. You see, it is man against man.
But in football, it is a very contagious thing. It is a team effort, and if the team has a feeling of being up, then it has got, I would say, a 50 percent better chance today to win, because in this game of pro football, too, they are all good. In any week, almost any team in pro football can beat another team, almost any team. I mean you catch teams like Atlanta--they have a lot of talent. Philadelphia has got talent, all the rest. That is why you can't assume that the Vikings are always going to win. You can't assume, frankly, that the Cowboys will.
That is why this team still has a very good chance to get in the playoffs, in my opinion, because they have lots of talent, but most important, and this is the history of Allen-coached teams, this team is not going to lose its spirit because of a couple of losses.
Allen has a great ability to keep that old spirit and morale up. I think, also, this is a bunch of pros who have lost some and won a lot, and they are not going to lose it.
As long as they have the spirit--that is the thing I really note---as long as they still have it here, in their hearts, they are going to do all right.
Also, all teams have had their injury problems, but the Redskins have had more than their share. Look what a difference it would make, for example, if Charley Taylor had been in these last four games. They would have won them all. You see, McNeil has not played with the team enough, so you don't have a wide receiver down there, you know, that big threat. If Taylor had been in there!
And then, when you look at Larry Brown, now he was really playing. He didn't have as sharp a cut as he usually has when he was playing on Sunday. Harraway was really not up to par. And basically, when Brown or Harraway are going, so you gain 150 to 200 yards. When they are injured, you gain 60 yards. That puts an enormous amount of pressure on the passer.
So, my feeling is that as this team gets well, at the end of the year, for example, if Smith--you see, they also need that tight end to throw to; Dowler is terrific, but Dowler doesn't play the whole game-and if you get Smith back in the game, that is going to make a great difference. So, if you get Smith back, then for the playoffs you get Taylor--you get Smith back, you get Taylor back, you get Brown and Harraway well, and Petitbon back, because on the defense, of course, they missed him a lot; the other fellow played well, but they had to kind of screen him a bit but if they get those fellows back in the playoffs, the Redskins will be very, very tough.
Note: The President spoke at approximately 2 p.m. at the Park near Dulles Airport in Loudoun County, Va.
The Redskins football players to whom the President referred were: Charley Taylor, wide receiver, Clifton McNeil, wide receiver, Larry Brown, running back, Charley Harraway, running back, Jerry Smith, tight end, Boyd Dowler, tight end, and Richle Petitbon, safety.
Richard Nixon, Remarks to Members of the Washington Redskins Professional Football Team During a Practice Session at Redskins Park. Online by Gerhard Peters and John T. Woolley, The American Presidency Project https://www.presidency.ucsb.edu/node/240259