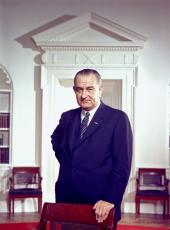 Remarks to Members of the National Association of Counties.
Ladies and gentlemen:
We are honored that you have come here this afternoon. You represent what we in Washington are here to serve, to protect, and to defend. And that is the right of men around the world to govern themselves-at the local level.
Only one week ago, at about this same hour, we were very conscious of that responsibility. At that time we were faced with the challenge of a direct, deliberate, and unprovoked act of aggression. That act was committed by a government which is a relentless and ruthless enemy of local self-government.
That government sends its guerrillas into neighboring free lands with orders to seek out, with orders to kill, local officials and their families like you and your families.
When that challenge was laid down, there was no delay, there was no hesitation, there was no divided counsel here in your White House.
The United States delivered a firm and unmistakable reply and delivered it promptly.
The world understands that the United States' only purpose is peace. But the world also understands that this generation of Americans has only one policy. Our resources are committed, our sacrifices are made, our vigil is maintained so that there shall be no win for aggression in our times.
At this time last week, we could not know what the consequences of our course would be. But as we could be confident that our cause was right, we could also be confident of our might.
Since 1961 we have worked very hard to strengthen the hopes for peace. That is and that must always be the first work of our land. We have also worked to strengthen our preparedness, for only the strong can be brave in the pursuit of peace.
We have increased by $28 billion our expenditures, our investment in preparedness, in the last 4 fiscal years over what we were spending the year we came in.
I could take some time to tell you how much additional preparedness we bought with these $30 billion, but I can assure you it is there and I can assure you that the world knows it is there. And because of it, all Americans can know tonight that the United States is the strongest nation in all history. I want you to know, and I want the world to know, that all of our plans and all of our work now going on will keep it that way.
But you know, I think, and I know that our strength is never just the strength of arms alone. And that is why we must work in many ways to make this Nation stronger in every way.
We are harvesting the fruits of those labors now.
Our economy has never been more prosperous. For 42 consecutive months there have never been so many Americans at work, 72,400,000 are on the payroll now, and their average weekly pay has never been higher in our history. American business is on its way to the most profitable year that business has ever had in the record of this country.
All of that is good and all of us want to keep it that way. Unemployment is down below 5 percent and we are going to drive it still lower. Purchasing power is up and we are going to send it higher.
Taxes have been cut. Federal spending has been held down. We intend to make every effort to keep the budget below $100 billion again next year. If prices remain stable, as they have, and prosperity continues as it is, we want to cut some of our excise taxes at least and before too long to cut income taxes once more.
We are making the effort to reduce expenditures. You men and women out there today have made budgets of your own. No one knows better than you the work and the long hours and the care and the thought and the sweat that economizing requires. But it can be done.
We have saved $1 billion more than anticipated in our Defense expenditures this year as a result of the cost consciousness program of Secretary McNamara. We will, within a few years, be saving more than $4.6 billion in this area of our budget alone. Our course is steady. Our course is sure--at home and in the world. And if I know anything about the American people, I think I know that they want to hold to this sure and steady course.
We have problems at home.
No one is more aware than I am of how many of our problems must be met, must be answered, and must be solved at the local level. But I look, America looks, and even the world looks to you as our local leadership to supply the leadership that these times require.
Your local burdens are many and they are growing. Since 1948, Federal spending has increased 168 percent, but State and local spending has increased 268 percent. Federal debt is up 21 percent. State and local debt is up 365 percent.
Some may want to have Washington impose more burdens upon you by transferring responsibilities to your level of government. For myself, my first interest, my only interest, is to see the 91,000 units of government in the United States working together arm in arm, shoulder to shoulder, for the good of all the people all the time.
I didn't ask you over here this afternoon to frighten you or to threaten you. I did ask you to come, because I want to tall you that I am proud of our country. I am proud of what our country has done. I am proud of what our country is doing. I am proud of what we are capable of doing, if we trust each other, if we work together with each other, and if we love each other, instead of hate each other.
All that I ever want to do, and all that I think you ever want to do, is to preserve in this land, and in all free lands, the right of men and women to govern themselves. Now, how can we do that?
We can do it by serving that cause, by working for unity, and by not prolonging our divisions. We can serve that cause by working for the rights of men in every region of America and by working for the rights of men in every region of the world.
We are happy that you came here. We hope you enjoyed your visit to Washington. We trust that you will have a pleasant journey home. I received some invitations from some of you that I may just accept between now and the first of the year.
Note: The President spoke in midafternoon at a reception on the South Lawn at the White House for a group composed of some 2,000 members of the National Association of Counties. The Association was holding its County Information Congress at the Sheraton-Park Hotel in Washington.
Lyndon B. Johnson, Remarks to Members of the National Association of Counties. Online by Gerhard Peters and John T. Woolley, The American Presidency Project https://www.presidency.ucsb.edu/node/242040