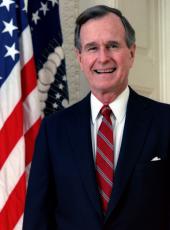 Remarks to Members of the Hispanic-American Community in Los Angeles, California
Thank you very much. And, Mr. Schwartz -- Murray, thank you, sir, for the warm welcome back to this campus, and I am so delighted to be here. This is a nonpartisan appearance. And therefore I will resist any partisan commentary except to make note that it was here, not in this very room, but right on this campus -- Murray Schwartz referring to my last visit here that was highly politicized, perhaps one of the most dramatic moments in our whole campaign cycle, but certainly in my life. And so, I have a feeling, a good feeling, and very pleased to be welcomed back by two people who give so much to UCLA.
I would just give a word of welcome to all of you. And I'm delighted to salute UCLA, one of our great universities. I would simply say that expressing gratitude is not always easy. But I do want to express my gratitude for this warm reception. I had a chance to meet with some of the organizers early on to tell them how grateful I am for this wonderful get-together on relatively short notice.
You know, a Hispanic patriot of our hemisphere once said: "I am America's son. To her I belong." Well, let me speak for Barbara, who regrettably is not with us here tonight. I feel that we belong, for we've spent a lot of our adult lives in -- Barbara and I -- in Texas, seeing close up, firsthand, the strength of the Hispanic communities there. Hispanic values touched us: discipline, caring, patriotism, love of God. And of course because of Jeb's wife, Columba, we feel doubly blessed as a family because the Hispanic culture is our culture, too.
And tomorrow I'm going to meet with one of our greatest Presidents. And I'm talking about California's always-favorite son and my good friend, Ronald Reagan. And I can't help recalling the words that he once said about Hispanic-Americans: "Just as their forefathers sought a dream in the new world, Hispanic-Americans have realized their dream in our great nation and will continue to do so. Their dedication to higher purposes reflects what is best in the American spirit."
Well, my friends, that spirit brought your parents and your grandparents and some of you to the United States. And they and you came in search of a better life, and you're finding it. And you came to build a better America, and you're sure helping build it. And you're building it through family, through church, through love of country and belief in the value of hard work -- you know, building it in the school also, a new spirit, I'd say, of public service that is sweeping our educational system, from grade school to grad school, building it through excellence and through such leaders now as we have in Washington: Secretaries Lujan [Interior] and Cavazos [Education], who so enrich our administration.
It was over a year ago at a LULAC [League of United Latin American Communities] meeting in Texas where I said time had come, long since, that we have Hispanics in the President's Cabinet. And now we have two outstanding Secretaries: Manuel Lujan and Lauro Cavazos.
I don't want to embarrass this guy, but it was here at UCLA, on one of these questions they ask you at these debates out of a clear blue sky -- and they asked me: Name a couple of contemporary heroes, or who are your heroes? I've found that in this line of work you always get psychoanalyzed -- [laughter] -- and you're stretched out on a theoretical couch for people to figure out what makes you tick -- that just goes with the job. But this question came out of the clear blue sky, and it had something to do with your heroes. And I cited, quite proudly, Tony Fauci, who is one of the researchers and now top people at the National Institutes of Health who is doing so much in AIDS and cancer research and all of this. What immediately came to my mind was Jaime Escalante, who is here with us today. And I -- here he is -- I told Jaime -- I said, "Look" -- I saw him later; I think it was back at the White House or somewhere -- I said: "I hope I didn't throw you into some kind of partisan limelight there because what I really wanted to do, though, is express my feeling of contribution, my feeling of respect for the contribution that you have made in this -- what we're talking about here today -- excellence in education." So, right amongst us again is one of my genuine heroes.
I see many business people here, people that know what entrepreneurship means and have taken the lead in starting businesses and building them. And you are creating new jobs and cutting unemployment in the process -- here, California, many of you from across the country. And as America's fastest growing minority in the 21st century, you, more than ever, will help tell the American story. And so is the promise that our kids will inherit a better land than we inherited true. It is very, very true -- and I'm convinced of it.
And I haven't been President very long, but I remain an optimist about the United States of America. The problems are big, but we can solve them. And when I look to the values that give us the underpinning for everything we do in society, I come right back to the Hispanic community. And I'm grateful to you.
Some people say that the younger generation is selfish. I don't believe this. I have much more confidence in the young people than to say they're selfish. And young people of this country hunger to return to America a measure of what America has given us all. The people in this room care about the disadvantaged, about the environment. And under this administration, we are going to work together to transform our caring into a commitment for action. Let us pledge, then, not simply to knock at the door of opportunity, let's throw that door wide open and keep it open! And let's remember that we are one nation under God and that we honor Him with the lives we lead.
People are asking me now that you've been President, what are some of your major concerns? And one for me is the diminution of American family. It's more than a sociological textbook kind of a concern. I worry about it. And I want to say to you in this room -- because I think of the Hispanic culture in America, in the United States, is family-oriented; strength coming from the family -- I will have nothing to do with any Federal legislation that diminishes the strength of the American family. We've got to find ways to strengthen it, and I think I've learned a lot of that right here from people in this room.
We are rural and urban; native-born and foreign-born; Hispanic and non-Hispanic; brown, black, white -- but most of all, we are Americans. So, my plea is: Let's join our hands together, for the future is ours. And as we do, please accept my thanks for this wonderful occasion. I do want to have an opportunity now to come and greet as many as I possibly can. God bless you. Thank you all, and God bless the United States of America. Thank you very, very much.
Note: The President spoke at 5:28 p.m. in the Galleria at the James West Alumni Center on the campus of the University of California at Los Angeles. In his remarks, he referred to Murray Schwartz, executive vice chancellor of the university; John and Columba Bush, his son and daughter-in-law; and Jaime Escalante, a calculus teacher at Garfield High School in east Los Angeles. Prior to his remarks, the President attended a reception in the alumni center for leaders of the Hispanic community. Following his remarks, he stayed overnight at the Four Seasons Hotel.
George Bush, Remarks to Members of the Hispanic-American Community in Los Angeles, California Online by Gerhard Peters and John T. Woolley, The American Presidency Project https://www.presidency.ucsb.edu/node/263268