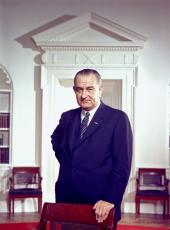 Remarks to Members of the Business Council.
Mr. Kappel, Mr. Secretary, my fellow Americans:
Here in this room is an accumulation of brains and achievement and enterprise that your Government and your President needs for advice, for ideas, for a cooperative spirit whose total aim is to move this great country of ours ahead.
When we take stock of the American inventory for the future, we find this land and its people are strong, are secure, are unafraid.
Let me cite for you the cheering record of economic gains today and the promise for the future.
We are now, as we meet here, in the 34th month of unbroken economic expansion.
The gross national product will cross the $600 billion mark in a matter of weeks. This is a record rise in gross national product of $100 billion or 20 percent in 3 years.
Since January, 1961:
Corporate profits, after taxes, are up 43 percent. These profits are running at an all-time high of $27.4 billion compared with $19.2 billion in early 1961.
Industrial production is up 22 percent.
Construction activity is up 19 percent.
Personal income is up $65 billion, or 16 percent.
Civilian employment is up 2½ million, and labor income is up $49 billion, or 17 percent.
Average weekly earnings in manufacturing are up 13 percent, or over $100 a week for 70 million people working.
Prices have been the steadiest in the entire postwar period. The wholesale price index today is still below early 1961. Consumer prices have risen only about 1.2 percent per year, mostly in services.
Although unemployment amounts to four million persons, 5½ percent of our labor force, there are more people at work today than at any other time in our history. As I said, more than 70 million are earning good wages.
Continued expansion of the business community seems assured at least through the first half of 1964. This will be the longest peacetime expansion in the history of this Republic except for the anemic one in the 1930's.
These are the visible garments of economic success. They are also substantial evidence that the state of the Nation is good; that the health of the Nation is strong. So if we are to be worthy of this success, we must first respond to its challenge.
Languishing before the Congress is the tax cut bill that was sent there 11 months ago. Many of you in this room have enlisted in the fight to win this tax cut. It is uncertainty that deters business. It is the one single decision that could put us firmly on the path to full employment and put the motive power in our expansion to keep it going after mid-1964.
This tax cut could boost our gross national product by an extra $12 billion in 1964 and, when fully effective, by an extra $30 billion a year. It is needed; it is necessary; it demands the support of all enlightened Americans. It is both your defense against a sagging economy and it is a breath of fresh air for our free enterprise system which is the envy of the world. We cannot hesitate.
As my counselor, Ted Sorensen, wrote in his new book: "In the White House, the future rapidly becomes the past, and delay is in itself a decision."
I need your cooperation. I need it now. I need it tomorrow, next week, next month to win the tax cut, to help you widen your opportunity for your company's expansion; to help you provide more employment; to help you give your workers and your stockholders incentive for the future.
This administration wants to help you and to work with you. We are not pro-labor; we are not pro-business; we are not pro-any-special-sector. We are pro-what-is-best-for our country.
I happen to believe that a strong, vibrant economy is as essential to our leadership in the free world as the military hardware. I challenge this assemblage of the finest business brains in all the world to take up arms against stagnation and delay.
I challenge this group of business leaders to assault the persistent problems of our generation and to arouse yourselves to help me put an end to them. I join you in taking up this challenge. Let us together destroy for all time the numbing attrition of discrimination in employment.
You men in industry have led the way in plans for progress. I am proud to report that 100 of the top corporations in America for the last quarter employed 60,000 new people for jobs, and of those 60,000 new employees 15,000 of them were Negroes, or 25 percent compared to the 11 percent they have in the population.
And I would say to you men who may belong to the party of Lincoln--at least some of you here today--that we have a civil rights bill that was sent to the Congress last May in order to take people out of the streets and pass a law that we thought would give them justice. That bill has been there since May and this is December. It has been reported by a committee. The Speaker of the House went to the committee and asked for a hearing, something that every American is ordinarily entitled to. He was told to come back next January.
I would not think that any group of Americans would be against a hearing or a chance to vote up or down a bill that a committee of the Congress had reported, so I appeal to you for your support of legislation that will help to destroy discrimination, that will help to promote equality, that will help to give opportunity to all American citizens, regardless of their race, regardless of their religion, regardless of the region in which they may live.
So let us all, working together, enlarge our economy by also persuading Congress to cut taxes.
Men in the Government are going to be recognized in this administration by not how much they spend but by how much they save. The venal and the self-seeking need not knock on our door, but the honorable and the energetic are always welcome. We will not harass or persecute you. We want to help you.
I am the only President that you have. If you would have me fail, then you fail, for this Nation of yours fails. If you would have me succeed, then you benefit, and the country benefits. We will do all that needs to be done and we will try to do it with thrift and frugality. We will try our deadlevel best to get a dollar's worth of value for every dollar we spend.
This Nation and your President needs your energy and needs your ingenuity and needs your confidence and needs your support. We need the "can do" spirit of the American businessman, so I ask you, banish your fears, and I remember Mr. Rayburn told me that in his 50 years here, he believed the most frightened man that he ran into was the average American businessman. He said although he can go to bed at night, one of the few businessmen in the world, and wake up the next morning knowing his property has not been confiscated out from under his pillow, he is still frightened, and if he can't scare himself enough, he will go hire a lawyer or a public relations man to keep him scared.
So, gentlemen, I say: banish your fear and shed your doubts and renew your hopes. We have much work to do together. We want you to roll up your sleeves and let's get about doing it.
The Soviet Union has more population than we have. She has almost three times as many tillable acres as we have. She has us outdistanced in potential of power and oil resources, but the one thing she doesn't have is our system of government. And if our philosophy finally prevails, it is going to be primarily because of the system that our forefathers left us, the system that says to the capitalists, "Send your dollar out and we will try to help you get a fair return on it"; that says to the management, "Get up at daylight and work at midnight and develop stomach ulcers like Frank Stanton has and we will give you a profit-sharing plan and a bonus if you are successful"; that says to the worker that "We believe you are worthy of your hire and we will give you a minimum wage, and the highest weekly wage in all the world." And these three working together, the capitalist and the manager and the worker, have brought to us a prosperity that no civilization has ever known. We have much to preserve and much to protect, and I ask you to come here to help me do it.
Thank you.
[At this point F. R. Kappel, chairman of the Business Council, spoke on behalf of the 65 Council members. They had discussed the "fears of the kind" the President had talked about, he said, and had put their views together in a letter addressed to the President, which he then read:
["It is my privilege as Chairman of the Business Council to assure you on behalf of the Council that we have undiminished confidence in the economic and moral strength of our country under your leadership. We are proceeding in the planning and management of our respective businesses with this as the basis of our judgment.
["The Business Council has had an active, and we feel constructive, cooperative relationship with each administration since 1933. As you know, The Council provides a medium for better understanding of government problems by business; it is glad to respond to requests by government for counsel and assistance; and it endeavors to submit to any branch of the government a constructive point of view on matters of public policy affecting the business interests of the country.
["Please be assured that we will continue to be of service to you and the other branches of the government in any way we can within our capabilities."
[The President then resumed speaking.]
Gentlemen, I asked the Secretary of the Treasury and the Secretary of Commerce and the Secretary of Agriculture, the Secretary of Labor, the Secretary of Defense, whom a great many of you have been associated with through the years, and who now work closely with you in many fields, to come here and be at your disposal and be available to visit with you and talk to you.
We expect great things of you and we have already received great things, but the next hour we want to exchange thoughts with you and give you an opportunity to speak individually and not just be called in here and listen to our speeches, so we are going to the Cabinet Room. It will be a little crowded because notwithstanding all this $100 billion we are spending, we don't have commodious quarters, but if you can endure it, we would like you to indulge us and we can exchange viewpoints and you can give your opinions and ask any questions you want of your President. We have no cutoff period. We can stay there at least until after 5 o'clock!
If you could, before you leave, I think that in tribute to one of the greatest believers in our free enterprise system and one of the greatest exponents of it, and one of the greatest Presidents we ever had, I would like to ask you to bow your head in a minute of silent prayer to John F. Kennedy.
Thank you very much.
Note: The President spoke at 5 p.m. in the Fish Room at the White House. His opening words referred to F. R. Kappel, chairman of the Business Council, and Luther H. Hodges, Secretary of Commerce. During his remarks he referred to the late Speaker of the House Sam Rayburn and to Frank Stanton, president of the Columbia Broadcasting System. Theodore C. Sorensen's book, to which the President also referred, is entitled "Decision-Making in the White House" (Columbia University Press, 1963; see also Public Papers of the Presidents, John F. Kennedy, 1963, Item 370).
Lyndon B. Johnson, Remarks to Members of the Business Council. Online by Gerhard Peters and John T. Woolley, The American Presidency Project https://www.presidency.ucsb.edu/node/239565