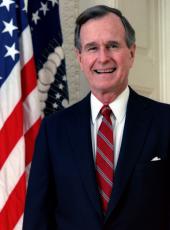 Remarks to Members of the Business and Industry Association of New Hampshire in Manchester
Thank you, ladies and gentlemen. Thank you, Governor. Thank you for that welcome back. Judd, thank you for that warm introduction, and thank all of you for that welcome. I want to thank Bill Gingrich and others at BIA for arranging on relatively short notice this wonderful meeting. I want to pay my respects to our outstanding congressional delegation -- our two Congressmen are here -- and our senior Senator Warren Rudman, here with us today. But you're well represented in Washington with these four outstanding individuals. I'm very sorry if I'm late -- a little trouble parking the 18-wheeler. [Laughter]
A few things have happened since I spoke to you 2 years ago at the BIA. For one thing, I got a new job. And so did Bonnie Newman. [Laughter] And I'm very pleased on both counts. It really is great to be back and see so many old friends.
Last week I made an address to the joint session of Congress, spelling out my policies and my priorities as America moves into a new decade -- a whole new century 11 short years away. And I offered my hand to the Congress in a spirit of bipartisan cooperation and said, "Together we can build a better America."
And this week, I'm traveling to different parts of the country to talk as directly as possible to the American people. And it's no coincidence that this very first stop is here in New Hampshire. Actually, I thought we were heading south. But John Sununu, you know, the new Chief of Staff, had his way, and here we are. [Laughter] Some said I just wanted to come back and drink with the boys at the Alpine Club again right here. [Laughter] What a great evening that was, I'll tell you.
A year ago at about this time, I was here in New Hampshire under different circumstances -- literally a year ago. I had just been defeated in Iowa. I was up at 6:50 a.m. my first morning here, outside on a cold day -- a little colder, as I remember, than today even -- holding my coffee in one hand and shaking hands with some of the guys at the factory in another. And the columnists had begun to write my political obituary. Well, I knew things seemed worse than they actually were. And let me tell you why I say that. I knew we were strong here. Governor Sununu was at my side, Judd Gregg and, of course, his dad, Hugh. And I had so many people, including many in this room, who helped me assemble a statewide organization, A - 1 in every single way. And you never can forget in American politics the importance of people being involved.
And I also had a message, a message that the people of New Hampshire, and then all America, understood: Sensible ideas work; we can do the job, and we can do it without new taxes. And the foundation that we built held firm; it never cracked or crumbled. And the steadfast support that I received gave me the chance to pick myself off of that canvas, and the rest, as they say, is history. And so today, now that I've returned to your State for the first time as the 41st President of the United States, let me repeat those four little words that I said on election night: "Thank you, New Hampshire."
But as Judd reminded us, the journey goes back longer than just a year ago today. It goes back to '79 and '80, when I first ran for President. In 1980 things were different in America. Our economy was stagnant. Inflation and interest rates were peaking at unprecedented highs for our country. Our workers were out of jobs. And America's respect around the world was on the decline.
And since then, under the leadership of a great President, America is once again proud and prosperous. And our economy is now in its 75th month of expansion -- the longest period of uninterrupted economic growth during peacetime in our nation's history. And our people are back at work. In fact, the proportion of Americans with jobs is at a post-World War II high. And America is once again respected around the world as a resolute force for peace and freedom. And because we did strengthen this country, I am optimistic about our chances to enhance the peace worldwide. We're headed in the right direction, and I mean to keep us headed in the right direction. We've made tremendous progress, and I mean to build on that progress.
Last Thursday night, I presented to the Congress a realistic plan for dealing with the Federal budget. And my plan has four broad features: attention to urgent priorities, investment in the future, an attack on the deficit, and no new taxes. And this budget plan represents a commitment to meet our national priorities and at the same time keep faith with our promise to the American people on the tax front of no new taxes. There are some areas in which we would all like to spend more, but we cannot until we get our fiscal house in order and bring the Federal budget deficit down.
In the next fiscal year, under current law with no changes or new taxes, revenues will grow by over $80 billion -- $80 billion more revenue to the Federal Government in 1 year under existing law. And that's an increase of nearly 8 1/2 percent. And that should be enough to finance our priorities and bring the deficit down without taxes.
The Federal budget will not be balanced overnight, but our plan is a realistic one. And right here I'd like to salute Warren Rudman for his role in disciplining both the executive branch and the Congress by being a part of that historic Gramm-Rudman-Hollings bill. It's very important legislation. Yes, it requires tough choices. Mine is a budget plan that will work, but not with business as usual. It will require a partnership with the Congress. And as I said on Thursday night, my team and I are prepared to work with the Congress; to negotiate in good faith with the leadership; to work day and night, if that's what it takes, to meet budget targets; and to produce a budget on time.
I've spoken about priorities; let me just share with you briefly what those priorities are. First, let's make sure that America remains the greatest and the most productive nation on the face of the Earth. We should begin to invest now in ways that will make America more competitive in the future. And that means continuing America's leadership in the knowledge business: more funds for basic research; a permanent tax credit for R&D, for research and development; a strengthened role for science and technology in our national policy deliberations.
When I was Vice President, I chaired a task force on regulatory relief, which was intended to help survey the wilderness of government regulation to determine which rules were hurting private productive activity and which were helping. And we did a lot of good early on. We got rid of some needless regulation, and still protecting the safety in the workplace and things of that important nature. But the work of this task force will continue, and its mission expanded, however. The Vice President, Dan Quayle, will head this new task force on competitiveness to explore a range of issues, from regulatory reform to training for the work force of the future.
I've also asked the Congress for its cooperation in passing what I believe is the most important competitiveness package of all: a package of bills to improve education in America. You know, Louis Pasteur once said: "Chance favors only the prepared mind." Our children deserve every break that we can give them because they do represent our future. And so, for America to be prepared for the future, our children must be educated for the future.
And part of our education effort must be in the area of drugs. Education is still our best means of prevention. And we will fight drugs on all fronts, not only education but treatment, interdiction, and law enforcement. But for those who are already hooked on drugs, we've got to expand treatment. For those who are dealing drugs, I want them to know how serious we are about stopping them. And I have asked for and will insist on tougher penalties. And, yes, that does include the death penalty for those drug kingpins. I believe it will inhibit the continued flow of drugs into this country. And I think the dealers who prey on our kids should know what's coming when they get caught. The kids of America will not become the broken debris of a failed war on drugs -- period. We simply can't have that. And a drug-free America has to be the foundation of a healthy, stronger America.
We also must protect our environment: the air we breathe, the water we drink, the beautiful land we live on. And we do need a new attitude, a new commitment to preserving our planet.
We must protect those members of our society who are the most vulnerable: the infants; the pregnant women; children living in poverty; and, yes, the elderly. And we must protect the homeless. Greater support is needed for emergency food and shelter, for health service, and for clinics for the mentally ill. And I've asked for those funds to confront the problems of the homeless, recognizing that most of the work in this field, as in education, will be done at the local and the State and the neighborhood level. We must never let the Federal Government preempt and push aside the activities of our citizens at the family and neighborhood level. The Government, as I said the other night, cannot stand on the sidelines -- not in the face of the national shame of the homeless or the depressed stage of our education.
What I also want to say is that government is not the only answer, though. Government has a role. Government's got to do its part, but it can't do everything. And without the will of the people, it really can't do anything. The essence of our government is that it is a democracy of, for, and by the people. To be successful in the years ahead, our mission must also be of, for, and by the people. And really, that's why I've come here today: to look back one final time and to let you know I know why I'm here and how I got here. I don't think there's ever anything wrong in life for saying, "Thank you very much."
And that's exactly what I wanted to do when I came here today: say thank you; but more importantly, now that I am the 41st President of the United States, to look ahead, to thank you for what you can do in the future, and encourage you to give it your all. Join me with a spirit that I know is the spirit of not only this BIA but also the people of New Hampshire, generally, and together we will keep America moving forward, always forward, on a journey that leads to a better America of absolutely limitless opportunities. Thank you all, and God bless you. And it's so nice to be here. Thank you very much.
Note: The President spoke at 9:31 a.m. in the Armory at the Center of New Hampshire Holiday Inn. In his remarks, he referred to Gov. Judd Gregg; William Gingrich, chairman of the Business and Industry Association of New Hampshire; Representatives Charles Douglas and Robert C. Smith; Bonnie Newman, Assistant to the President for Management and Administration; and Hugh Gregg, former Governor of New Hampshire. Following his remarks, the President returned to Washington, DC.
George Bush, Remarks to Members of the Business and Industry Association of New Hampshire in Manchester Online by Gerhard Peters and John T. Woolley, The American Presidency Project https://www.presidency.ucsb.edu/node/247761