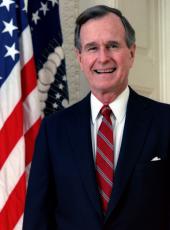 Remarks to Members of the Anti-Defamation League of B'nai B'rith
This is what they call a cameo appearance. [Laughter] I'm here very briefly before rushing off to the Hilton Hotel, but I just can't tell you how pleased I am to be with you. I told Abe Foxman here, "Why, we're practically going steady!" [Laughter] Because he was down here just last -- was it Thursday of last week with the head of a lot of these most prominent organizations. And I'm delighted to be here with all of you today.
I don't want to speak too long because Bobbie Kilberg, I think, is next, and she'll kill me. [Laughter] But I might say she is doing an outstanding job -- a friend of longstanding and now in an outreach capacity here, high level at the White House, and performing with the expertise that we have come to expect of her. I understand that Secretary [of Housing and Urban Development] Kemp is coming, or maybe -- has he been, or coming over -- and [Attorney General] Dick Thornburgh, I think, and our Chief of Staff [John H. Sununu]. So, you'll have a full program.
But I'm pleased to be here. I look at these briefing sessions as a two-way street. I hope that you'll have a chance to exchange views, get questions and answers with some -- but in any event, an opinion at a forum for sharing of information and ideas. Certainly, the meeting that we had with Abe and those from the organization of presidents was that kind of meeting. And as I look around the room, I see many familiar faces and am delighted to be here.
For three quarters of a century, the Anti-Defamation League has played a central role in preserving and protecting that sacred right of religious freedom. And there is no single greater contribution that one organization can make to the Nation, and for that you've earned our gratitude, certainly my respect.
From the time the pilgrims landed at Plymouth Rock, the principle of religious freedom and the notion of America as a haven for those who seek to exercise that freedom has been deeply rooted in the American heritage. But the ADL knows well that, however well-established religious freedom may be, it can never be taken for granted. And our national conscience must take note whenever that freedom is violated, and all Americans then must rush in to the defense of that freedom. As one of our forefathers wrote nearly 200 years ago, the Government of the United States gives to bigotry no sanction, to persecution no assistance. May the children of the stock of Abraham sit in safety under his own vine and fig tree, and there should be none to make him afraid.
I know that the ADL recently issued its annual report, detailing rising incidents of anti-Semitism in 1988. And I want to come over here to tell you that we must condemn all attacks on the Jewish religion, the Jewish heritage -- clearly, unequivocally, and without exception. This Nation must stand for tolerance, for pluralism, and a healthy respect for the rights of all minorities.
And I know many of you, and we've worked together in various common causes many times over the years, and I hope you know how deeply I cherish the principle of religious freedom. And I know how hard you've fought not only for your own beliefs but to protect the principle that recognizes the rights of all men and women to worship as they believe right. So, we must continue to work together as we have in the past to zealously protect these rights for all Americans. Rest assured that my administration will work to uphold this principle as the very cornerstone of our freedom. And sometimes they question the power of the President, and I understand that. But they should never question the President's willingness to use the bully pulpit of the White House, as Teddy Roosevelt called it, to speak out for what is just and right.
I've concentrated today here on just these brief remarks on antidiscrimination or other subjects of enormous concern. I wish you could have been there yesterday in the Oval Office to hear a representative of the Ethiopian Jews, a man who's living in Israel now, make this plea from the heart to continue the flow of the people there who are still not able to join their families in Israel. There's that subject.
We had a fascinating meeting with Mr. Arens yesterday where I reassured him of the United States commitment to Israel as a strategic ally and, of course, a lasting friend. And I think he understands that. I hope that when the Prime Minister of Israel [Yitzhak Shamir] comes here that we can move forward in some way toward the peace that everybody here really hopes that Israel and its neighbors will achieve. So, we're moving.
Thank you for letting me drop in in this cameo appearance. And keep up your commitment, keep up that commitment to fight against bigotry wherever it may surface. Thank you all very, very much.
Note: The President spoke at 9:50 a.m. at a briefing in Room 450 of the Old Executive Office Building. In his remarks, he referred to Abraham H. Foxman, national director of the league, Bobbie Kilberg, Deputy Assistant to the President for Public Liaison, and Israeli Foreign Minister Moshe Arens.
George Bush, Remarks to Members of the Anti-Defamation League of B'nai B'rith Online by Gerhard Peters and John T. Woolley, The American Presidency Project https://www.presidency.ucsb.edu/node/248615