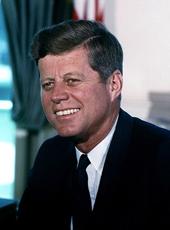 Remarks to Members of the American Colony in San Jose.
Mr. Ambassador:
I want to thank you very much. I would first like to introduce those who came down with us from the United States. I think you have seen the Secretary of State, Mr. Rusk. Then Senator Morse, who is Chairman of the Subcommittee on Latin Affairs of the Senate Committee on Foreign Relations; Congressman Armistead Selden of Alabama, who is Chairman of the House Subcommittee on Latin America; and Congressman Mailliard, who serves with Congressman Selden and is the ranking Republican on that committee, who came down with us also.
We are delighted to be here and to be the guests of our distinguished Ambassador, who is an old friend of mine, and also to be here with you. I want to express our very warm thanks and appreciation to all those who work for the United States Government here in Costa Rica. You are some miles from home, and I hope you realize how vital your service is and how much depends upon what you are able to do. This is a most critical time in the life of our country. We are, as Americans, more concerned, I think, for one of the first times in our history-perhaps somewhat belatedly--but I think as Americans we are more concerned with what goes on in the countries to the south of us that we have even been before. I think all of us regard this as the most critical and, in a sense, important area in the world today.
Our great effort, in a hemisphere which has known a good deal of turbulent history, must be to help construct democratic, responsible, and stable governments which provide an ever-increasing standard of living for the people of their countries. That is our objective. That is why we are here today. That is the meaning of the Alliance for Progress. It is a joint effort by the leaders of all of our sister Republics and the United States to see if we can solve, by democratic means, the pressing problems of illiteracy, and maldistribution of wealth, lack of education, lack of security, lack of jobs. This is a tremendously difficult assignment, much more difficult in many ways than was our responsibility at the end of World War II in regard to Europe. There, there were great skills, great potential, long experience, and the United States played an important and significant role in helping the countries of Europe to build themselves up. Now we are attempting to do a similar cooperative effort here in this hemisphere, and a great deal depends upon all of you.
Whether you are working for the Government here, whether you are working for the Information Service, whether you work for the State Department, or whether you work for private companies, I hope that all of us together, during this visit and in the days to come, can demonstrate our strong identification with the people of Costa Rica, with the people of Central America, with the people of Latin America. We want them to know that this is a continuing, constant interest, and that we spend not only 2 days here, but that all of the efforts of the United States will be dedicated in this decade to seeing if we can solve, through freedom, the problems which they face in their everyday lives. This is a great responsibility, a great opportunity, and you are the leaders of it. So I want to express the thanks of all of our countrymen to you and to also express our very warm appreciation to you for having come this afternoon to welcome us here today, and also for the warm welcome you gave us all coming to town today. We appreciate it.

Thank you.
Note: The President spoke from the steps of the Ambassador's residence in Costa Rica. His opening words referred to U.S. Ambassador Raymond Telles.
John F. Kennedy, Remarks to Members of the American Colony in San Jose. Online by Gerhard Peters and John T. Woolley, The American Presidency Project https://www.presidency.ucsb.edu/node/237125