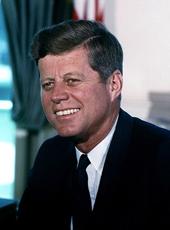 Remarks to Members of National and State Democratic Committees.
Mr. Chairmen:
I want to express a very warm welcome to all of you--as I look around the room I see a great many old friends--and to tell you that I think it is most appropriate that this room--where President Lincoln received Indian chiefs and where Theodore Roosevelt had his famous jujitsu exhibition-should be the host to all of us here today.
Of the Constitution, which is an extraordinary document, our Founding Fathers did not realize that the basic fact which has made our system work was outside the situation. And that was the development political parties in this country so that the American people would have the means of placing responsibility on one group, that group would have a chance to carry out its program, and the American people would have an opportunity to indicate their dissatisfaction by going to an alternative.
That system has served us well, and there is no greater responsibility in that sense that a President has, as President Truman has pointed out, than he has as a leader of a political party, and especially this political party, the oldest in the world, the oldest in our country's history.
When we stand here next to these pictures of Presidents Jefferson, Jackson, Cleveland, Wilson, Franklin Roosevelt, and Harry Truman, we are standing next to great Presidents. And we are also standing next to great party leaders who were able to use the party to carry out the program. That is the purpose of all of our exercise. It is not an end in itself; it is a means of doing the things which this country needs in the sixties, and this country needs a lot at home and abroad.
I think we are privileged to play a part in seeing that this country is well served. So I want you to know that we are very glad to have you here. The work that you do day in and day out really does make it possible for us to carry out great projects which serve not only this country but all that depend upon it. So you are most welcome here, and we want to tell you that this is one place where you don't even have to buy a one dollar ticket to come in.
Note: The President spoke at 4 p.m. in the Red Room at the White House.
John F. Kennedy, Remarks to Members of National and State Democratic Committees. Online by Gerhard Peters and John T. Woolley, The American Presidency Project https://www.presidency.ucsb.edu/node/236635