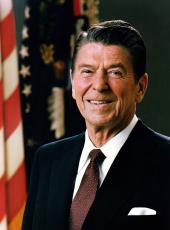 Remarks at a Meeting With Officials of Black Colleges and Universities
Thank you very much. I don't deserve that much applause when I'm late. [Laughter]
Well, it's a pleasure for me to have all of you back with us at the White House to commemorate the first anniversary of Executive Order 12320 and to reconfirm this administration's ongoing commitment to historically black colleges and universities.
Some of you may be aware that I attended a small college in Illinois—Eureka, Illinois. I've gotten used, over the years, to when someone says, "Where did you go to school?" and I say, Eureka College-"Where's that?" But that was back in the bleak days of the Depression when I was there, and it was a struggle just to keep the doors of our college open. In the exuberance of youth I was not as understanding of the folks trying to pay the bills and manage to meet the budget as I am now. I ended up participating as a freshman in the first student protest in the history of that college. [Laughter] And now, before you decide you're face to face with a student radical, let me say that even now, in hindsight, though, I believe our cause was just. And we didn't break a single window and we had no picket lines and we didn't carry any placards or signs.
But seriously, there are only a few jobs harder than being President of the United States, and one of them is being president of a college. Sometimes I think that you must think to yourselves on certain occasions-not always, but on certain occasions, that maybe when you give them the diploma and they become alumni, that you should say, "And never darken our doors again." [Laughter]
But your task is, in the long-run, just as vital to the future of this country as this particular job is. Frederick Douglass, an adviser to President Lincoln and, if I might add a partisan note, one of the first great black Republicans, once said, "A little learning may be a dangerous thing, but the want of learning is a calamity to any people."
During these times when we're all trying to pull our country out of an economic disaster brought on by a decade of irresponsibility, we want to make certain that your institutions, colleges and universities which are so significant to the heritage of black America, are not damaged by economic conditions that you had no part in creating. That was an important reason behind our decision last year to move forward decisively in this area.
Today, I want to reaffirm this administration's continued commitment—not only so that your institutions will survive but so that they will flourish. Last year when we gathered to announce the issuing of the Executive order, I don't doubt that there were skeptics who took a wait-and-see attitude. Last week when I spoke to a gathering of black Republicans over at the Shoreham Hotel, I told them we should look at the record.
Well, I understand that Secretary Bell and Secretary Pierce and others have been reviewing with you the record of the last 12 months. I deeply believe it's a record of real accomplishment, a record of promises kept.
Although I don't want to go over ground that's already been covered, I'd like to mention that I'm particularly proud that we were able to come to the aid of Meharry Medical College when circumstances threatened its survival. Together, we were able to keep this vital door open into the medical profession as it befits the black community. Meharry, a school that has trained 40 percent of all black physicians, was facing an avalanche of problems. And we became aware of the need and acted. Among other things, it was in danger of losing its accreditation because it lacked access to a sufficient number of patients to provide its students with the proper clinical training. We directed the Veterans Administration to expand an already existing affiliation with Meharry so that 200 additional teaching beds would be available at a nearby veterans hospital.
It's this kind of creative and timely action that we had in mind when we issued last year's Executive order. I know you've heard other examples of what's been accomplished, but that was last year. Let's talk about the future.
Today I'm pleased to announce that I'm issuing a new Presidential directive to the heads of all Federal departments and agencies that will clarify and strengthen Executive Order 12320 and ensure the continued attention to the issues that affect you most. We're directing the Federal departments and agencies to target Federal program funds to improve the administrative infrastructure of historical black colleges. Agencies are further directed, even in this era of necessary budget cuts, to strive to increase the percentage of total available funds that black colleges and universities will receive. Third, they're to step up efforts to eliminate regulations in policies that are barriers to your full participation in Federal programs.
The last and potentially most important part of this directive focuses on the need to further enlist the resources of the private sector in our efforts to support historically black colleges and universities. The emphasis on the private sector is consistent with the general philosophy of this administration. We happen to believe there are vast untapped resources out there, because for too long people have looked only to government. I want to especially acknowledge all Vice President Bush has done to get this ball rolling. He's held receptions on two occasions in his home, playing host to many of you, and also the chief executive officers of 50 major corporations.
We now need to move toward campus-based action programs, and I'm counting on the private sector office in the White House to provide you with the guidance and creative energy necessary to tap the vitality of the private sector, so it can be used where it'll do the most good.
Of course, making any initiative a success requires the energy and creative talents of dedicated men and women. I'm particularly proud of the team that emerged over the last 12 months. Secretary Bell has provided superb leadership, and with him in the Department of Education there's another man who has been doing a magnificent job in your behalf. And I am, of course, referring to Dr. Tom Melady—Melady, I should say. That wasn't mispronunciation, that was just not seeing good— [laughter] —my own notes.
But, Dr. Melady, I want to congratulate you on a job well done. I understand you'll soon be returning to your duties as president of Sacred Heart University. We'll miss you, but we can appreciate that there are others who need your talent. And although Dr. Melady is going, we can all count on the continued efforts of such fine people as Dr. Ed Elmendorf, Dr. Margaret Seagears, and Dr. William Butts, who'll be working directly with Secretary Bell on issues concerning historically black colleges.
Finally, the emphasis on the directive I'm issuing today is, as I mentioned, channeling the power of the private sector into this area of concern. If you'll pardon these private thoughts, our goal is to get you through a particularly rough time—not only a time of economic uncertainty, also a time when you're reexamining your fundamental role in American education. We fully expect that as our program is successful, due to your efforts as well as ours, your operations will become self-sufficient. That's our ultimate goal, and I'm certain that it's yours as well.
Over the last few decades, no greater harm has been done than by government programs designed so poorly that they maneuvered people in need into a terrible dependency. Instead of strengthening recipients and helping them along the way, many well-intentioned programs did nothing but destroy pride and create a feeling of helplessness among those who needed encouragement and hope.
Perhaps this is why your institutions are so important for us to preserve. You are a symbol that even in times of great adversity, men and women can work together and improve their lot. In a shameful period of American history, you offered hope and provided a vehicle for advancement to millions of Americans. Your story can serve to inspire all those who struggle to better themselves. And today, I'm proud that I've been given this opportunity to be a part of repaying you for all that you've done for America.
When I spoke at the Shoreham last week, I mentioned that if those who share my philosophy have had any failure, it's been a failure to communicate what's in our hearts to the black community. This has led to misunderstanding and, sometimes, mistrust. I hope that next Monday, when the Nation celebrates Black College Day, that you'll share with others the legitimate concern that this administration has shown towards your problems and our sincere dedication to equality of opportunity for all Americans.
The other night I found a quote by Alexis de Tocqueville, that Frenchman who came here almost 150 years ago, that expresses it well: "Democracy and socialism," de Tocqueville said, "have nothing in common but one word—equality. But notice the difference: While democracy seeks equality in liberty, socialism seeks equality in restraint and servitude."
So today, let's move forward together, striving for equality through liberty. That's what America is all about. Thank you all for being here today, and God bless each one of you.

Thank you.
Note: The President spoke at 11:37 a.m. in the East Room at the White House.
Ronald Reagan, Remarks at a Meeting With Officials of Black Colleges and Universities Online by Gerhard Peters and John T. Woolley, The American Presidency Project https://www.presidency.ucsb.edu/node/246888