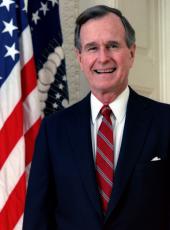 Remarks at a Meeting With Foreign Ambassadors and State and Local Leaders on the National Drug Control Strategy
Well, first, let me pay special thanks to the Ambassadors from countries that are here, and if it's not an imposition, I'd like to at least have a chance to say hello to each of you when this is finished.
This is a mixed bag, and I say that respectfully to those of you who are not Ambassadors from other countries. But it is a rare and a fine opportunity for me to sum up what Judge Walton and Bob Gates have told you about our national drug strategy. It's an important program. It's the first time that the United States has had a national coordinated strategy. And I was privileged last night to use the Oval Office to address the Nation. It was the first such address for me, but I can think of no subject that it was more fitting to talk to.
The strategy came after a lot of consultation not just with Members of the United States Congress but with many of you in this room, various leaders in various fields. And government officials were consulted, community leaders, educational leaders, business leaders, labor leaders; and then, indeed, we did consult with leaders from around the world.
Judge Walton has spent the past several months touring the country; and he's met with people in the States, in the cities and towns, who have endured the drug problem firsthand. And from his own experience on the bench, he understands this problem very well.
Brent Scowcroft, who most of the Ambassadors here know -- know on a personal basis -- has been coordinating the supply reduction efforts with members of the administration, working closely with Jim Baker and others and with our allies abroad. And indeed, for those representatives of the so-called G - 7 countries [economic summit participants], this matter, as you know, was discussed at the Paris summit, and there was a strong consensus that we wanted to do as much as we possibly can to help those countries that are embattled by the cocaine cartels.
So, I hope that what you've heard today gives you some sense of how comprehensive our national strategy really is. I couldn't help but note that the minute I finished speaking there was the predictable response by some that we hadn't done enough. And that -- I try to be very tolerant and kind and gentle here -- [laughter] -- but nobody expected that the Members of the United States Congress, particularly from the other party, would stamp this enthusiastically. But I point out that I didn't hear one single substantive comment about the strategy itself that was critical. And so, what I'm saying is, maybe I'm just hearing what I want to hear, but I think there was a broad support for the coordinated strategy. And some are going to say you ought to put more emphasis on treatment or you ought to put more emphasis on education or you ought to put more emphasis on law enforcement, but the substance of the strategy has received very broad support.
With these Ambassadors here, I don't want to get down into the trenches of domestic politics. But I couldn't help but notice that after one briefing of Democrat and Republican leaders, a great friend of mine and leaders of the opposition party went out and immediately started talking about having to have a tax increase. I thought Bill Bennett put it pretty well this morning on one of the shows when he said: "It seems hard for me to believe that we have a drug problem because people aren't paying enough taxes." [Laughter] And we took our case to the people on the question of taxes. We have stepped up the spending on the drug program by $2 billion over the level that the House itself has set. And so, this is a significant increase. And I am prepared to defend it and to advocate it, and it can be done through the way we proposed -- reallocation of resources -- without saying to the working men and women in this country, "You've got to pay more taxes."
And so, it's a big program; it's a strong program. And I have expected to hear some differences of opinion in terms of taxes, but it's too urgent to let it bog down on the question of whether it should be added to a tremendous budget already in existence or whether we should do it the way we say -- find the money, which we have done and which we have outlined for the Congress, from existing programs. Congress needs to know how important this program is domestically and internationally. And I know that so many here in this particular audience have a very special interest in the international implications of this strategy. The strategy makes clear, as I said last night, to work with the European Community, certainly with Latin America, and then, of course, with the Asian and Caribbean nations, to disrupt and dismantle the drug trafficking organizations.
Only through a broad, cooperative, international effort can we reduce the foreign drug supply to our nation and to countries around the globe. And so, this really is a war that the United States cannot fight alone. We need to enlist the resources of other nations in this battle. And let's face it: Some nations are way out in front of us in their refusal to tolerate drug usage in their countries. We're not the only country to discover what drugs can do to our people. And I want to thank the Ambassadors from the countries represented here today for the cooperation we have received -- and also to encourage as much cooperation in the future as possible.
The cornerstone of our international drug policy is to provide assistance to cocaine source countries. I singled out three last night, and let me say here again -- the respect I have for President Barco and what he is trying to do in Colombia -- it isn't easy. And I tried to dramatize that somewhat last night by pointing out the numbers of Colombians serving their government as judges or whatever that have lost their lives. And when these cowardly cocaine cartel people get to killing the wives of police officers, as happened recently, it tells you about the venal kinds of people that we're dealing with here, or that the Colombians are dealing with there. And so, we will support President Barco.
One of the things that keeps coming up in the U.S. media -- and I'm sure all the Ambassadors here saw it -- use of troops, use of troops. That isn't the question. The question is: What kind of support does the President of Colombia need? In the case of Colombia, what kind of support does he need to get the job done? And I will not and should not unilaterally impose United States troops into another sovereign country. And I don't care what the emotion; I do not want to inadvertently turn around public opinion in Colombia that is strongly supporting this courageous President there.
And so, we will do what we're asked to do, if I find it prudent as President. We will give the kinds of support to the Colombian military that you've seen begin, and I believe that is the way we should effectively treat our military assets. And it's not going to be a unilateral imposition of United States force just when you have people strongly supporting a President in what he's trying to do -- Colombian kids laying their lives on the line to restore order to their community. So, I want to help, and I again take this forum here to pay my respects to what President Barco is doing, to offer the people of Colombia whatever support we possibly can give them in the way they want it -- to have them continue doing this courageous job they're doing.
Our administration is committed to making drugs bilateral and multilateral foreign policy issues. We're going to be talking to all countries in a cooperative manner about what we can do, and encouraging some to join us in certain initiatives that will help countries that are embattled. That means working, obviously, with other nations to fight this drug production, and to break up the money-laundering activities that keep the international traffickers afloat.
I feel very, very strongly about the enforcement side. And a person who knowingly launders drug money is just as guilty as the kingpin or somebody pushing the crack into the school kids of our country. And I think for too long we may have had, inadvertently, less energy going into the money-laundering end. And at our G - 7 meeting, as some of the Ambassadors here know very well, there was strong support for maximum cooperation, intelligence-sharing, whatever, to get at these insidious money-launderers. So, I say again today: We enlist the support of all, and we will give our support to all in trying to track down these people.
Drugs are, of course, our most important domestic priority. And I'm pleased to see here in this room the very people that we'll be depending on in the weeks and the months ahead. In this room are law enforcement officials, drug treatment professionals, teachers, community and business leaders, and some State and city elected officials. This is not going to be won by the Federal Government -- this battle. The Federal Government has a key role to play, and I am trying to see that we play it by putting forward and then implementing a national drug strategy. But please understand I have not changed my conviction that the answer will lie at the local and the State level as we go forward with our national strategy.
And I used to get kidded, I think it was friendly teasing -- about the Thousand Points of Light -- but for the cynics, I wish you could have been with me today at D.C. General Hospital and gone to the ward where there were maybe six or eight what they call boarder babies -- babies that had been deserted. And they were being deserted by their mothers -- 80 percent of them, I'm told -- their cocaine-addicted mothers. Trying to do something about that, but those babies were being kept alive and given a chance for a life with love in it by a handful of black women in the District of Columbia who just got together as one of the Thousand Points of Light. So, it is more than a slogan, and this problem will be solved as soon as each of us decides to involve himself or herself in the life of another person. And it's not going to be solved until all of us adopt that ethic as we approach this important problem.
So, thank you all very much. I want you to know we will continue to play our part in carrying out the proposals of the strategy. I'd be remiss, seeing this much horsepower here, if I didn't ask you for your support. We want to work with the various categories and others -- categories that I mentioned here in these remarks -- so that real progress in the war can begin immediately.
I pointed out last night there is some good news, and I mentioned specifically the decline in casual cocaine use. And I mentioned specifically the courageous stand being taken by one of our friends south of our border and others as well down there. So, it isn't a message of despair. What I'd rather phrase it is a message of hope, and I need your help to get the job done.
So, thank you all very much for coming. I'm confident that we will have the support of the American people on this issue. Your presence here assures me that I can count on you. But I'm grateful -- with Judge Walton sitting here, I want to say how grateful I am to Bill Bennett and to him for formulating for the first time a national strategy that offers hope to those little kids we saw today. Thank you very, very much.
If I would say to those non-Ambassadors in the room -- and please do not assume that this is a discriminatory policy, but I am one who is very much indebted for the cooperation we're getting from abroad -- if I could ask the Ambassadors from other nations just to come and maybe have a handshake here. I would then at least have the feeling that I have made you feel the special warmth that I feel toward you for coming and to your countries for being interested in cooperating on this strategy.
Note: The President spoke at 1:27 p.m. in Room 450 of the Old Executive Office Building. In his remarks, he referred to Reggie B. Walton, Associate Director of National Drug Control Policy for State and Local Affairs; Robert M. Gates, Assistant to the President and Deputy for National Security Affairs; Brent Scowcroft, Assistant to the President for National Security Affairs; and William J. Bennett, Director of National Drug Control Policy.
George Bush, Remarks at a Meeting With Foreign Ambassadors and State and Local Leaders on the National Drug Control Strategy Online by Gerhard Peters and John T. Woolley, The American Presidency Project https://www.presidency.ucsb.edu/node/263739