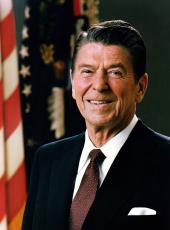 Remarks on Meeting the University of Southern California Women's Basketball Team
The President. [Inaudible]—before we're through here. But I just looked forward to this, to welcome you all to the White House. Now, you're across the street from it, but this is considered part of the White House, too. And I want to congratulate you on the magnificent season that you had and in winning the second consecutive—for the second consecutive year, the NCAA's women's basketball national title.
I know that you came from behind last Sunday against Tennessee and won in the second half. And being a southern Californian, why, I can say that this is the kind of performance that made USC a giant in the sports world. And now you're part of that impressive sports tradition.
You've not only won another title for the school, you've done a great deal, I think, for women's sports, women's athletics. There was a time when the only jumping that was done at an athletic contest by women was by the cheerleaders— [laughter] —and there's nothing wrong with that. I—having been in athletics and played football, not basketball, myself—I know it means a great deal to have that kind of support, so there's an honorable place for the cheerleaders.
But you are proving that women can make their mark as well in the field of athletics out there on the floor of the arena. It's pretty hard not to recognize players like Pam and Paula McGee who've scored almost 5,000 points between them. Where are you? There. Must be pretty hard—a guard every once in awhile must think that he's seeing double when— [laughter] .—
Well, and also then congratulate Cheryl Miller.

Ms. Miller. [Inaudible] [Laughter]
The President. All right. She was named the most valuable player in that title tournament and also this year's top collegiate women's basketball player.
But then I can also add a congratulation to all of you as a team, because it was a great team effort. And I think that your coach, the university, and your friends and families all must be very proud of you, and they have every reason to be. And you have a reason to be proud of yourselves and what you've accomplished. I think you're an inspiration to athletes all over America.
So, I think, simply put, "well done." And now I'd like to say hello to each one of you, if I could meet each of you.
Ms. Sharp. Mr. President, nice to meet you.
The President. Nice to see you. Maybe I should start over here. Should—oh, do you have something?

Ms. Sharp. I'd like to say a few words.

The President. Yes.
Ms. Sharp. Mr. President, on behalf of the University of Southern California, the women's athletic program, and the women's basketball team, we would like to thank you for honoring us here today. We were very excited when we got the call, and we're going to have a wonderful time while we're here. And on behalf of you, we'd like to thank you very much.
We've also brought some gifts for you and Nancy. And I'd like to present those to you.
When you want to shoot hoops. [Laughter] And I hope this fits":
The President. Thank you very, very much.
Note: The President spoke at 11:35 a.m. in the Indian Treaty Room of the Old Executive Office Building. Linda Sharp, the team's coach, presented the President with a USC sweatshirt and a basketball that had been autographed by members of the team.
Ronald Reagan, Remarks on Meeting the University of Southern California Women's Basketball Team Online by Gerhard Peters and John T. Woolley, The American Presidency Project https://www.presidency.ucsb.edu/node/261231