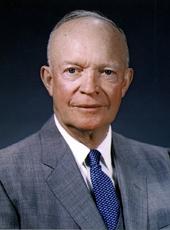 Remarks at a Meeting of the United Defense Fund Organization.
Mr. Ryerson and ladies and gentlemen:
I consider it indeed an honor to be here with you this morning. I consider it a greater honor that you have selected me as your Honorary Chairman and so designated.
I did not come over this morning in the role of a professor to give you a lecture. I did not come to tell you things that you know as well as I. Certainly I did not come in any effort to inspire. Your presence here, and the work that you are now doing as a service to your country, is evidence enough of the inspiration that you carry, each of you, within your own heart.
I did come, though, to try to express with all my past and present experience, something of the appreciation I feel for what you are doing. I know of what it means to a soldier in a lonely land--in a strange land--to have around him something that means home, something in the way of entertainment, something in the way of a hot dog or a Coca Cola, or whatever, that brings him back closer to those surroundings and those people with whom he has lived--where his heart is.
The U.S.O. in war was one of the great agencies for sustaining morale. Time and again I had occasion officially to express to the U.S.O.--and of course now, to the United Defense Fund--my thanks for the work it had been doing.
We still have war going on, and a war that is conducted under bleak surroundings. There is little in Korea that is entertaining for a soldier, except for those few who have the privilege, maybe, to go off on half a day's duck shooting when they get to the rear-something of that kind. There is just nothing to do. Consequently, your services are more important than ever.
Now, every person--every right-thinking individual, I think, in the world, utters a prayer to his God each night that there may come peace, and particularly peace in Korea.
If that peace does come--for which we so devoutly hope-there is still equal need for the services you people are now providing; possibly in a way, greater. Because, as you well know, in such a complicated procedure as developing armistices and peace, there must be developed also a confidence that it is permanent; our men and those of our Allies will have to stay in that region for quite a while. It will be a trying period, as those of you who went through World War I and World War II well know.
Once inaction sets in, and the impatience of the American can begin to manifest itself, it is really tough to keep before him just the conception of stern duties, and expect him to forget his grouses and his gripes and his disappointment in being so far from home.
Then is when the U.S.O. can be of even added value. So, much as you know of what it is doing now and your own sense of the worth of your work, I assure you that if this armistice can come, don't let anyone tell you that the need for your services will be lessened.
And I feel, in addition, to give you this one conclusion about that contingency, that I have rather a special right to thank you for your work. I had the very great honor, in my time, of commanding the greatest number of Americans who were ever given to any one man. I feel that I should attempt to be their spokesman in return for what they did, when it comes to talking about their needs and their expectations, for them and for their successors.
I do not come here to plead with you for them, because I know that you already understand that. But if my words or my conclusions on this can be of any help to you in presenting this picture to the world, then you are certainly at liberty to quote me freely. For the soldier of America doing his duty on the battleground, or in any far and foreign fields, I feel he never demands more than is reasonable. We should always be ready to give--to promise and to give that much.
That is what I think the American soldier deserves, and what you are trying to give him.
I repeat--if my ideas on this subject will help you as you go about the business of raising the funds and getting the support for your work, then for once you may quote me, as widely and as freely as you please.
Again, let me thank Mr. Ryerson and your Executive Committee, and indeed each of you, for doing me the honor of asking me to come in front of you. It is a cause in which I am proud to serve, even in only the rather vicarious way that I can give of my support.
To each of you my thanks, and my thanks also to everybody that helps you in this great task.
Thank you again.
Note: The President spoke at the Statler Hotel in Washington at 10:53 a.m. In his remarks he referred to Edward L. Ryerson, Chairman of the United Defense Fund.
Dwight D. Eisenhower, Remarks at a Meeting of the United Defense Fund Organization. Online by Gerhard Peters and John T. Woolley, The American Presidency Project https://www.presidency.ucsb.edu/node/231615