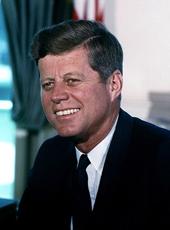 Remarks at a Meeting of the President's Advisory Committee on Labor-Management Policy.
Mr. Secretary, Governor Hodges, and fellow members:
The purpose of this Committee is to give direction to the general movement of wages and prices so that the general welfare of this country can be served. We are breaking new ground. Other Presidents have, of course, attempted at different stages to intervene in the wage-price matter with general exhortations from the White House. These exhortations have not had a very great effect but with your help I intend to get a look at this situation before there is a crisis. I do not want the White House to have to come in at the last minute. Since we are breaking new ground, I am not sure how much we can accomplish but I do think it is extremely important that we move ahead.
Our competitive position abroad is affected by the wage-price structure here at home, so this is most important in national survival. The problems of structural unemployment, long range unemployment is a matter of utmost concern now. It is quite possible that we could have a recovery this summer and still have six or seven percent of our people unemployed in the fall.
The question is what we should do about it, or what we can do about it. How many governmental powers have we to effect them? I think it would be helpful if you could give your attention to that. It is extremely serious--steel, coal, automobiles, airplanes, these are all being affected by changes in demand, as well as in production techniques, and I would think that we should as a country be considering the long-range implications of these changes, and we should also consider the relationship between labor and management as far as collective bargaining goes, particularly in the basic directions which affect our national well being.
I could not possibly--I don't know the answer to these questions, and I am sure none of us does, but I think together we ought to consider them. We are going into a critical phase of our national life. We want to keep our economy free--we want labor to be free--we want management to be free--and we want to keep the Federal Government in its proper role. But we all, regardless of our politics--we all have to come to the conclusion that the general welfare is involved in every act we take. And I would like to see you gentlemen consider how best your interests can be served and also the national interest, which is a matter that concerns the Vice President and myself.
So I want to express my thanks to you and to say to you that this is your work and you will be given the closest support by this Administration. We have two outstanding Members of the Cabinet, Mr. Goldberg and Mr. Hodges. They will alternate which indicates I think that this is a completely objective study from the point of view of labor and management. I am going to be particularly interested in it myself. And we want to have all your suggestions and ideas so that we are able to compete, so that we are able to maintain employment, so we are able to develop policies which strengthen the economy of the United States, and I hope that you can give us some thoughts about it.
We have picked, I think, the finest group that could possibly be brought to bear on this subject, representing important national interests and also men who have a public sense. We are very grateful to you for your helping us, and I am sure there cannot be any precise guidelines at this point--I think that what you do will be very valuable.
Note: The President spoke at 10 a.m. in the Cabinet Room at the White House. His opening words "Mr. Secretary, Governor Hodges" referred to the Secretary of Labor, Arthur J. Goldberg, Chairman of the Committee; and the Secretary of Commerce, Luther H. Hodges.
John F. Kennedy, Remarks at a Meeting of the President's Advisory Committee on Labor-Management Policy. Online by Gerhard Peters and John T. Woolley, The American Presidency Project https://www.presidency.ucsb.edu/node/236172