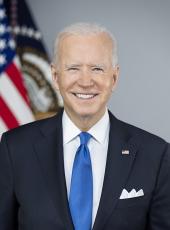 Remarks at a Meeting of the Interagency Task Force on Reproductive Health Care Access
It's on? It's—okay. I've got it.
Well, first of all, I created this Task Force in the aftermath of the Supreme Court's—what most people would acknowledge is a fairly extreme decision on Dobbs, to launch a whole-of-Government approach to address the damages of that decision.
[At this point, the President cleared his throat.]
Excuse me. And I've said before, the Court got Roe right nearly 50 years ago and that Congress should codify the protections of Roe and do it once and for all.
But right now we have—we're short a handful of votes. So the only way it's going to happen is if the American people make it happen. And meanwhile, congressional Republicans are doubling down on the extreme position with the proposal for a national ban.
Let me be clear what that means: It means that even if you live in a State where extremist Republican officials aren't running the show, your right to choose will still be at risk, because Republicans in Congress want to pass a law to take away the right to choose for every woman in every State, in every county. And there's no pushing back from that. It's also pushing laws to not allow for exceptions of rape and incest and—or the life of the mother, in some cases.
And you know, its really scary part that, in some States, they're already succeeding. When the Dobbs decision came down, I said—and Justice Thomas warned us very plainly—that this wouldn't stop with a woman's right to choose and it would extend to the right to privacy itself in things like contraception.
And so it was no surprise that we're seeing extremist laws pop up around the country that are having a ripple effect far beyond the health rights of a pregnant woman. We have doctors here with us today who are on the frontlines of this crisis, and many of these laws would make doctors criminals just for treating a patient.
In Arizona, they had a law—which is mentioned by the Vice President—on the books in 1864. That 1864, that's—1864, before—during the Civil War. And it went into effect again a week and a half ago.
And just 2 days after it went into effect, a young 14-year-old girl who's been suffering from rheumatoid arthritis and osteoporosis initially couldn't get a refill for her prescription, the drug she'd been taking for years to deal with her two diseases, because concerns that that very prescription could be used to terminate a pregnancy in violation of a law in that State.
And that's exactly what we're afraid would happen. This 14-year-old girl couldn't get the medicine she needed for arthritis because of the extreme backward and misguided law.
Now, officials at the University of Idaho said it should stop providing contraception, as was mentioned by the Vice President. In fact, they told the university staff that they could get in trouble just for talking or telling students about birth—where they can get birth control.
Folks, what century are we in? I mean, how—what are we doing? I respect everyone's view on this—personal decisions they make, but, my Lord, we're talking about contraception here. It shouldn't be that controversial. And—but that's—this is what it looks like when you start to take away the right of privacy.
I've asked Education Secretary Cardona to look at—and the steps that we can take to protect college students and school employees in Idaho or other States where their access to contraception is at risk.
And my message to any other college considering enacting policies like this: Don't. Please don't. We're not going to sit by and let Republicans throughout the country enact extreme policies to threaten access to basic health care. And that's why we're all here today. That's why we formed this commission.
I signed two Executive orders—and my administration has taken a number of actions that this Task Force has—is charged to carry out—to protect access to reproductive health care, including emergency medical care; to protect a woman's right to travel to get health care—get the health care she needs; to receive health care free of discrimination and protect her privacy when she seeks it. And we're fighting this battle in the courts as well.
And I want to thank the Vice President and Secretary Becerra for their leadership on this Task Force. And I also want to thank Secretary McDonough for leading an important effort at the VA.
My message to folks across the country who are worried about what we're seeing is, first, that we have your back. We're not going to—we're not going to step back from this. And second, we've heard your voices.
Now I want to turn it over to Secretary Cardona now for his comments.
[The meeting continued; no transcript was provided.]
NOTE: The President spoke at approximately 3:35 p.m. in the State Dining Room at the White House. In his remarks, he referred to Tucson, AZ, resident Emma Thompson; and obstetricians/gynecologists Nisha Verma of Atlanta, GA, Kristin Lyerly of Green Bay, WI, Jamila Perritt of Washington, DC, and Sadia Haider of Chicago, IL. The transcript released by the Office of the Press Secretary also included the remarks of Vice President Kamala D. Harris and White House Gender Policy Council Director Jennifer Klein.
Joseph R. Biden, Remarks at a Meeting of the Interagency Task Force on Reproductive Health Care Access Online by Gerhard Peters and John T. Woolley, The American Presidency Project https://www.presidency.ucsb.edu/node/358223