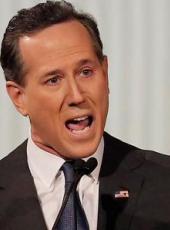 Remarks in Mars, Pennsylvania Following the Wisconsin, Maryland, and District of Columbia Primaries
Thank you. Thank you so much. Thank you so much. It is great to be home. Thank you. [applause]
I'm here with Karen and the kids and the people behind us, that's just -- that's not all of Karen's family but most of it. Karen is -- Karen and her -- Karen's parents had 11 children and umpteen nieces and nephews that we have and it's -- it's just great to be here with -- with friends and family. And we have now reached the point where it's halftime. Half the delegates in this process have been -- have been selected. And who's ready to charge out of the locker room in Pennsylvania for a strong second half? [applause]
It is -- it is great to be here in Southwestern Pennsylvania where -- where I grew up in a -- in a steel town about 20 miles north -- northeast of here in this same county, Butler, Pennsylvania. How about a shout out for Butler? [applause]
And this area -- this area like that town and like the people in it, forged steel to build this country, to help win world wars and not just have we built the country and forged steel to win wars, we've forged people with strong values and a strong commitment to what made America great. OK you can applaud that too. [applause]
I can always be interrupted for applause, don't worry about that. This is -- this why we came here. This is why we wanted to come back to west -- Southwestern Pennsylvania to -- to kick off the second half. This is a -- a part of the country, Pennsylvania that well, it's where America started. Not only did we forge steel in this state, we forged liberty in this state. [applause]
The symbol of the Liberty Bell in Philadelphia, where that document that those who have been following me about on the campaign trail have been seeing, this document both the U.S. Constitution and the Declaration of Independence forged right here in Pennsylvania. And there's no place where those values are more instilled than in this great commonwealth. Ladies and gentleman... [applause]
This great commonwealth has given a tremendous amount to our country. If you look at just the history of our -- of our great state, not only the Declaration and the Constitution created here, but we won key battles. Washington's crossing -- Washington crossing the Delaware to save the revolution. That plan was hatched up here in Pennsylvania. Some in the other camps in this race have said that all of the significant people have spoken in this race so far. See, General Washington knew that in fact not all the significant are those elites in society. Those who are the generals and the ranked officers, but in fact what General Washington understood, some of the best ideas, some of the best plans, in fact what has made this country great is that we have listened to real significant voices of every day Americans. And he did. And that's why he crossed the Delaware, surprised the Hessian's and turned the tide of the revolution. Ladies and gentleman, Pennsylvania and half the other people in this country have yet to be heard and we're going to to out and campaign here and across this nation to make sure that their voices are heard in the next few months. [applause]
We know who we are here in Pennsylvania. We know who we are. We know the stock that we are made of. We've contributed a lot. Great deeds have occurred here. Great Pennsylvanians have contributed. I know, I had the privilege of representing this state in the Senate for 12 years and this community here in Southwestern Pennsylvania for four. [applause]
I went to every one of those counties every year, all 67 and I understand the greatness of the people of this state. And I understand how important this race is here in Pennsylvania. This is called the Keystone State for a reason. We are in fact the keystone. We're the -- we're the place upon which our country was built and great things continue to happen here. Great things like in manufacturing and oil and gas production here in Pennsylvania that is turning our economy around and creating opportunities for us to grow our economy. Not just here in Pennsylvania, but because of lower natural gas prices we're seeing manufacturing and other businesses come back in spite of the crushing burden that Barack Obama and his administration has put on our economy.
We need someone who understands what liberty is all about. Someone who's going to go out and fight to make sure that the biggest and most crushing burden that this administration has put on us, one that was debated just last week in the United States Supreme Court about government taking control of your health and of course as a result, of your very life. And dictating to you - dictating to you what you will do, how much you will pay, what insurance you will get. And even what the practice of your faith will be dictated by the federal government. 
We need someone in this race who can go out and make the clarion call for liberty. Someone who has stood tall and opposed government run health care at any level, state or federal. Who can go out and make the case of what Barack Obama is doing, which even Justice Stevens, which is what ObamaCare does and what his agenda of government control of health care and his attempt to get Cap and Trade, where he's going dictate how you -- energy -- how much energy, not just health care, but how much energy you're going to use.
That this is a fundamental change in the relationship between the people and their government. Ladies and gentleman if we're going to win this race, we can't have little differences between our nominee and President Obama. We have to have clear contrasting colors. In the last 120 years... [applause]
In the last 120 years, we've had one time where the Republican Party has defeated an incumbent Democrat for president. One time. Time and time again the Republican establishment and aristocracy have shoved down the throats of the Republican Party and people across this country, moderate Republicans. Because of course we have to win by getting people in the middle. There's one person who understood, we don't win by moving to the middle. We win by getting people in the middle to move to us and move this country forward. [applause]
Not only do we know who we are here in Pennsylvania and what we stand for, but you know who I am. You're going to hear a lot of things being thrown as has happened in all the other states where we've seen a whole bunch of negative campaigning. We've gone out across this country. And with the most improbable of odds, and with limited resources except one in which we've had incredible resources, and that's human resources. The people of this country have stood up and followed because they've seen someone who has a clear positive vision. Someone whose convictions are also forged in steel, not on an Etch-A-Sketch. [applause]
So you'll be seeing the negative ads and you'll be here getting the robo-calls and all the other things thrown at us. But you know me. You know how hard I work. You know how strongly I believe the things that -- the values of Southwestern Pennsylvania have instilled in me. You know that I come from a steel town from immigrant parents. Grandfather worked in the mines. Someone who lived in government housing on a V.A. grounds and saw the great sacrifice of our men and women in uniform, serving them as they served our country. You know me. They'll say all the things, that I'm someone who doesn't stand up for what I believe in. You know me.  [applause]
And so I ask you over the next three weeks, this isn't halftime, no marching bands. We're hitting the field. The clock starts tonight. We've got three weeks to go out here in Pennsylvania and win this state and after winning this state, the field looks a little different in May. I remind everybody the one time that we did win in the last 120 years, the Republican Party had the courage to go out and nominate someone who all the experts and all the pundits and all the media -- all the Republican establishment said couldn't win. He was too conservative.
He lost almost every early primary. He only won one until May. One primary till May. Everybody told him to get out of the race. This was back in 1976. They said, get out of the race, we need a moderate. In 1976, Ronald Reagan didn't get out of the race. He was able to stand tall in May, win the state of Texas, which we have every intention of doing. [applause]
He took that race the entire way to the convention and he fell short. And in the fall Republicans fell short because we nominated another moderate who couldn't galvanize our party and bring those votes to our side to get the kind of change that we needed in America. And then four years later, they fought him again. We need another moderate. We have to defeat this Democratic incumbent. And this time the Republican establishment lost. Let's not make the mistake of 1976 again. Let's bypass that error and move straight to 1980. And let's defeat a Democratic incumbent. And you can help me here in Pennsylvania. Thank you very much. God bless you. God bless you. Thank you. Thank you.
Rick Santorum, Remarks in Mars, Pennsylvania Following the Wisconsin, Maryland, and District of Columbia Primaries Online by Gerhard Peters and John T. Woolley, The American Presidency Project https://www.presidency.ucsb.edu/node/300853