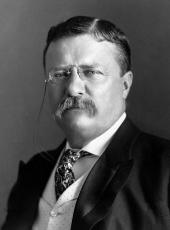 Remarks in Madison, Wisconsin
Mr. Governor, and you, my fellow citizens:
I am glad to come to Wisconsin. I am glad to see so typical an American city, for I feel that here, throughout your life as a state, you embody and put into practice in a peculiar degree that principle that adopts as its motto the cry of "all men up," rather than "some men down." I think that you here have shown by your actions your appreciation of the fact that in the long run, for weal or woe, our needs are indissolubly bound one with another's.
We are passing through a period of great material prosperity. There will be ups and downs in that prosperity; the wave will sometimes break a little higher, the wash of the wave will come back a little down the beach, but in the long run the tide will go on, if we but prove true to ourselves, true to the traditional beliefs of our forefathers.
We can win socially, materially, governmentally, in this country only on condition of understanding that the vices of hatred, of envy, of jealousy, are more evil in their workings in the state than in their workings privately, individually, between man and man. We can win only if we show in our actual lives that we are prepared to realize the doctrine that each must be for all, and all for each; that no man can afford to do less than his best; that each man must scorn to owe to others his success; and yet that we must work hand in hand, shoulder to shoulder, for the common good; that we must be able to combine in proper degree the spirit of individualism, the spirit of individual initiative, which has made the American what he is, and to combine with that also the spirit of co-operation, the spirit that makes men join success fully in a common effort for the common good.
Each man must work for himself; if he does not pull his own weight he won't pull anyone else's; if he cannot support himself he will be but a drag on all mankind. Each man must work for himself and for those close to him; and each man must also work for the common good.
A man who is a man will scorn to feel that he owes his success primarily to anything but his own stout heart and strong hand and cool head. Each must show those qualities, and yet each must wish and be able to help his neighbor when he slips. There is not a man of us here that does not now and then slip, that does not now and then need to have a helping hand stretched out to him. Shame to anyone of us who fails on such an occasion to stretch out the helping hand to the brother that stumbles. Lift him up; but remember this: You can lift him up, set him on his feet so that he can walk; but if he will not walk you cannot carry him. The man that wants to be carried, the man that takes that attitude, is not worth trying to carry. You will not help him, and you will not help yourselves either.
Fundamentally the solution of the problem of our national life, the solution of that infinitely composite problem which consists of so many lesser ones, is to be found in the proper combination of the quality of self-help with the quality of abundantly and cheerfully each of us striving wisely, sanely, and temperately to help his fellows as it is given to him to extend that help.
Theodore Roosevelt, Remarks in Madison, Wisconsin Online by Gerhard Peters and John T. Woolley, The American Presidency Project https://www.presidency.ucsb.edu/node/343399