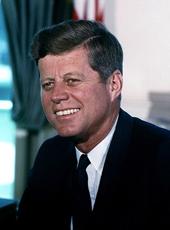 Remarks Made by Senator John F. Kennedy In Eugene, OR, Courthouse Square - (Advance Release Text)
Some people say they can find no major differences between the two Presidential candidates in this campaign. They say there are no longer any major issues between the two political parties. But I know that no one in this State would agree with that statement. For there are many major differences - many major issues - many problems of importance to this State on which the Democratic Party is willing to act more vigorously than the Republican Party - and one of those issues is education.
I am proud of the fact that the public school system originated in my State of Massachusetts. I am proud that it was early settlers from New England who came up the Willamette Valley and established free public schools here in Oregon. I am proud of our schools and our teachers today, and what they have done for this country. But I am also disturbed by our failure to make sure that our educational system continues to be the greatest in the world.
Here in Oregon, for example, it has been estimated that two new classrooms would have to be built every single day for the next year to take care of the present shortage. And yet the people of this State right fully feel that they have taxed their property and themselves to the limit to provide a good education for their children.
The people of Oregon have never shirked from their duty to build a good school system. They have gone all out to maintain one of the best school systems in the country. But as their population increases - as the number of children crowding into the schools increases - they cannot do the job all by themselves.
Compared to many States, Oregon public school teachers are well paid. But Oregon needs more teachers. The parents of Oregon school children want to attract the best teachers - and it was a serious blow to this State when the casting vote in the U.S. Senate last spring defeated that version of the school bill which would have brought this State $11,600,000.
What is true in Oregon is true the country over - except other States have not done as well by their children as Oregon. In a time when education is the key to our future - in a time when science, languages, and a whole host of other studies are essential to our prestige and our security - this Nation is short 50,000 teachers. This Nation is short 132,000 classrooms. This Nation requires hundreds of thousands of students to go to school on a part-time, swing-shift basis. And this Nation has found no way to enable more than 150,000 of our brightest students to go on to college when their families are not able to afford it.
When we neglect education, we neglect the Nation. It is difficult to realize that roughly one out of every five young men fails to pass the Selective Service mental test. It is difficult to realize that some 50 percent of our high school and college graduates, in a recent survey, could not identify the Bill of Rights - and only one out of three could list one advantage of our economic system over that of the Soviet Union.
It is time to realize that we are faced with New Frontiers in education. The old system of financing schools primarily from property taxes is no longer sufficient. The old attitudes toward teachers and teachers' colleges, diminishing the quality of that honored profession, can no longer prevail. The old philosophy of leaving the financing of public school education to State and local taxpayers, and the financing of college education principally to parents, is no longer sufficient.
It is time for action in public education - not for Federal control - not for Federal replacement of local effort - but for emergency Federal action to help halt the decline in American education.
First. We must launch a massive construction program for both our public schools and our colleges - to make up our present shortage, and to prepare for the coming wave of new students.
A recent Government survey found that one school building in five was a potential firetrap. Another one in five was a borderline case. We urgently need Federal grants to aid State construction programs.
On the college level, our need for new buildings in the next 10 years will equal all the structures built on all U.S. campuses since the American Revolution. By a system of loans and matching grants, not only dormitory facilities, but also classrooms, libraries, and laboratories must be provided.
Second. Federal aid to education should include funds for teacher's salaries.
Unlike those in Oregon, most of the Nation's teachers receive outrageously low pay. Nearly one-half of our teachers earn less than $4,500 a year. Beginning salaries for all teachers average $10 a day. Many are forced to take a second job even during the school year to give their families bare security.
The bill to which I earlier referred - which was killed after a tie vote - was the Democratic Party's answer to a substitute Republican measure which provided grants for construction but not for teachers' salaries. Their bill was like telling a man in need of a house that he could have only the second story.
Last month, a unanimous Republican vote in the House Rules Committee blocked the bill again. But I predict that next year, under a Democratic President and a Democratic Congress, a real school bill, covering both classrooms and teachers' salaries will be enacted.
Third, we must create a sizable and effective scholarship program. And the place to begin is to restore the Federal-State college scholarship program that was dropped from the National Defense Education Act. That would assist at least 20,000 of our best high school students to go on to a college education they could not otherwise afford - and we as a Nation cannot afford any other policy.
Fourth, we must expand our support of basic research - in the Government - in the universities - in private laboratories. For only in this way can we push back the New Frontier of knowledge. We have enough gimmicks and gadgets for the present - now we need new concepts of man and matter for the future.
John F. Kennedy, Remarks Made by Senator John F. Kennedy In Eugene, OR, Courthouse Square - (Advance Release Text) Online by Gerhard Peters and John T. Woolley, The American Presidency Project https://www.presidency.ucsb.edu/node/274140