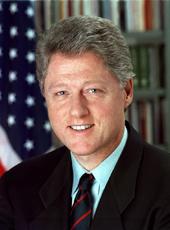 Remarks at a Luncheon in Ottawa
Governor General LeBlanc, Mrs. LeBlanc, Prime Minister and Mrs. Chretien, ladies and gentlemen: Hillary and I are honored to be your first official guests, humbled to be reminded of the results of the last two World Series— [laughter]—grateful to be reminded of the results of the last Stanley Cup. [Laughter]
I have to say for the benefit of the American press corps traveling with us and especially for my often beleaguered Press Secretary, Mr. McCurry, who's over there, the Governor General, I learned in preparation for this trip, in a former life was the Press Secretary to two previous Canadian Prime Ministers. So there is life after the labors, Mr. McCurry. [Laughter]
It's a great pleasure for me to be here in this beautiful Rideau Hall to celebrate the friendship of our two nations. It is fitting that not far from here two rivers come together to form the powerful Rideau Falls, much like the strength of our two nations increase as we join together. Shared history, shared borders, they are the foundation of our unique and intensely productive relationship, an alliance the likes of which the world has really never seen before.
From the Canadians who helped slaves to freedom on the Underground Railroad, to the battalions who fought side by side on the beaches of Normandy, to the United States astronaut who used a Canadian-made robotic arm on the space shuttle 2 weeks ago, Americans are grateful to our neighbors for helping us along the way.
When President Kennedy visited Ottawa here over 30 years ago, he said, "Geography has made us neighbors. History has made us friends. Economics has made us partners. And necessity has made us allies. Those whom nature has so joined together, let no man put asunder." So President Kennedy proclaimed our wedding vows—[laughter]—and I am here to tell you we should reaffirm them. The bond that the President described so well must continue to deepen. Together we have pushed open the doors of commerce and trade. We have found common ground to preserve the beauty and the natural resources of our lands. We have walked as one in our efforts to make the world beyond North America more secure and more free.
I thank you for your support of our common endeavors in Haiti. I admire you for your faithfulness in seeking peace in the former Yugoslavia. And I thank you most recently for your support in the action we have taken to try to stabilize the situation in Mexico, our partner and friend.
Today, instant communication has made our world so much smaller that some say the entire globe is our neighborhood. Yet, the ties that bind these two nations, Canada and the United States, remain unique. And as we move into the next century, let us, both of us, resolve to help make those ties grow in spirit, grow in harmony. The times demand it. Our children deserve it. The world is depending upon it.
Thank you for welcoming me to this beautiful city and this wonderful country.
I would now like to offer a toast to Canada, to the Governor General and to Mrs. LeBlanc.
NOTE: The President spoke at 12:21 p.m. at the Governor General's residence. In his remarks, he referred to Prime Minister Jean Chretien and his wife, Aline.
William J. Clinton, Remarks at a Luncheon in Ottawa Online by Gerhard Peters and John T. Woolley, The American Presidency Project https://www.presidency.ucsb.edu/node/220906