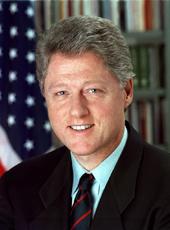 Remarks at a Luncheon Hosted by United Nations Secretary-General Kofi Annan in New York City
President Udovenko, members of the U.N. Secretariat, my fellow leaders. First let me thank the Secretary-General for his remarks. As some of you may know, after work today I will have the pleasure of attending the opening of the Metropolitan Opera. And I thought I would get into the spirit by singing the praises of our host today. [Laughter]
Mr. Secretary-General, it would be hard to find someone more appropriate to lead this great organization at this time. Your work and your life have taken you from your native Ghana to Egypt, Ethiopia, Switzerland, and to Minnesota where you first learned about America. For over three decades, you have given every waking hour to the United Nations. Better than anyone, you know how this organization works, from its highest office down to the grassroots.
Most importantly, you have earned your reputation as a peacemaker. From Africa to Iraq to Bosnia, your remarkable efforts to turn people from conflict to cooperation have saved thousands of lives.
You have seen revolution, war, and starvation, and you have always risen to fight the suffering they bring. You have witnessed the collapse of the old colonial empires, the end of the cold war, the beginning of this new era of great possibility. I hope future historians will look back and say this was a time when the high principles that led to the founding of the United Nations at last were realized—not simply by avoiding bloodshed and war but also by bringing freedom and opportunity to men and women on every continent, from every background.
Today, through your strong leadership and quiet diplomacy, you are serving also as a different kind of peacemaker, bridging the gaps between the sometimes unruly members of the United Nations—a group that even on occasion, I must admit, includes the United States.
We have applauded your efforts to reform the United Nations, and we have particularly appreciated your efforts to explain those reforms to the American people. Deep down, our people care deeply about the U.N., and with you at the helm, we are moving ahead to a new era of partnership.
Finally, let me note that article one of the charter calls the United Nations a center for harmonizing. I would like to ask all of you to join me in a toast to Kofi Annan, Secretary-General of the United Nations. May we always act in concert to achieve the harmony the founders dreamed of, the harmony he has worked so hard to realize.
NOTE: The President spoke at 2 p.m. in the North Delegates Lounge at the United Nations.
William J. Clinton, Remarks at a Luncheon Hosted by United Nations Secretary-General Kofi Annan in New York City Online by Gerhard Peters and John T. Woolley, The American Presidency Project https://www.presidency.ucsb.edu/node/224912