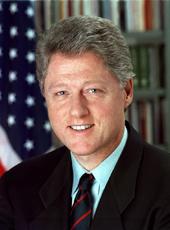 Remarks at a Luncheon Hosted by Queen Margrethe II in Copenhagen, Denmark
Your Majesty and members of the royal family, Mr. Prime Minister, members of the Danish Government, ladies and gentlemen. Thank you, Your Majesty, for your kind words and your gracious welcome. You have reminded us that the friendliness of Denmark's people is matched by the warmth of its sovereign. On behalf of our delegation, I thank you for your wonderful hospitality. We feel very much at home.
The United States has had uninterrupted ties with Denmark longer than with any other country. And our nations have never been closer than today. On almost every issue, we stand together. And on some of the most important issues, we stand together almost alone. [Laughter] But still, America always knows it is on the right side if Denmark is by our side. [Laughter]
Thanks in part to this extraordinary friendship, we have together made history this week. We invited Poland, the Czech Republic, and Hungary to join NATO. We opened the door to all of Europe's new democracies. We made a great stride toward creating a peaceful, undivided, and democratic Europe for the first time since the emergence of nation-states on this continent.
At this moment, however, I would speak not only about how America and Denmark have enlarged NATO but about how Denmark has enlarged and enriched America. In a literal sense, of course, without Denmark, America would have been much smaller because it was a Danish explorer, Vitus Bering, who found Alaska for us, although I suppose we would have eventually stumbled on it on our own. [Laughter] Peter Larsen, a blacksmith from this city, blazed a trail from Missouri to California in 1839, leading the way for countless settlers who followed. Half a century later, Jacob Riis taught us how the other half lives, enlarging the conscience of a nation and leaving us with a responsibility we have still not entirely fulfilled. President Theodore Roosevelt called Riis the best American he ever knew.
Danish-Americans have contributed in every way to America's greatness. I'm proud that two descendants of Danish immigrants have been members of my Cabinet. Mr. Prime Minister, you'll be interested to know that our Attorney General, Janet Reno, is a Rasmussen on her father's side. [Laughter] And Lloyd Bentsen, a truly outstanding United States Senator and my first Secretary of the Treasury, one of the architects of our economic progress, was a son of a Dane who came to the United States as a teenager—as he loves to remind us—as a stowaway on a ship. His father was 16 and starving in the hold of the ship after 3 days, and finally he concluded he had come too far to be thrown overboard, so he emerged and worked his way to our country. [Laughter]
Your Majesty, in the sons and daughters who came to our shores, Denmark has given America the most precious gifts. They came seeking new hope and new freedom. And now, through our partnership and our work together for a democratic and prosperous Europe, we can give their grandchildren in America, and all their families here in Denmark, new hope and new freedom in a new century. We are equal to that challenge together, and together, I am certain we will succeed.
So I now raise my glass and ask you to join me in a toast to Her Majesty, the Queen of Denmark, to the people of Denmark, and the extraordinary long and rich friendship between our two peoples.
NOTE: The President spoke at 12:43 p.m. in Fredensborg Palace. In his remarks, he referred to Prime Minister Poul Nyrup Rasmussen of Denmark.
William J. Clinton, Remarks at a Luncheon Hosted by Queen Margrethe II in Copenhagen, Denmark Online by Gerhard Peters and John T. Woolley, The American Presidency Project https://www.presidency.ucsb.edu/node/224682