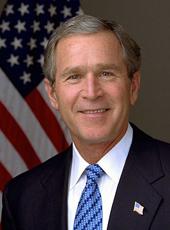 Remarks at a Luncheon Hosted by Prime Minister John W. Howard of Australia in Sydney
Thank you. Mr. Prime Minister, thank you for your hospitality. Janette, thank you for joining us.
So the Prime Minister said, "Do you want to eat lunch with some of our finest citizens?" I said, "Sure." He said, "Fine, I'm going to introduce you to the Australian Defense Force folks." And I appreciate you having me. It's a nice barbeque you threw for us. Looking forward to a little cowboy music. [Laughter] But most of all, I've been looking forward to saying thanks for those who wear the uniform.
These are tough times. They're times I know that your families wonder whether or not it's worth it for you to be in the military. For those of you who have been to Iraq or Afghanistan—I saw this wounded man over here—you know that people wonder, is it worth it? Is it worth the sacrifice? And I told some folks today at a press conference, if it wasn't worth it for our own peace and security, I wouldn't put our own troops in.
I believe the work that you're doing alongside our forces is necessary for peace. I believe we are writing one of the great chapters in the history of liberty and peace. And the Prime Minister has given me a chance to thank you; so I want to thank you. You've got a fabulous military.
I talked to our folks all the time about what is it like to be side by side with the Aussies again. And they say, "It's a great honor and a privilege." And so thanks for being in the military. Thanks for representing your country. Thanks for making the sacrifice necessary for peace. The work you're doing is necessary work, and we're going to win. And we'll succeed. And when people look back at this chapter in the history of the world, they're going to say, "Thank God there were folks like you all."
So, Mr. Prime Minister, I'm honored to be with you. May God bless you all. May God bless our countries. Thanks for having me.
NOTE: The President spoke at 1:17 p.m. at Garden Island. In his remarks, he referred to Janette Howard, wife of Prime Minister Howard. The transcript released by the Office of the Press Secretary also included the remarks of Prime Minister Howard.
George W. Bush, Remarks at a Luncheon Hosted by Prime Minister John W. Howard of Australia in Sydney Online by Gerhard Peters and John T. Woolley, The American Presidency Project https://www.presidency.ucsb.edu/node/276353