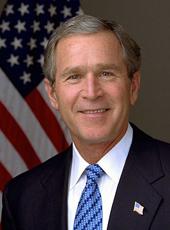 Remarks at a Luncheon Hosted by President Georgi Parvanov of Bulgaria in Sofia
Mrs. Parvanova, Prime Minister, Mr. Speaker, members of the Government, and distinguished guests: Laura and I are thrilled to be with you, and we're really happy to be in your country.
You know, sitting here in this beautiful museum reminds me of the great history of Bulgaria. And it was important for me to be with leaders who are still writing a history of this important country. And for a person who was raised in the deserts of Texas, this is a magnificent view. It reminds me of the beauty of your country. I was telling the President, my only regret is that we didn't have this meeting on the beaches.
I congratulate you on your admission into the EU. A lot of people said, there is no way that Bulgaria can do the necessary things to join the EU. And you proved the critics wrong. We're proud to be a member of NATO with you. Bulgaria is a valued ally of all of us in NATO and a valued ally of the United States.
I thank you for your strong stand for freedom. I thank you for helping spread liberty into places like Iraq and Afghanistan, where people want to live a peaceful and free life. I appreciate the sacrifices the people of this country have made to support the troops and their families. I firmly believe that the actions we're taking are laying the foundation of peace for generations to come. I think people will look back at this moment in history and say: Thank God there were people who still stood strong for liberty and freedom as the alternative to tyranny and oppression.
We discussed a lot of issues. I appreciated your leader's advice on Kosovo. It's important advice, and I took it seriously. Kosovo must be independent, and I thank them for their advice as to how to best achieve that.
I made it clear the visa policy needs to be changed. And I care deeply about the Bulgarian nurses. We're working on a strategy to make sure that these nurses come home as quickly as possible.
We had a constructive, candid, important conversations today. Our friendship is strong, and we intend to keep it that way.
So I'd like to propose a toast to the President, his good wife, to the people of Bulgaria, and to the friendship between the United States and Bulgaria.
NOTE: The President spoke at approximately 12:36 p.m. in Sunny Hall at the National Museum of History. In his remarks, he referred to Zorka Petrova Parvanova, wife of President Parvanov; Prime Minister Sergei Stanishev of Bulgaria; and Georgi Georgiev Pirinski, chairman, Bulgarian National Assembly. The transcript released by the Office of the Press Secretary also included the remarks of President Parvanov.
George W. Bush, Remarks at a Luncheon Hosted by President Georgi Parvanov of Bulgaria in Sofia Online by Gerhard Peters and John T. Woolley, The American Presidency Project https://www.presidency.ucsb.edu/node/276072