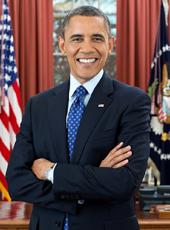 Remarks at a Luncheon Hosted by President Dilma Rousseff of Brazil in Brasilia
President Rousseff, to all the distinguished guests, elected officials, business leaders who are here, I want to thank you so much, not only for your very kind words, but for the extraordinary hospitality that you and the Brazilian people have shown me, Michelle, and our daughters. You've shown us the essence of the Brazilian spirit, which is truly simpatico.
We gather here at one of the city's most magnificent structures, which speaks to the creativity and the ingenuity and vision of Brazil and its people. It calls to mind the words of President Kubitschek, who said, "What is Brasilia if not the dawn of a new day for Brazil?" In our lives we've seen that new day come to pass. Because of the sacrifices and courage of Brazilians like Madam President, you have built a vibrant democracy. Because of the hard work and determination of the Brazilian people--parents, students, entrepreneurs--you've built a thriving economy. Future historians will surely record Brazil's rise as one of the great achievements of our time.
As I said earlier today, the United States doesn't simply welcome Brazil's rise; we want to help in any ways that we can to realize Brazil's full potential. When you look at what our two countries share, as President Rousseff mentioned--our belief in the dignity of every individual, our confidence that if we put our minds to it there's nothing we can't do, the incredible diversity of our peoples, our sense ofresponsibility to not only people within our borders, but people beyond our borders--well, it's only natural that we would end up being close partners. We can go further together.
Madam President, today we have seized an historic opportunity. We've laid a foundation for greater cooperation and partnership between our nations for decades to come. And I firmly believe that this will mean more dignity, more prosperity, and more security, not only for the peoples of our two nations, but for people across Latin America and around the world.
So I propose a toast. Recalling those words from President Kubitschek: To the new day in Brazil, may the sunlight of progress and peace always shine upon you. Salude.
Note: The President spoke at 2:13 p.m. at the Palacio do Itamaraty. The transcript released by the Office of the Press Secretary also included the remarks of President Rousseff.
Barack Obama, Remarks at a Luncheon Hosted by President Dilma Rousseff of Brazil in Brasilia Online by Gerhard Peters and John T. Woolley, The American Presidency Project https://www.presidency.ucsb.edu/node/289652